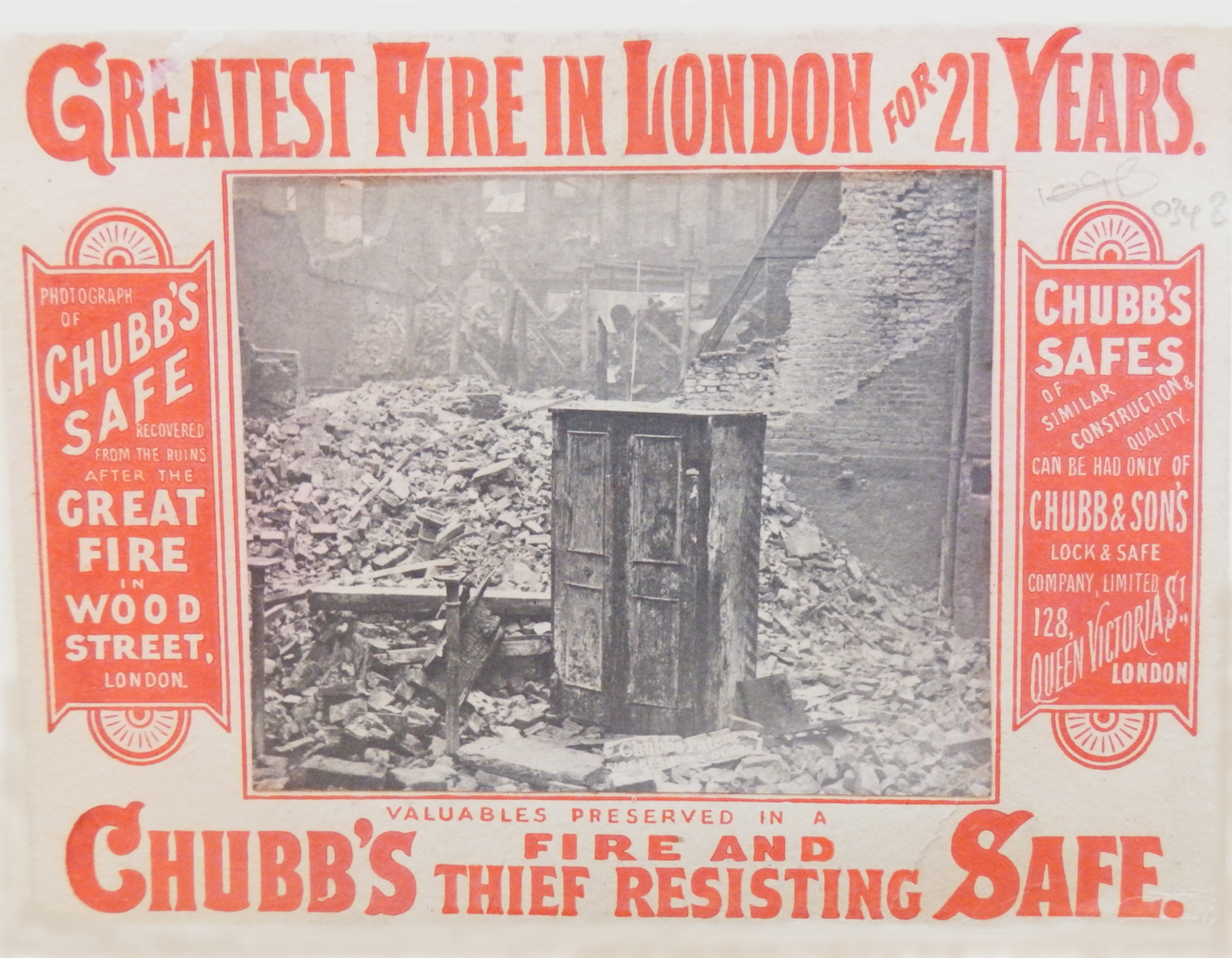 Today our shopping centres are patrolled by private guards, our town centres watched over by CCTV, our computers protected by anti-malware systems and firewalls, and our homes fortified by locks and alarms.
Behind these features of everyday life lies the revealing yet largely forgotten history of security commodities. Over more than two hundred years we have moved from a small group of specialist lock-making firms to the vast and global security industry that exists today. This was a major social development that not only subtly shaped the way we imagine crime, fire and other risks, but also underpinned and facilitated fundamental transformations in social life – from bureaucratic record-keeping to the protection of property, from preservation of historic treasures to the circulation of paper currency. In short, security commodities have helped stitch together the very fabric of modern economic, social and cultural life.
(Image above: An advertising card for Chubb's safes, 1883. The photograph shows the aftermath of a fire at Wood Street in the City of London. Chubb commonly inserted into its publicity photographs of its safes that survived fire. Courtesy of London Metropolitan Archives.)
Security Heritage
'Security heritage' encompasses the various traces of this fascinating history. It is made up of a wide array of material artefacts – from locks, safes and strong rooms, to alarms, armoured cars and so on. It also comprises the paper trail of the companies that produced and sold security – including promotional materials such as catalogues, pamphlets, brochures and magazines – and the various internal records that sustained these companies.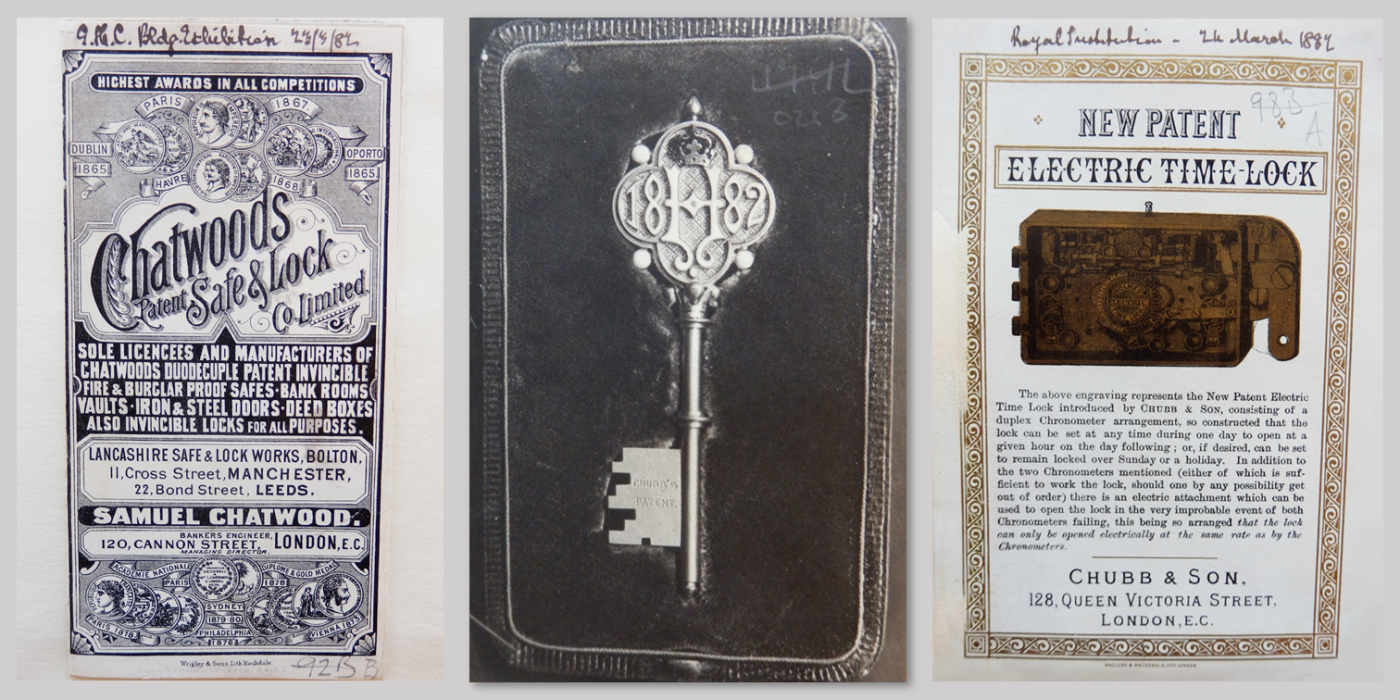 Security heritage provides a fascinating window into social and cultural history, including business and advertising, home and work life, and attitudes towards risk, fear and security. It also, though, provides a potential resource for security organisations and other parties interested in security today. By opening up a largely forgotten, historical perspective, it provides an original medium for rethinking new forms of security and strategies of security enterprise. It also offers an original way of stimulating public interest in security and highlighting the value of security across society. This webpage presents resources for those interested in applying heritage to security enterprise, as well as for all those interested in the material, visual and documentary manifestations of security heritage.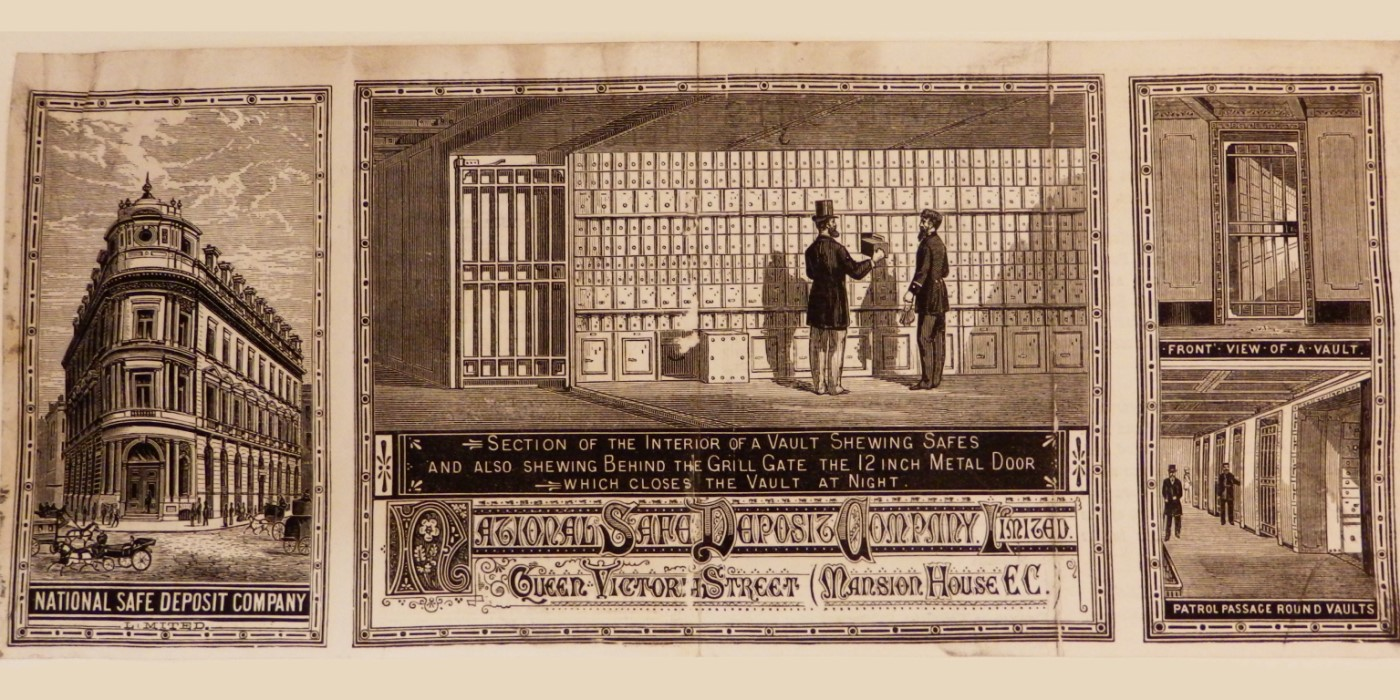 Resources
Resources related to security heritage will be added to this page as they are developed.
In 2022 there will be a series of public events relating to security heritage hosted by London Metropolitan Archives. Visit our events page.
Who we are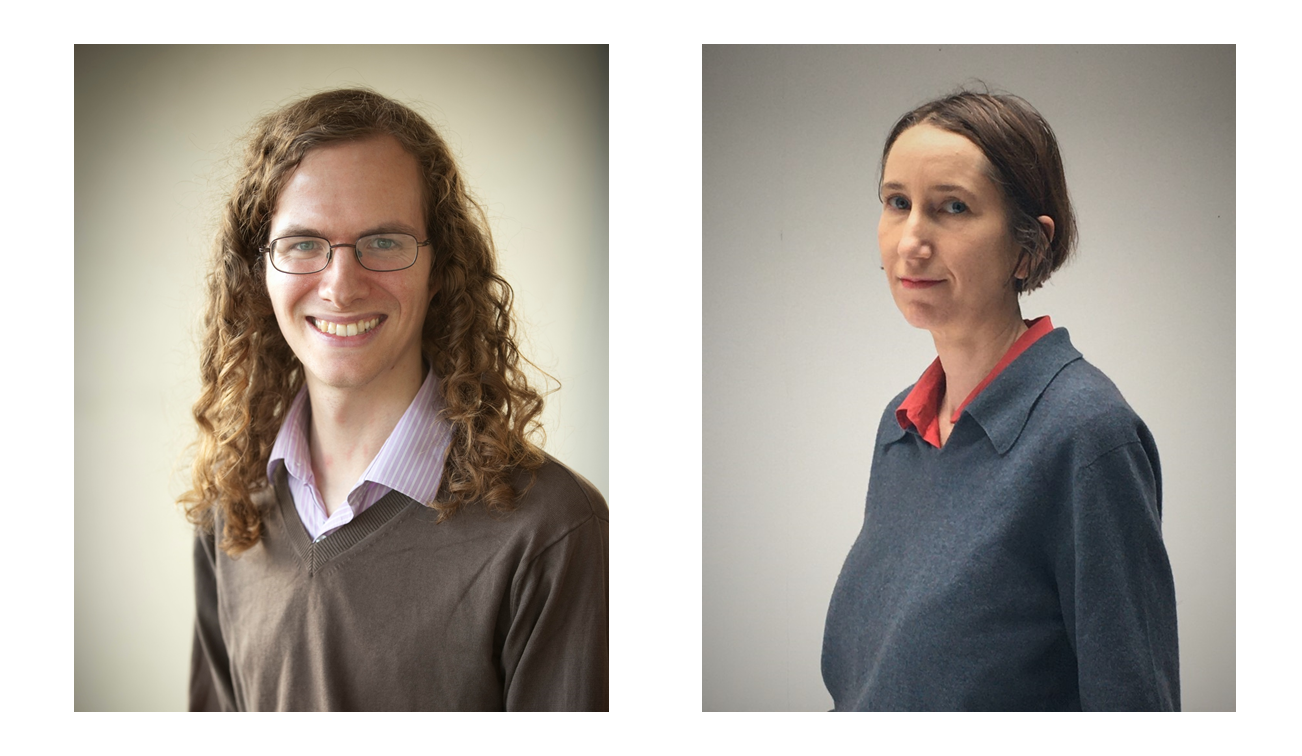 David Churchill first became interested in the history of security a decade ago while he was researching public responses to crime in Victorian England. Since then he has published work on lock-picking competitions and the role of locks and safes in shaping understandings of crime and criminality.
Miranda Clow has explored ideas of trust and security in her research into the fire insurance industry. She is particularly interested in the role that graphic design played in the development of the insurance and security industries.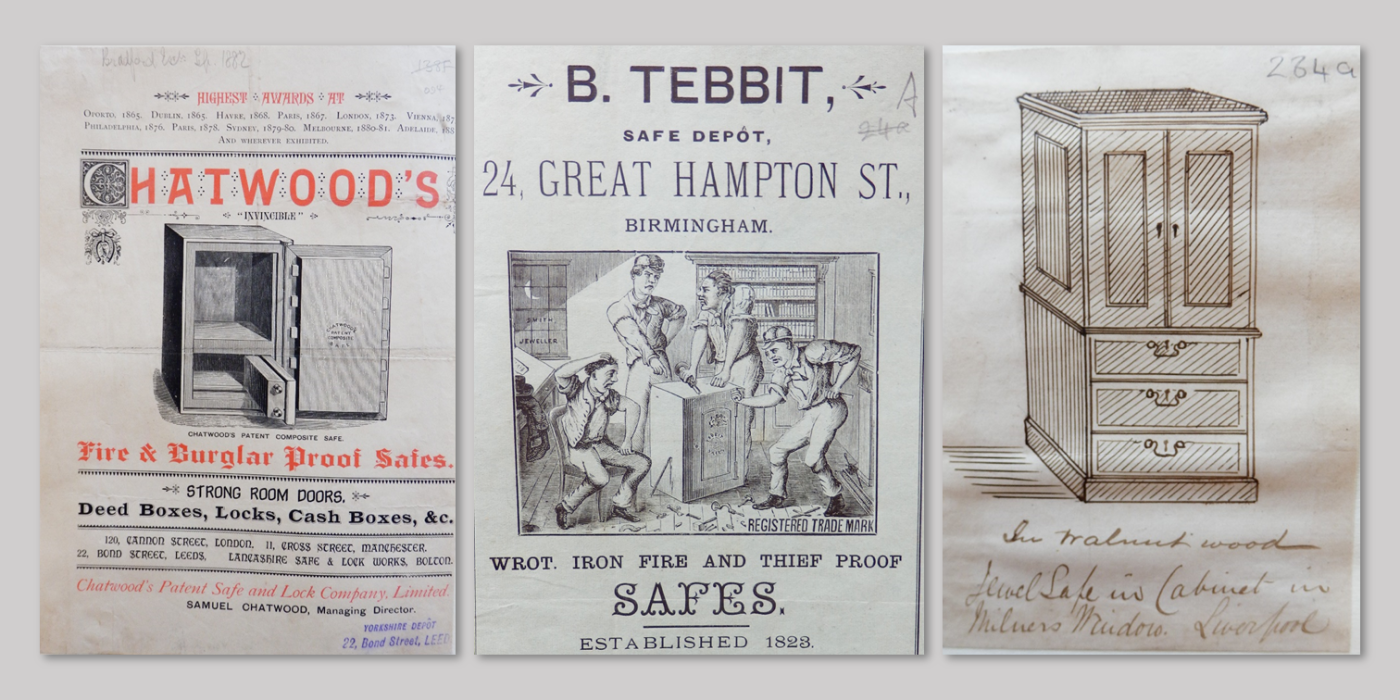 Our project
David and Miranda are currently working on an Arts and Humanities Research Council funded project entitled 'Security for sale in modern Britain: security provision, ensembles and cultures, 1785 – 1995'. Extending David's earlier work on the history of locks and safes, this project will provide a detailed, long-term history of the security industry and the commodification of security and develop original, critical insights into the character of contemporary security in its historical context. The project is based on extensive research in various corporate and public archives, together with oral history interviews with longstanding figures in the security industry.
Working closely with three partner organisations – Chubb Fire & Security, Corps Security and the London Metropolitan Archives – the project aims to showcase the value of security heritage and to promote the preservation of security heritage materials into the future. The resources made available through this page are meant to further these aims.
If you are interested in learning more about this project, or if you would like to share your memories of working in security, please get in touch either with David or Miranda.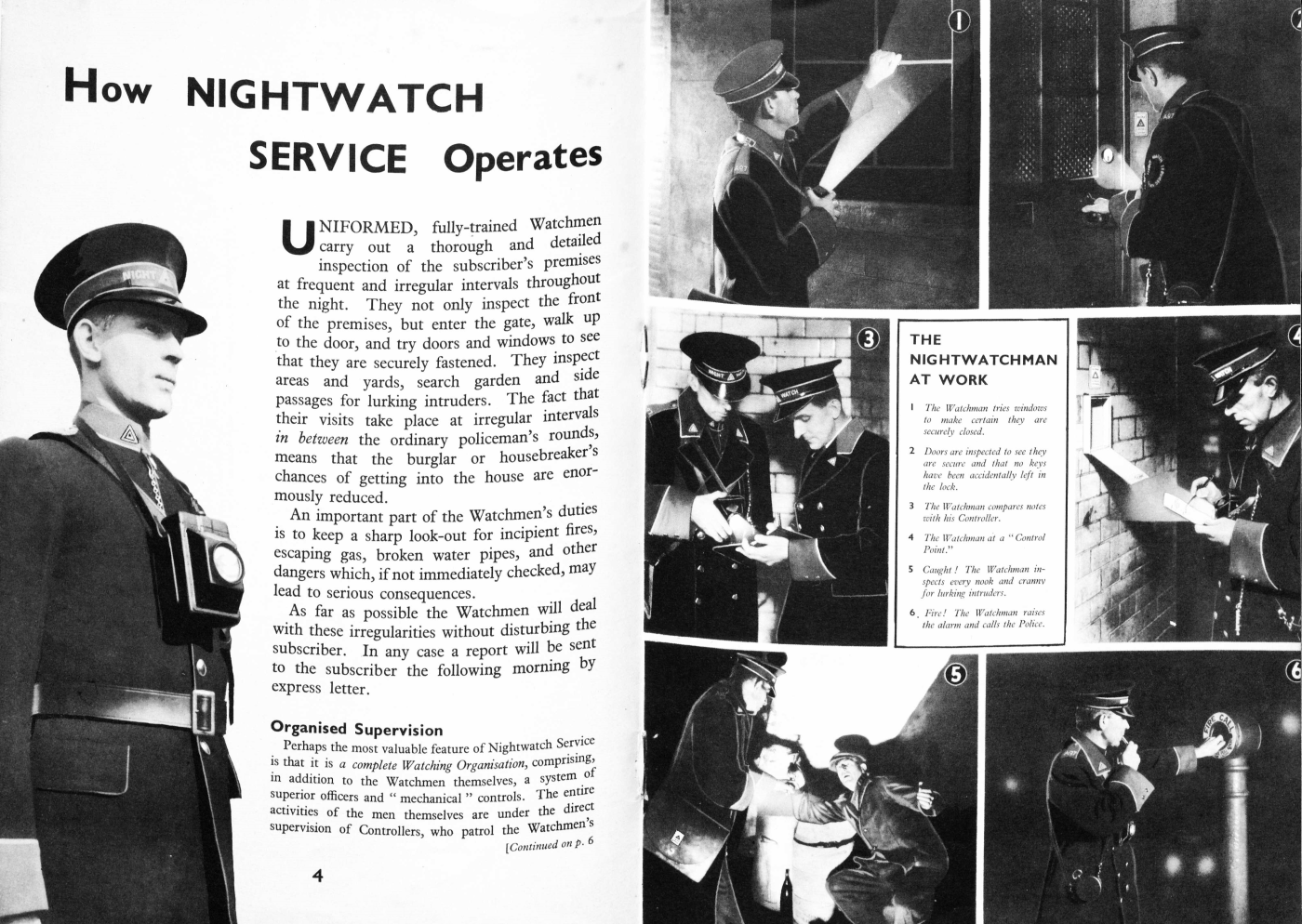 A spread from a promotional booklet for Nightwatch Services Ltd, 1935. The service was aimed primarily at businesses.
Security on screen
Security commodities have frequently appeared in film, from corporate promotions to public information films to heist movies. Chubb began making promotional films in the 1920s and continued doing so into the 1980s. The following videos are from the London Metropolitan Archives, which holds the Chubb archive.
<iframe width="560" height="315" src="https://www.youtube.com/embed/b5zMN-eQxZE" title="YouTube video player" frameborder="0" allow="accelerometer; autoplay; clipboard-write; encrypted-media; gyroscope; picture-in-picture" allowfullscreen></iframe>
<iframe width="560" height="315" src="https://www.youtube.com/embed/23QXB42_dt8" title="YouTube video player" frameborder="0" allow="accelerometer; autoplay; clipboard-write; encrypted-media; gyroscope; picture-in-picture" allowfullscreen></iframe>