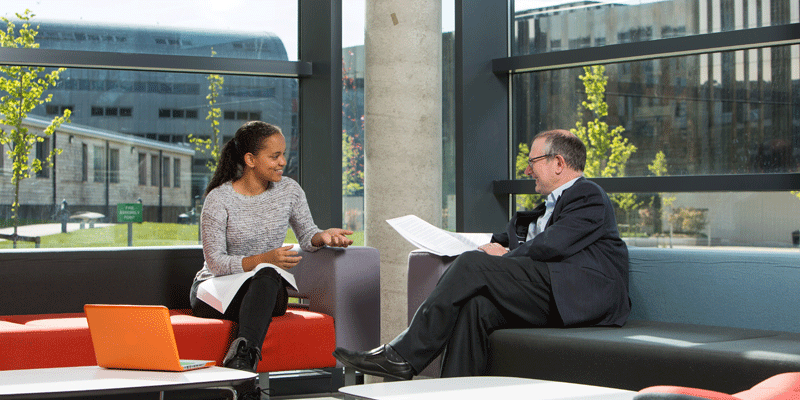 Rewarding careers
Studying a degree in the School of Law enables you to develop the key skills for a successful career in law, criminal justice or beyond, preparing you for your future from day one.
Our graduates have gone on to work in the public and private sector in roles such as:

• Barrister
• Police Constable
• Investment Manager
• Solicitor
• Civil Servant
• Journalist
• Teacher of Modern Foreign Languages
Qualifying as a barrister or solicitor
All our LLB courses satisfy the degree requirements set by the Bar Standards Board should you wish to qualify as a barrister, for more information visit Bar Standards Board website.
If you plan to be a solicitor and have accepted your place to study Law prior to 21 September 2021 you will have two routes to qualification available to you. First, as you will gain a 'Qualifying Law Degree' (QLD) you can go on to complete the Legal Practice Course (LPC) and then progress to the vocational stage of training. From September 2021, you will also have the option of completing the Solicitors Qualifying Examination (SQE). 2022 starters will complete the SQE. Under this new route you will complete the two stages of the SQE and have two years' full time equivalent work experience. For more information about the routes available to you visit Solicitors Regulation Authority website.
Alumni
Following from their undergraduate degrees our alumni have progressed into successful careers across the globe:
After graduating I did a year of law school, and have been at Freshfields ever since. A highlight has been working on some really interesting and high profile cases when the financial crisis started including Northern Rock, Icelandic bank and Lehman Brothers.
Neil Golding, LLB Law (1989)
Partner in Freshfields
Find out more about our alumni destinations.