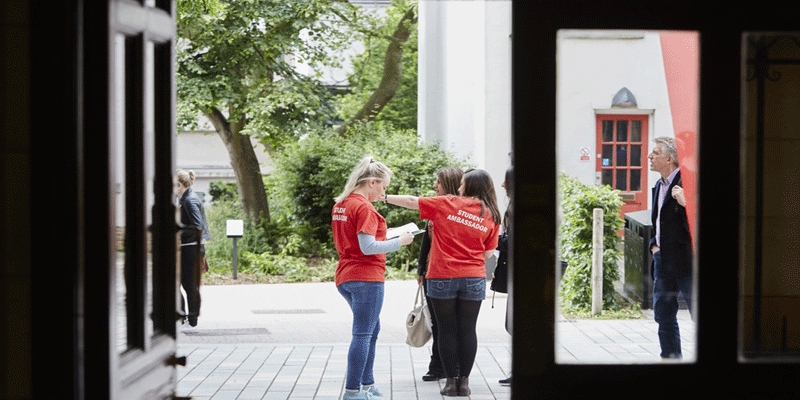 The School of Law is a vibrant, diverse and supportive community. Students, staff and alumni spend time working, studying and socialising with each other in a variety of ways. A key part of what makes the School's community is special is the work that students do in representing the School, supporting each other and mentoring young people who aspire to enter higher education.
Represent your peers
Throughout your time with us you will have the opportunity to represent your peers as a representative. You can apply to become a community or academic rep, run to become a hall rep or activities rep, and you can even join the leadership race to run for the Student Executive.
At the beginning of each academic year, you can also apply to represent students on your course at the School of Law's Student-Staff Forum.
Become an ambassador
Becoming an ambassador is a great opportunity to develop your skills and help others. There are numerous opportunities available:
Open day ambassador
You can become an Open Day ambassador for one of our June and September open days where you will staff one of our information points, or one of our February and March open days where you will act as a campus tour guide and speak with prospective students and their parents about your experience at Leeds.
Open Day ambassador roles are also paid opportunities; we pay you an hourly rate for your time, subject to certain conditions.
To find out more about these roles contact the Undergraduate Admissions Tutor.
Student engagement ambassador
As a student engagement ambassador, you will promote student engagement with the opportunities offered by the School and wider University. The role includes working with a member of staff and students within the School, and offers an excellent opportunity to develop communication, organisation, team working and networking skills to enhance your employability.

Student Engagement Ambassador roles are also paid opportunities; we pay you an hourly rate for your time, subject to certain conditions.
To find out more about the role contact the School's Employability Officer, Marika Hildebrandova.
Become a mentor
Becoming a mentor will give you the opportunity to enhance your communication and interpersonal skills whilst helping others:
Peer mentoring
Once you progress into your second year of study you will have the opportunity to mentor first-year undergraduate students helping them to navigate their way around University life and make the transition as smooth as possible.
Brightside E-Mentoring
As a Brightside e-mentor, you will have the opportunity to work with under-represented young people in years 12 and 13, offering online support to help them navigate their way into higher education.
The scheme is open to those in their first and second years of undergraduate study.