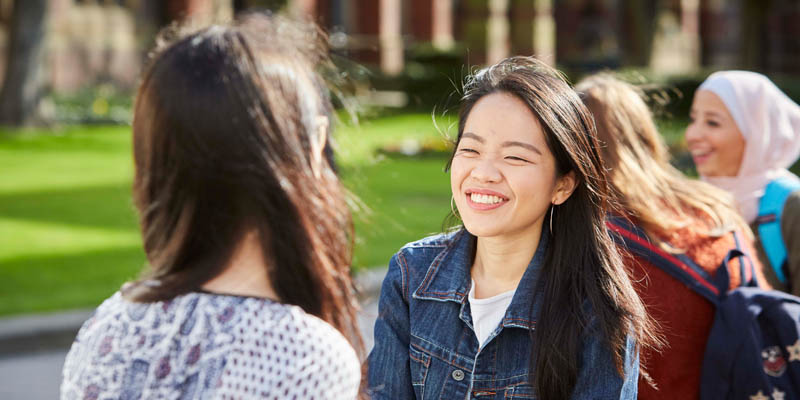 Choosing your degree is just the start. At Leeds there are many opportunities to enrich your student experience with a range of societies, sports and fitness, volunteering programmes, work experience and international activities to choose from.
You can also pursue your personal interests and broaden your degree with discovery modules, which can be chosen from programmes across the University.
Clubs and societies
Leeds University Union (LUU) clubs and societies offer you the chance to meet new people, continue an interest or discover something new.
With over 250 groups to choose from, you're sure to find something to suit you; from journalism to skydiving; folk music to film; student radio to book clubs.
The Education Society (EdSoc) is also a great way to socialise with your coursemates, as well as further your studies through regular workshops, talks and socials for students and staff across the department.
Volunteering
Volunteering allows you to explore something new and broaden your skill set, whilst supporting communities locally, nationally or internationally.
Both Leeds University Union and Leeds for Life offer a range of volunteering opportunities — from visiting hospital-bound children, to teaching young people about health and safety — to help boost your CV and take you to new places. Leeds for Life can also help if you want to set up your own voluntary project locally, nationally or overseas.
Global community
At Leeds you'll be part of a vibrant international community of staff and students, which brings many personal, academic and professional benefits to us all.
You can develop language skills, take part in international groups, undertake intercultural work and volunteering, or just enjoy some of the fantastic community events on offer throughout the year.
Find out more about our global community and how it offers you endless opportunities.
Work placements
Whether through a year in industry or a shorter-term placement, work experience will help you stand out to future employers and is a solid foundation for the world of work, as well as helping you decide what kind of career you might like to pursue when you graduate.
Find out more about work placements.
Study abroad
Studying abroad — whether for a semester or a full year — is a great way to broaden your horizons and change your perspective personally and academically. It can also help you stand out in the competitive job market and potentially prepare you for an international career.