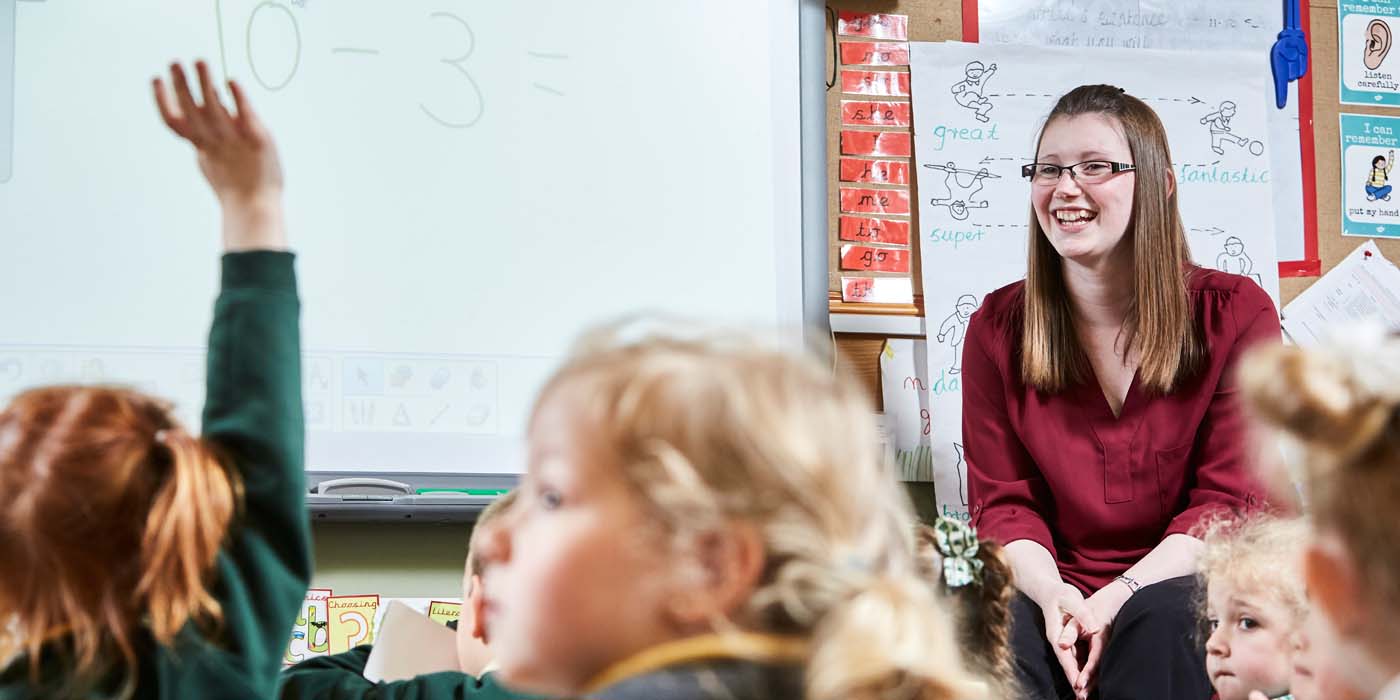 Work experience will help you to explore your career options and gain a real-world insight into the type of career you may want in the future. By taking on a work placement, you'll develop professional skills and gain valuable experience — increasing your future employability in the graduate job market.
Students into Education
If you intend to pursue a teaching career after your undergraduate degree, we advise that you have as much school experience as possible before beginning to study for a Postgraduate Certificate in Education (PGCE) and gaining Qualified Teacher Status (QTS).
Our undergraduate programmes provide integrated opportunities to gain experience in a school or other educational setting via Students into Education modules. These modules are available in the third year of your course (optional for those studying BA Childhood Studies and BA Education, and core for those studying BA Psychology with Education) and are designed to broaden your skillset and provide valuable experience, giving you a great base from which to pursue a career in the education sector.
Via Students into Education modules, you'll develop an understanding of schools, nurseries, pupil referral units or related adult education environments from the perspective of staff, and will have the opportunity to create and review educational resources working alongside established teachers or other education professionals.
A focus on the pedagogy of education will support your understanding of what happens in educational environments.
Students into Education modules are not just for those looking to become teachers – in the School of Education we also have links with local charities, Leeds museums and galleries and Refugee forums for an alternative to teaching.
You can gain further experience through paid work or volunteering, and via our teacher training partner Red Kite Teacher Training, who offer some experience days for those interested in teaching at primary school level.
Year in industry
In an increasingly competitive job market, a year in industry allows you to stand out. It will help you to develop your skills, and give you an insight into working life in a particular organisation or sector. All students have the opportunity to apply for a year in industry to develop employability skills and enhance future employment prospects.
Your year in industry will involve spending your third year on placement. It will extend the length of your degree by a year, and once successfully completed, will also be recognised in your degree title, for example, BA (Hons) Education (Industry).
Placements can be in any industry in the UK or abroad. Full support and guidance is offered both in finding a placement and during your placement year. You can complete up to two placements during the year, so you could also choose to organise placements in different sectors as a way to compare different working environments.
For this year you'll pay a reduced fee — find out more information about fees and funding for your work placement year.
Discover our work placement opportunities by visiting the University's Careers Service, where you'll also find support in crafting your CV, making applications and preparing for interviews.
Work abroad
Although working abroad will challenge you in almost every way, it will also set you apart when looking for jobs when you graduate. It will help you to gain a greater understanding of different cultures and values, allowing you to see your own in a new light, and prepare you to live and work within a global economy.
In the School of Education you can:
participate in the British Council's Language Assistants programme, if you speak an appropriate second language. These placements are usually 6 or 12 months in length. For further information about eligibility and details on applying visit the British Council website.
complete a year in industry in an international country. The Careers Service can support you to find a placement with access to a database of internships in over 50 countries.
In preparation for working abroad, you have the opportunity to take up language discovery modules with the Languages for All discovery theme modules and all students have access to the Language Zone.
Eleanor Mather
BA Childhood Studies
"The highlight of my course has been my year in industry. It has given me some amazing experiences that I wouldn't have had if I hadn't come to university."
View Profile