School of Law researcher celebrated in second World Changers Essay Collection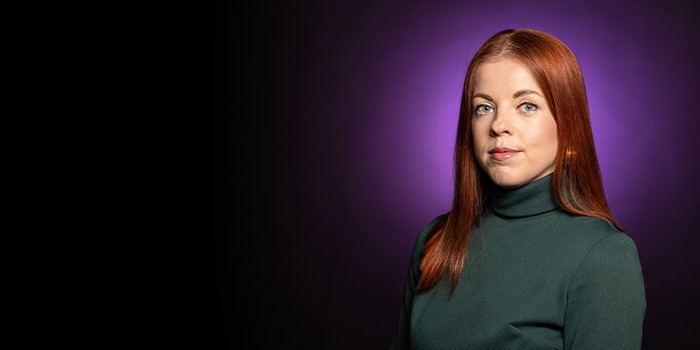 Associate Professor Rachael O'Connor discusses the importance of building micro-communities within larger institutions and explains her own approaches to doing so.
The World Changers Collection II is a series of essays by University of Leeds researchers across faculties and schools. They write about their ground-breaking research and the insights they've gained.
The essays all relate to the University of Leeds' ten-year plan which focuses on climate, addressing health inequalities, collaboration not competition, and the student experience.
Challenging the 'traditional': how 'micro-communities' can bring about big change
Associate Professor Rachael O'Connor's research has sought to understand how students, particularly those who are underrepresented, can be supported in feeling a sense of belonging and inclusion.
<iframe width="560" height="315" src="https://www.youtube.com/embed/ose0vtLwPa0" title="YouTube video player" frameborder="0" allow="accelerometer; autoplay; clipboard-write; encrypted-media; gyroscope; picture-in-picture; web-share" allowfullscreen></iframe>
As the University is such a large institution, she says that it's common for students and staff to be unsure of how to build relationships.
Part of Associate Professor O'Connor's project was to create micro-communities of student and staff pairs. Her approaches to building the communities included reverse mentoring, ie staff learning from students, and co-design, ie students collaborating on the aims and outcomes of the project. She says:
We must collectively harness the power of authentic conversations between members of our communities, without letting hierarchical barriers and labels get in the way. From the 'top down' and the 'bottom up' of a university, it is the job of every single one of us to create a campus where every single one of us belongs and matters.
Feeling part of a micro-community can contribute towards feelings of belonging and challenge the potentially unwelcoming nature of such a large and complex institution.
The groups meant that individual voices and stories could be heard as both staff and students could have authentic conversations about their identities.
The essay includes quotations from the participants of the project about how their perspectives of each other and themselves have changed, which affects how they behave and feel in the wider university community.
Associate Professor O'Connor explains that creating this kind of psychological safety within community spaces takes time and effort, but it's clear that it has been transformational for those involved and the wider community.
Associate Professor O'Connor's work in tackling inequalities embodies the University of Leeds' values to centre student experiences and create fairer futures for all.
Read the full World Changers essay here
World Changers collection II
The World Changers essay collection celebrates the transformative research that is taking place at the University of Leeds.
The collection is a testament to the dedicated efforts of our community to help create a fairer future for all – working through collaboration to reduce inequalities and enact meaningful and lasting societal change.
Other essays in the collection include reflections on co-production of studies in "In it together: where research and real world experience meet" by By Cara Gates, Kate Farley and Natalie Mark, and discovering ways to queer the curriculum in "Writing queer history: uncovering hidden pasts for a more inclusive future" by Dr Rosie Ramsden.