PGR student, Ruaa Hariri, awarded a 'Highly Commended' certificate for 'The Most Original Concept' at 'The Student Sustainability Research Conference'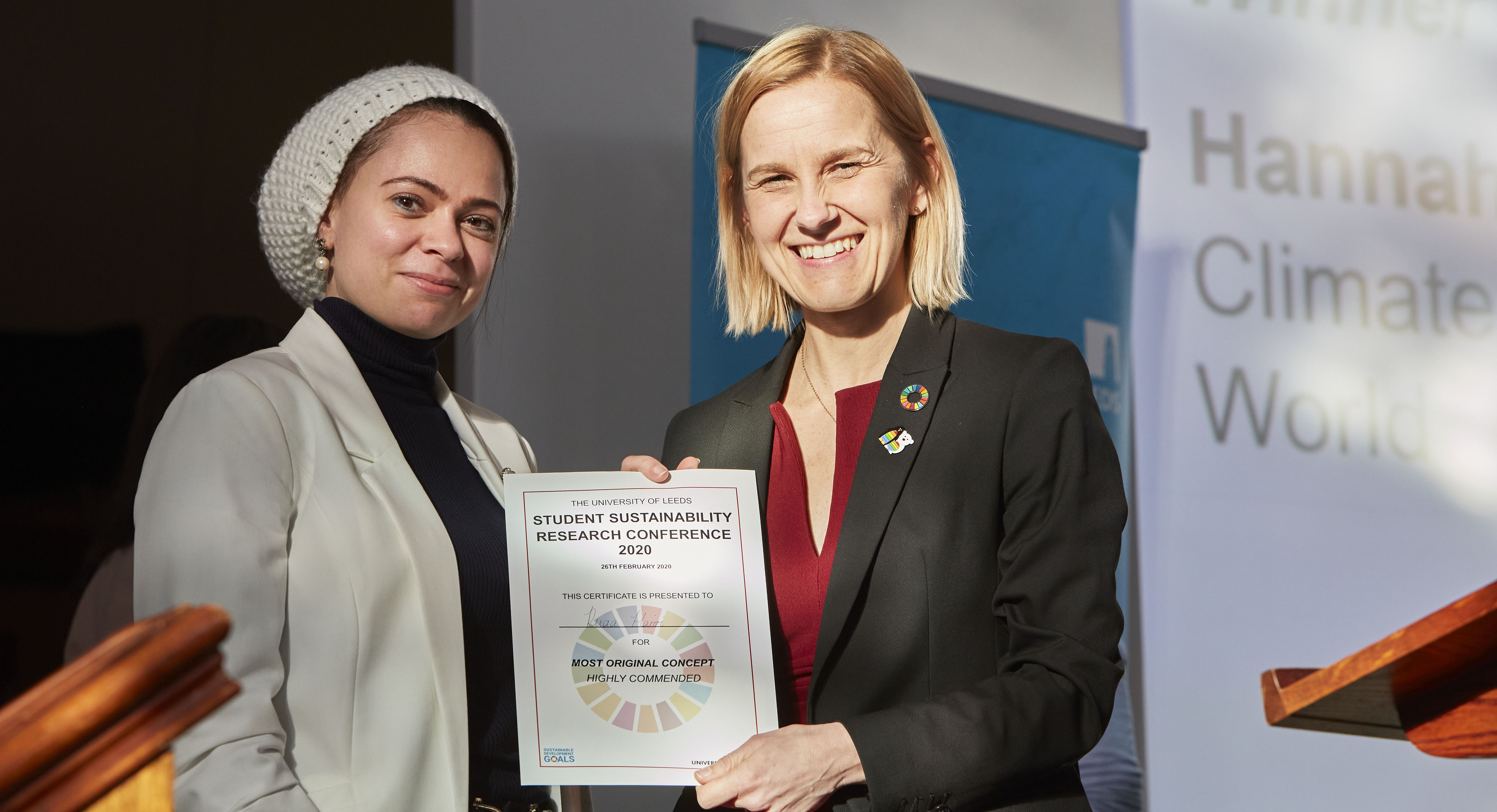 The fourth annual Student Sustainability Research Conference was held at the University of Leeds on 26 February 2020 with over 200 staff, students and visitors in attendance.
The day consisted of student presentations, an all-day exhibition, networking sessions and a keynote panel, and began with a welcome address from Professor Lisa Roberts (Deputy Vice-Chancellor: Research and Innovation) and Dr Louise Ellis (Director of Sustainability). The event celebrated and highlighted the critical role that student research plays in finding innovative interdisciplinary solutions.
Ruaa Hariri, a PhD research student in the School of Education, was one of the students who attended the Student Sustainability Research Conference to present her research which is titled 'Exploring Sustainable Assessment Feedback in Second Language Education: Insights from Preparatory Year Teachers'.
Ruaa's presentation discussed some of the challenges in Saudi education (e.g. learners' lack of criticality skills, teachers' lack of assessment skills) and how investing in teacher training may sustain educational practices that are in support of life-long learning. This was contextualised through exploring female teachers' perceptions and practices of assessment feedback, on their learners' English academic writing, at one Saudi University Preparatory Year Programme.
The presentation expanded upon the themes that Ruaa summarises in the research project abstract, explaining that 'Quality Education' is highlighted amongst the top Sustainable Developmental Goals (SDG) placed by the United Nations for the 2030 agenda as it is a catalyst for economic growth and empowerment of women. In an attempt to address these global demands, Saudi Arabia's Voluntary National Review to the 2018 UN Forum was the country's first attempt to conduct a review of the status of the SDGs. Ruaa explained that the challenges faced in Saudi education were compiled, and educational evaluations have identified teachers' assessment skills in need of development. It is therefore essential to reconsider academic development that encourages change in teachers' knowledge, skills, values and attitudes. The central focus of this empirically based research is the relationship between language teacher cognition and the nature of their assessment feedback provision.
In terms of research impact, Ruaa's research addresses educational challenges that have been identified by Saudi Arabia's National Transformation Programme (NTP) 2020. The NTP is an economic action plan, put in place by the government of Saudi Arabia as part of its Vision 2030 development plan. This plan comes in the framework of Saudi Arabia's efforts to diversify its economic income away from the oil industry. One of the overarching objectives is to transform the education industry.
The event culminated with an awards ceremony, which celebrated the excellent poster entries as part of the conference exhibition. Ruaa was awarded a 'Highly Commended' certificate for 'The Most Original Concept' in relation to her presentation.
Find out more on the Student Sustainability Research Conference 2020 webpage.