International Masters students share their experiences of the Students into Schools Go Global scheme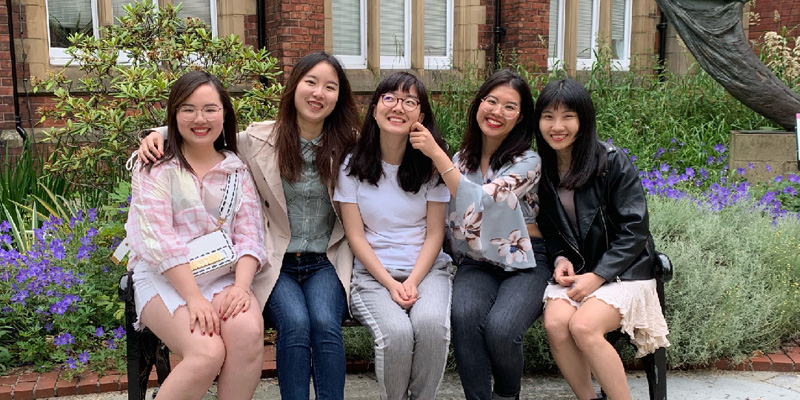 Some of our international Masters students have shared their experience of volunteering as part of the Students into Schools Go Global scheme.
by An Yan, Anqi Tang, Chunzi Yang, Qin Yi and Lanping Luo
This year we delivered an after-school club once a week for 5 weeks in a local primary school, teaching a class of 30 pupils who were 8 and 9 years old about Chinese language and culture. We enjoyed using fun interactive activities to teach students about topics including Chinese spring festival, numbers, colours, and food.
We saw the opportunity advertised at the Fresher's and Volunteering Fairs at the beginning of the year and as Education students we were excited about the opportunity to gain experience of teaching in the British education system.
The Students into Schools and International Student Office teams were very supportive and prepared us for what to expect. We received lots of training both before and during the placement, as well as feedback on our ideas and session plans. The class teacher in the school was always there to offer support in the classroom.
We felt very comfortable working together as a team to plan and deliver our activities. We met regularly to discuss our lesson plans and give each other feedback and advice. Although we all study in the same school, we would not have got to know each other so well without volunteering together on this programme.
There were some challenges, for example we began with too much content in our session plans, but with experience we improved our time management. It also took time to build our relationship with the pupils and at first they were quite quiet, but they soon forgot this shyness and it was very fulfilling to see them so engaged in the sessions we ran.
A highlight of the experience was the opportunity to introduce pupils to a different culture, and we hope that they'll continue to build on their new knowledge. Although the pupils did not know much about China at first, they were very curious and willing to learn, even asking for our left over teaching materials to take home. We also valued the opportunity to challenge some common stereotypes and assumptions, for example that people in China eat everything with chopsticks which is not always true. We hope that one day they will visit China and remember what they learnt during our sessions.
Being involved in this programme was a highlight in our life studying in Leeds and we would definitely recommend this programme to others. We look forward to applying some of what we have learnt from the British education system in our own classrooms in China.
Find out more about our Masters courses in the School of Education