School of Law student wins Beaumont Award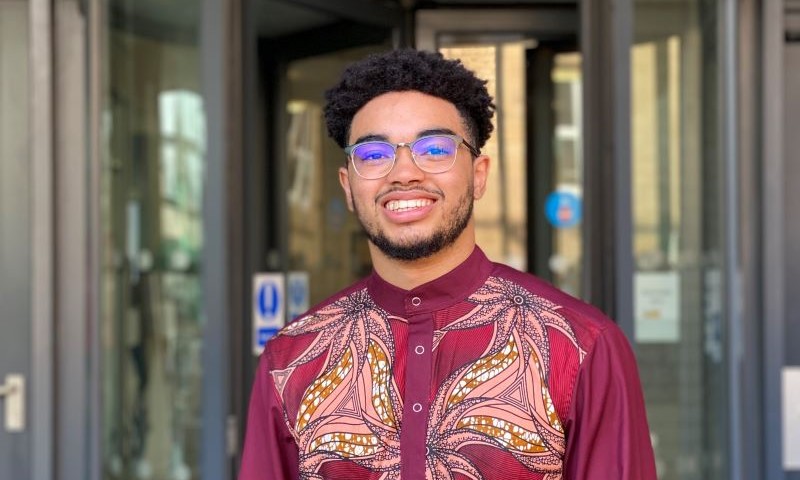 The Beaumont Award is inspired by the life and work of Michael Faraday, whose discoveries were crucial in the development of technological innovation.
The School of Law are delighted that 3rd year LLB student Thabang Royds has won the 2022 Beaumont Award.
The award is sponsored by Professor Adam Beaumont, CEO of aql and a Visiting Professor in Cybersecurity at the University of Leeds. All final year undergraduate and integrated Masters students from any discipline who have completed research projects can apply.
School of Law student Thabang, who is from Johannesburg, South Africa, is the first student from the Faculty of Social Sciences to win this prestigious award. We spoke to him about why he decided to come to Leeds, the Beaumont Award and his plans for the future.

Why did you decide to apply to study at Leeds?
I was mostly drawn by the facilities, singular city campus, extremely positive student experience feedback, the wealth of academic excellence, the various modules I could pick (particularly intellectual property and international human rights) and of course its prestigious Law school and reputation.
The deciding factor for me is a bit more ethereal or perhaps cliché depending upon how you view it.
After I applied through UCAS, the University of Leeds issued a conditional offer to me in October 2018. This is significant because the South African school year generally runs from January to December and so the university had expressed an interest in accepting me way before I had even finished my final exams, received my final marks, or received communication from any of the other universities I applied to. The joy I felt opening the offer letter indicated to me that Leeds may be the place for me to pursue my tertiary education. This feeling was not mirrored when I received conditional or formal acceptance from the other universities I applied to thereafter.
I stepped on campus for the first time and had this relieving feeling that I had made the right choice. I could feel and see myself walking around the union, studying in the libraries, and graduating outside the Great Hall.
From a young age, my mother echoed and reinforced my grandfather's teachings that most material things can be taken away from you, but once you are educated no one can take that away from you.

Why did you apply for the Beaumont award?
My main motivation for applying for the Beaumont Award was from my dissertation supervisor, Dr Amaka Vanni. After my first chapter submission, she encouraged me to apply for the award as she believed my research could benefit the academic community. To be honest, I was quite shocked when she told me to apply as in my head, I was only trying to churn out the best dissertation I could. I never imagined that I would be up for an award, let alone win it.
As such, after I was told I could pursue any research topic for my dissertation, I immediately wanted to incorporate South Africa in contemporary discussions about the law. I consistently feel that there is a focus on western modernity in legal research and consequently, African countries seem to be viewed as lesser than.
I saw this as an opportunity to prove this narrative inaccurate and, I suppose, it is a roundabout way of saying I am proud to be South African.
My research project is titled "Copyright Protection in the Age of Social Media: A Cross-Jurisdictional analysis of the USA and South Africa".
From #BlackLivesMatter to Instagram boomerang videos - social media has become an integral part of communication and interaction in the new digital world. However, it presents new legal challenges for content creators and users.
Copyright is traditionally territorial, meaning protection is accorded in the country whose laws govern a copyrighted work's existence. Conversely, social media is aterritorial or boundless questioning whether creative works can be protected over social media.
Adopting an empirical and comparative approach, my research critically analyses key legislation and landmark cases in the USA and South Africa. Finding that both jurisdictions have failed to keep pace with social media.
With social media's rapid development over the past two decades, over half of the world are active social media users, meaning over half of the world is left unprotected. This indicates an overall need for copyright reform to address the unchecked powers of social media companies and ensure adequate protection for content creators.
My research contributes to a currently impoverished body of legal literature relating to IP law and social media in the Global South. In this sense, it is both timely and relevant for scholarly and policy purposes. This research will be of interest to policymakers, state actors, and creatives interested in protecting their work over social media.

How do you feel about winning the Award?
Honestly, very surreal. I cannot imagine my current self, convincing my first-year self that I would go on to win an award for my dissertation when the thought or mere mention of a dissertation back then made the hairs on my neck spike.
I am honoured to have won such a prestigious award and have my work recognised for its potential impact on society. I hope it is used as both an interesting read and a springboard for other researchers in this area. For me, it is deeply rewarding to see my hard work acknowledged and it inspires me to continue my research and academic endeavours.

Are there any members of staff at the School of Law who have particularly helped you during your time at Leeds?
I would say definitely Dr Amaka Vanni. As aforementioned, she was the main motivator for the award which has been a highlight of my time at the university.
Thabang has shown to be a meticulous, dedicated and incredibly promising junior scholar. His LLB thesis adopts a dual approach combining comparative and empirical approaches in the study of Intellectual Property (IP) Law. This work is incredibly valuable to diversifying the body of literature on IP law, media, and technology. I am proud and happy for him, and I am sure he will go on to do many remarkable things in the future.
DR AMAKA VANNI
I would like to extend gratitude to my personal tutor Dr Ilaria Zavoli for her support throughout my degree. She was always enthusiastic at meetings and Zoom calls despite the circumstances and always open to having a conversation about any advice I needed. She spoke quite frankly which was very much appreciated.
I would also like to thank Dr Rosie Fox for her advice about dissertations and legal research. She instilled in me that I am really open to research whatever I want in whichever area of law I please. This teaching helped me pick a topic that I would be interested in exploring rather than picking a topic for the sake of churning out a dissertation to complete my degree that may have been explored previously. Looking back, this is one of the best pieces of advice I was given, my genuine interest in my topic propelled me through some of the tougher stages of research and writing and allowed me to keep pushing myself to complete the best dissertation I possibly could.

What are your hopes for your future career?
I think the first step is to sit back and relax a bit after graduation, reflecting on my university experience a little and enjoying the summer.
I have a training contract commencing in 2023 with Pinsent Masons LLP and so my immediate plans after graduation are to complete my LPC with an integrated MSc in Law, Business, and Management.
Alongside this, I am hoping to publish my research. So far, I have been in contact with a few lecturers and professors from home who are interested in polishing up my dissertation to the publication standard of the South African Mercantile Law Journal, so hopefully, this will be the next exciting step in my research journey.
Long-term, I hope to be a lawyer specialising in Intellectual Property, but this is not set in stone. I am excited to see whether my interest is purely from a researching standpoint or from a practical perspective. In this way, I am interested to see how the various seats I undertake in my training contract will influence this decision and whether I find another area of law that I enjoy practising in.
Similarly, I still have a keen interest in International Human Rights law, so this interest may add a bit of spice to my future career plans, but I am thrilled at the prospect of a legal career.
Overall, I think I am quite certain (and excited) to pursue a legal career, as this feels like the right fit for me.