The School of Law holds inaugural "PGR Prize Giving"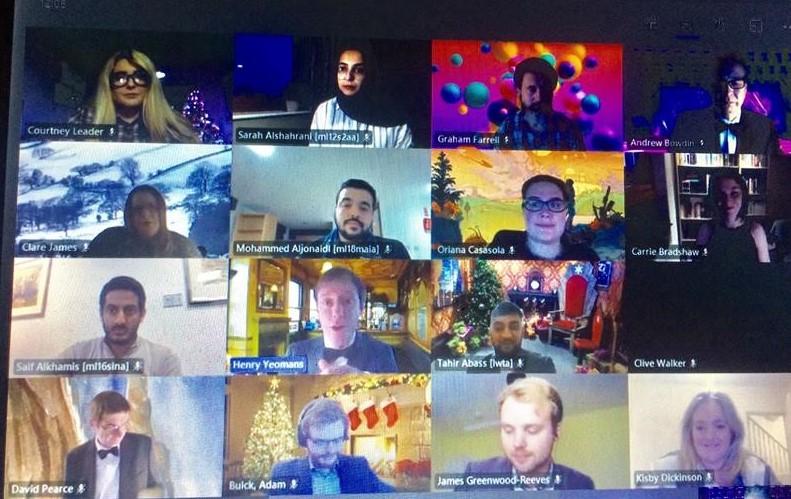 The event was conducted online via Microsoft TEAMS and attendees were encouraged to dress up.
On the afternoon of Wednesday 9 December the School of Law held their first "PGR Prize Giving" event, to recognise and celebrate members of our Post Graduate Research community and their contribution to the School.
The event was organised by Andrew Bowdin, Dr David Pearce and Dr Henry Yeomans and was attended by 55 attendees from countries including China, India, Kuwait, and Azerbaijan.
Prizes were given for "PGR's PGR of the Year", "Academic Performance", "Contribution and Engagement" and "Outstanding Thesis".
The PGRs also took the opportunity to surprise Andrew with a compilation video thanking him for everything he does for the School's PGR community.
Andrew said "You always wonder how well attended an online event is going to be - well, this was brilliant! We got a lot of positive feedback - we (Henry, David and I) were even complimented on our bowties! Many people had also dressed up or had festive backgrounds. I was also very surprised (and very moved) by a presentation that the PGRs had put together about me. We will certainly do this again next year."
Winners:
PGR's PGR of the Year
Kisby Dickinson
Clare James
Academic Performance
Clare James
Khaled Alrashidi
James Greenwood-Reeves
Anthony Dixon
Contribution and Engagement
Amy Gainford
Dennis Cardinaels
Tahir Abass
Outstanding Thesis