Dr Laura Bainbridge holds symposium exploring 'cuckooing' victimisation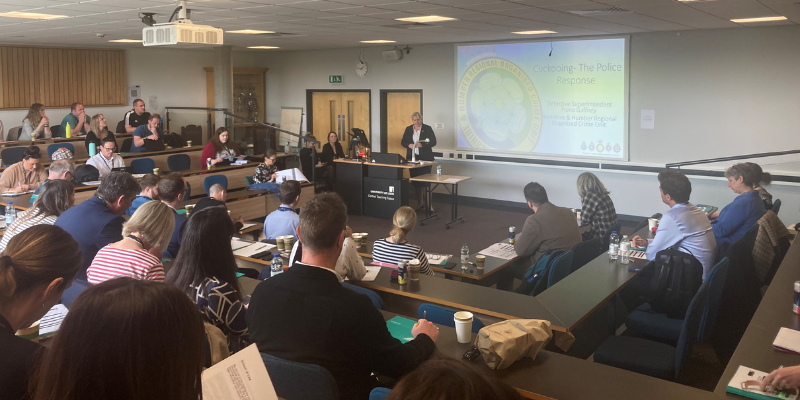 Cuckooing is a practice where people take over a person's home and use the property to facilitate exploitation. It takes the name from cuckoos who take over the nests of other birds.
On Wednesday 3 May at the School of Law Dr Laura Bainbridge, Deputy Director of the Centre for Criminal Justice Studies, held a one-day symposium which brought together academics, police professionals, criminal justice practitioners and voluntary sector representatives, to explore the latest thinking and research evidence around 'cuckooing' victimisation.
A core objective of the symposium was to share knowledge and experience of how 'cuckooing' can be prevented, both in relation to target-hardening potential victims and identifying 'exit' strategies for those who find themselves 'cuckooed'.
The symposium included networking opportunities and presentations from experts such as: Professor Simon Harding - University of West London; Professor Stephen Macdonald - Durham University; Dr Rosemary Broad - University of Manchester; Dr Jack Spicer – University of Bath; and Fiona Gaffney - Yorkshire and Humber Regional Organised Crime Unit.
Attendees came from a wide range of organisations including five police forces, two Regional Organised Crime Units, 12 Universities (including Cambridge, Durham, Manchester and Liverpool), the National County Lines Co-ordination Centre and the Home Office.
I was delighted to organise and chair this N8 PRP-funded symposium dedicated to understanding and preventing cuckooing victimisation. The knowledge and insights shared by both the speakers and the delegates was exceptional, and I am very much looking forward to hosting a second 'cuckooing' symposium later this year that will showcase examples of good practice that have emerged across the UK in recent years.