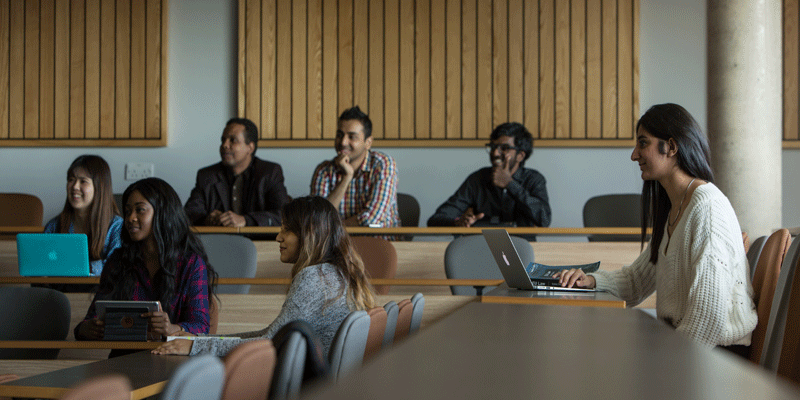 We believe inspirational teaching will deliver inspired students – inspired to become tomorrow's leaders, innovators and agents of change.
Throughout your time at the School of Law, you'll study with world-leading specialists and thrive in an atmosphere where discussion and debate stimulate interest, enquiry and further research.
You'll also benefit from excellent study facilities, personal development opportunities, outstanding professional support and more.
Teaching and support
Our teaching is delivered predominantly through weekly small group seminars. We utilise a range of teaching approaches and digital aids to cater for different learning styles.
From the outset, all programmes have a core which includes foundational knowledge and research skills. This is followed by increased independence as your skills develop and you become adept at your own research.
You will either be assigned a personal tutor or two research supervisors, depending on the type of course you are studying. These individuals are your first stop for all of your academic needs and are there to help you achieve your potential.
Tailoring your studies
Within most years of study, you can choose a number of specialist optional modules from across the school – allowing you to tailor your degree to your own interests and career ambitions.
Explore the options your course offers on your degree listing.
Sharing our expertise
Our academic staff are internationally recognised for their research impact. As a postgraduate in the School of Law, your learning will be enriched by some of the brightest minds in law.
As part of our research and expertise, you could choose to work across the globe in various roles or pursue research which may inform policy and practice in around the world.
Discover more about our research and expertise.
A 21st century learning environment
Your studies will be based in the Liberty Building – a purpose-designed professional space which integrates our student community with our internationally renowned research hubs.
Within our state-of-the-art school, you'll benefit from heavily-resourced seminar rooms, research spaces, spacious common areas and even a moot courtroom.
Across campus you'll also have access to outstanding facilities to support you in your studies, including:
Four libraries including our specialist law library which has over 50,000 volumes plus access to a huge range of electronic resources
Over 1,500 PCs (some accessible 24/7) and free Wi-Fi across campus
Minerva, the University's Virtual Learning Environment. Typically you might use Minerva to access electronic copies of lecture handouts, follow up on links to additional study resources, or to watch podcasts of lectures
The Language Centre which offers a broad range of language training and preparation courses. They also run the Language Zone – a resource for all students interested in learning a new language, or keeping up an old one – with language learning materials in over 40 languages.
Read more about academic facilities at the University of Leeds.
Enrichment opportunities to enhance your experience
As part of our thriving student community, you can also get involved with a range of clubs and societies, take advantage of our new sports and fitness facilities, or join volunteering programmes and international events.