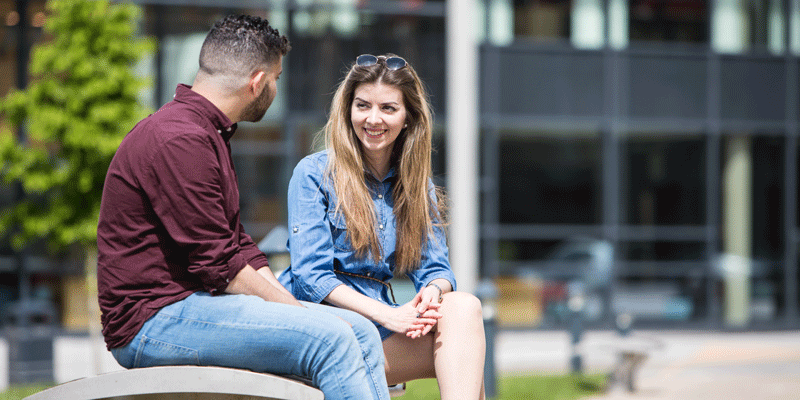 The School of Law's Community Engagement projects are volunteering or 'pro bono' opportunities that allow you to put into practice the knowledge and skills you've developed throughout your studies. The School has a long history of providing students with such opportunities, the excellence of which is recognised by several national and University awards.
Our current portfolio of projects is outlined below. School of Law students receive detailed information by email on the recruitment periods for these projects at relevant points during the academic year.
Welfare Appeals and Tribunal Clinic
Run in collaboration with Chapeltown Citizens Advice, the Welfare Appeals and Tribunal Clinic project involves students working with an appeals worker to support clients in appealing benefits decisions.
Volunteers are guaranteed two days volunteering with the Chapeltown Citizens Advice Clinic, observing and participating in client interviews and helping prepare for a tribunal hearing, which students also attend where possible.
I most enjoyed working with real life clients and knowing that the work I was doing and the effort I was putting in would have actual positive consequences for a real person.
[What I enjoyed most was] having the opportunity to make a real impact and help vulnerable clients strengthen their appeals. I also gained a lot of confidence in speaking to clients through the experience.
Welfare Rights Clinic – Leeds City Council
The Welfare Rights Clinic, run in partnership with Leeds City Council, provides advice and support to clients on a range of welfare benefits. As part of this project, second and third-year student volunteers receive training to help clients make welfare claims, including for Personal Independence Payments (PIPs), which provide financial support for people who need help taking part in everyday life or who find it difficult to get around.
My favourite part of the project was the feeling of satisfaction when you know that an application will be successful. This is because you have actively helped a person to improve their life. Indeed, with the money they receive, they will be able to afford better care and small improvements that will make their everyday life much easier … The skills that I have improved because of this project are active listening, accurate representation of facts and precision, empathy, non-judgmental approach, confidentiality, interview skills and team working.
Community and Migrant Support
As part of the Community and Migrant Support project, student volunteers assist clients and visitors at the St Vincent's Support Centre by providing information and wider community support. This includes a wide range of tasks, from immigration advice and information provision, informing visitors on education, housing or welfare matters, and broader community support needs such as creating food parcels.
I thoroughly enjoyed directly interacting with the clients and the hands-on approach involved. I found that the diversity of work meant that I was able to gain experience in a wide range of fields. Moreover, the supervisors, Julie and Rolinde, were very helpful and really supportive.
I was able to quickly pick up immigration laws and procedures and was excitingly able to complete full applications and submit them on my own. This experience also honed my attention to detail, which is crucial while filling in dates and all sorts of numbers throughout the workday.
Cerebra Pro Bono Research Programme
The Cerebra Pro Bono Research Programme is an opportunity for students to be involved in research which helps to benefit the lives of disabled children and their families.
Cerebra is a children's charity concerned with improving the lives of children with neurological conditions and their families. The charity has endowed a Research Chair at the School of Law to help families overcome commonly occurring legal problems that they encounter when seeking to access their legal entitlements. The programme produces a report, published in the Spring term, which is then used to raise awareness and bring about practical changes in law, public policy, and practice.
Research during 2022-23 investigated the phenomena of FII (Fabricated or Induced Illness): a situation where families find themselves accused of causing their child's illness. Many families report that they have had allegations of FII made against them even though these were later proved to be incorrect and the child diagnosed as having a significant impairment. Although research suggests that FII is a very rare phenomenon, the evidence suggests that significant numbers of families are having such allegations made against them.
The 2022-23 pro bono research considered anonymised data from a qualitative survey undertaken by Cerebra and students made a number of freedom of information requests to English local authorities on this issue. The data is currently being analysed and the report due for publication in 2023.
Research during 2021-22 focused on the implementation of the findings of Cerebra's 2021 report, Institutionalising Parent Carer Blame. Student volunteers sent Freedom of Information requests to local authorities, enquiring about the disability and human rights training and guidance given to relevant children's services assessors. They also performed an analysis of local authorities' websites, assessing the accessibility of these websites for parent carers looking for support from their local authority.
The research demonstrated that most English Children's Services Authorities operate a 'one size-fits-all' approach to families, regardless of whether it is a parent carer seeking support for a disabled child or a family where the evidence suggests there to be neglect or abuse. The effect of this approach is to create an 'institutional culture' of 'parent carer blame'.
Read more about this year's project, the Cerebra Legal Entitlement and Problem-Solving Project, or download other Cerebra Pro Bono Research Programme reports.
I really enjoyed learning about disability law and seeing how charities can have such a massive impact on policy making and improving the lives of others.
The sense of accomplishment I had after the project was immense. I felt very grateful that I was able to provide help to people who need it, that I may have a contribution to make a much-needed change.
StreetLaw
StreetLaw promotes understanding about legal rights and responsibilities to individuals who may not otherwise have access to such knowledge. With the support of the University's Educational Engagement team and a practising lawyer students work together in small groups to research, design and deliver interactive workshops for school and college-age students covering a series of legal/criminal justice related topics.
Previous topics have included the Gender Pay Gap, Social Media Data Protection, Smishing and Employment Rights. On this project, students engage with the local community while perfecting their research, communication and workshop facilitation skills.
Taking part in the StreetLaw project was a thoroughly enjoyable experience… Creating a workshop has helped to develop my legal research skills, presentation skills, and my ability to present complex information in a clear concise way. It was also rewarding to engage with the local community and hopefully inspire students to study at the university.
As a first year student, I truly enjoyed the fact that I was able to utilize my (relatively little) knowledge of the law in a way that was benefiting the community around me. I thoroughly enjoyed the feeling of being useful in some sense, especially considering that when I first started my degree, I did not feel I had much to offer this early on in my legal academic career. The experience I had with StreetLaw is one that I will definitely seek to consistently repeat with various community engagement and pro bono work in the future.
Justice – The Magistrates' Courts Project
The Magistrates' Courts Project partners with Justice, a prestigious human rights charity to work towards achieving a system in which fewer people are criminalised, people are treated fairly and equally, and prison is used only as a last resort. Students attend, observe and record real bail hearings in Magistrates' Courts across England and Wales, adding to Justice's growing dataset that it will use to improve decision-making in respect of bail, in turn seeking to avoid the use of prison and reduce future offending.
This experience improved my understanding of the bail and remand process of the criminal justice system, enhanced my confidence in the courtroom, and helped me decide whether I want to pursue a career in criminal law.
Leeds University Union Student Safety Research Project
The Student Safety Research Project, run in collaboration with the Leeds University Union (LUU) involves students gathering and analysing data on student safety concerns on and off campus, with findings used to inform the approaches taken to student safety by LUU and its partners, including West Yorkshire Police and the University of Leeds.
LawWorks and Attorney General Student Pro Bono Awards
2021 – Highly Commended for The Access to Justice Foundation Award
2020 – Runners-up for Best Contribution by a Law School
2017 – Best New Pro Bono Activity for the Welfare Rights Clinic
If you have any queries in relation to the Community Engagement Activities offered at the School of Law, please email lawcommunityengagement@leeds.ac.uk