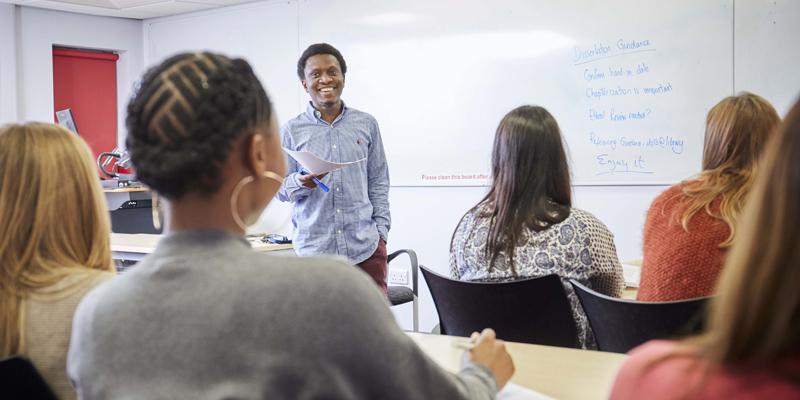 The School of Politics and International Studies (POLIS) is home to a vibrant learning and research community.
When you join POLIS you'll be supported and inspired by the expertise of our academic staff. You'll also have access to a wide range of opportunities — all designed to expand your degree according to your interests and aspirations.
Tailoring your studies
Within most years of study you can choose a number of specialist optional modules from across the school, allowing you to tailor your degree to your own interests and career ambitions.
You'll also have the opportunity to explore modules beyond your degree subject. We offer hundreds of possibilities organised into ten themes, including: language and intercultural understanding; media, culture and creativity; and mind and body. These discovery modules are a great way of pursuing your interests in addition to exploring something new. Discovery modules are subject to timetabling, availability and eligibility.
Find out more about discovery modules and explore the options your course offers on your degree listing.
You can also add quantitative focus to your degree by undertaking Q-Step modules and possibly even applying for a special placement. Q-Step is an initiative aimed at addressing top employers' need for more social science graduates with the skills to analyse data and research evidence. Find out more about Q-Step at Leeds.
Research-informed teaching
Our programmes are directly informed by research developments. What this means to you is that your course will cover the latest thinking and you will be taught by influential leaders in their field who shape policy.
As part of our research and expertise, you could choose to work across the globe in various roles, or pursue research which may inform policy and practice in classrooms around the world.
Discover more about our research and expertise.
Supporting your development
While encouraging you to become a self-motivated learner, our staff will guide you through your studies and help develop the skills you need to become an independent critical thinker.
You'll be assigned a personal tutor, who you'll meet with regularly. They'll help shape your academic and personal development; providing comprehensive support in meeting your goals and ensuring you get the most out of your time at university.
From your first year to your finals, you'll also benefit from a diverse programme of support in academic skills and study techniques with Skills@Library.
Making use of all the support and resources available will prepare you for a rewarding career.
Excellent facilities and resources
Our vibrant learning and research community is based in the Social Sciences Building, which has been re-designed to be environmentally sustainable and accessible for disabled students. You'll benefit from state-of-the-art seminar rooms, research spaces and common areas.
Across campus you'll also have access to, for example:
Four libraries which are home to over 2.8 million books and journals plus dedicated study spaces
PCs (some accessible 24 hours) across the campus and free Wi-Fi in most areas
Minerva, the University's Virtual Learning Environment. Typically you might use Minerva to access electronic copies of lecture handouts, follow up on links to additional study resources, or to watch podcasts of lectures
The Language Centre which offers a broad range of language training and preparation courses. The Centre also runs the Language Zone — a free resource available to all students interested in learning a new language, or keeping up an old one — with language learning materials in over 40 languages.
Read more about academic facilities at the University of Leeds.
Enrichment opportunities to enhance your experience
Choosing your degree is just the start. At Leeds there are many co-curricular opportunities to make the most of your time at university.
This could mean applying to add another year to your degree to study abroad, undertake a work placement or pursue a business idea as an entrepreneur — all contributing to your personal development and employability prospects.
As part of our thriving student community, you can also get involved with a range of clubs and societies, take advantage of our new sports and fitness facilities, or join volunteering programmes and international events.
Jenna Stewardson
BA Politics and Parliamentary Studies
"I have freedom to choose which topics I would like to specialise in, and some of my most enjoyable modules so far have been on the history of the Conservative Party and the workings of the UK Parliament. Probably the highlight of my course so far was a seminar with the Speaker of the House of Commons, John Bercow. It is unique opportunities like this which make me so glad I chose Leeds."
View Profile