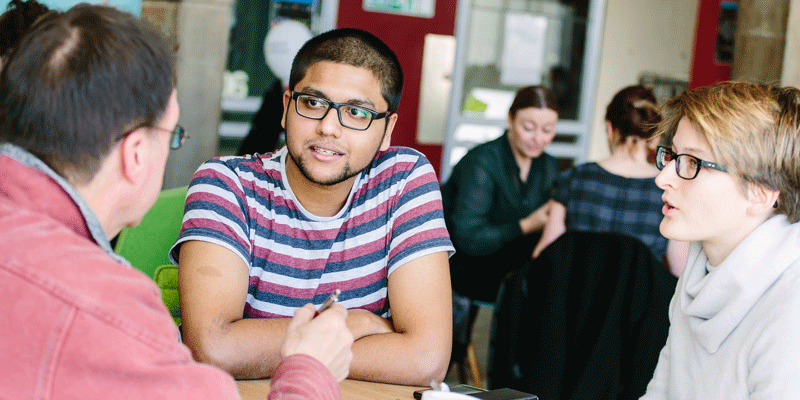 A degree from the School of Politics and International Studies provides you with the knowledge and transferable skills for a successful career.
Rewarding careers
In recent years our graduates have gone on to work in public and private sector roles across the globe, in organisations and government such as:
UK Parliament
Civil Service
BBC
Deloitte
Leeds City Council
British Council
The Home Office
Jefferson Communications (PR)
Temple Translations (specialist legal and financial translators)
Mackenzie Stewart (Global Executive Search and Selection).
Gaining experience
Throughout your studies, you'll have a number of opportunities to develop key employability skills, including the chance to:
undertake a work placement year to gain experience relevant to your career aims, or to test a potential job choice whilst gaining practical experience
apply for a parliamentary placement if you are studying BA Politics
study abroad to experience life in another culture — all of our courses allow you to undertake a study abroad year and BA International Development also offers a semester abroad route
gain the quantitative skills valued by employers with Q-Step option modules
develop entrepreneurial skills with help from our Enterprise Centre
broaden your experience with 250 student-led clubs and societies.
Find out more about our wider enrichment opportunities.
This July I know that I will graduate with confidence about finding a good career, a better understanding of the world we live in, friends for life and countless happy and fun memories of my time at Leeds.
Careers support
We encourage you to prepare for your career from day one. That's one of the reasons Leeds graduates are so sought after by employers. Whether you know exactly where you want to be, or you're just wanting to make the most of all the opportunities available, we are here to support you.
You'll have access to the University's award-winning Careers Centre, who are on hand to support you throughout your time at university and beyond. We offer one-to-one support for creating your CV, searching for jobs and internship opportunities, application support and mock interviews, as well as specialist career discovery modules.
Once you graduate you will still have access to the University of Leeds Careers Centre services.
For those graduates who can't visit the Careers Centre in person, but need advice, then you can ask your questions using the e-guidance service. Alternatively, you can contact the Careers Centre on +44 (0) 113 343 5295 or email: careerscentre@leeds.ac.uk
You can also register for a graduate log in to access the exclusive MyCareer database of local, national and international job opportunities, as well as many student and graduate internship opportunities.
Recruitment fairs
There are a number of graduate and internship career fairs throughout the year, where top employers come to campus to recruit our students.
Leeds for life
Your personal tutor, who you'll meet with regularly, will be involved in guiding your academic and personal development. Using Leeds for Life, they will encourage you to keep a personal and active record of all you have achieved. This will help you to complete application forms and prepare for interviews.
The Leeds Network
Leeds has an extensive network of alumni with a wide range of experiences. You can contact alumni from the School of Politics and International Studies to find out how they might be able to help you with your career aspirations.
Ludwig Ahlqvist
BA International Development and Italian
"This degree has been great for my professional career; for example I completed a summer internship at Free the Slaves HQ in Washington D.C. This gave me insight of how it is to work at an international NGO. I recommend everyone applies to these kind of work experiences. There is great help from the University and tutors if you find a project that interests you."
View Profile