School of Law academics host one-day conference on violence against women and girls in collaboration with Cumbria Constabulary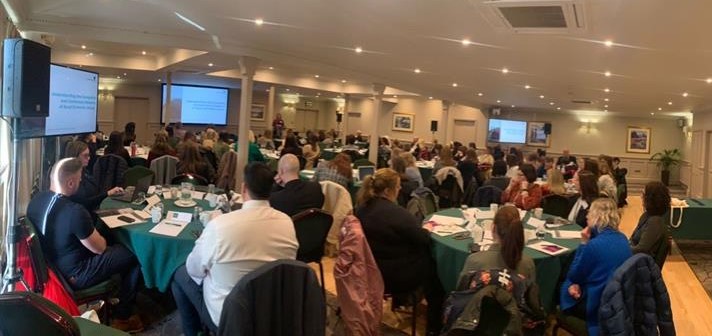 The conference brought together leading researchers, national policy makers, and local practitioners in a shared commitment to eradicating violence against women and girls (VAWG).
On Monday 6 February 2023, the School of Law's Dr Sam Lewis and Dr Dan Birks hosted a one-day conference on VAWG in Penrith, in collaboration with Cumbria Constabulary and partners.
The event saw the launch of their report on The Geospatial and Contextual Patterns of Rural Domestic Abuse, following research conducted in the predominantly rural county of Cumbria.
Professor Paul Taylor, the first Policing Scientific Advisor, emphasises the importance of science & research to the delivery of evidence-led policing practice. The conference was chaired by Detective Superintendent Dan St Quintin, from Cumbria Constabulary (seen here on right).
The conference came at a critical moment in the development of national and local responses to VAWG. In September 2021, a report by Her Majesty's Inspectorate of Constabulary and Fire & Rescue Services (HMICFRS) concluded that there had been significant improvements in the police response to VAWG in the last decade. It also found inconsistencies at force, local partnership, and national level, however, and called for 'an immediate shift upwards of the priority given to the policing response to these offences'. HMICFRS stated that 'policing cannot do this alone' and called for 'a whole-system response' to VAWG offences.
There is mounting evidence from countries including the USA and Australia that victims of domestic abuse in rural areas have particular needs which require a bespoke response. International research evidence also suggests that practitioners face challenges when trying to reach, and provide support for, rural victims. This is the first study in England and Wales to combine a large police dataset with information from other organisations, and insights from practitioners, to shine a light on this issue. Our work with Cumbria Constabulary and partners brings new insights which have the potential to shape policy and practice in Cumbria and beyond.
The research was funded by the Home Office's 'STAR' fund, which funds science, technology, analysis and research across police forces.
Conference attendees included Cumbria's Police and Crime Commissioner, police officers, domestic abuse service providers, local authority officials, Victim Support, health colleagues, Age UK, and academics. Speakers included Professor Paul Taylor, the National Policing Chief Scientific Advisor, Detective Superintendent Sally Blaiklock, the safeguarding lead for Cumbria Constabulary, and Chief Superintendent Sam Millar who leads the National Police Chiefs' Council VAWG Taskforce.
Dr Lewis was interviewed about the conference on CFM Radio Carlisle – listen to the clip on the TVEyes website.