New exhibition shares everyday lives of UK's seasonal migrant workers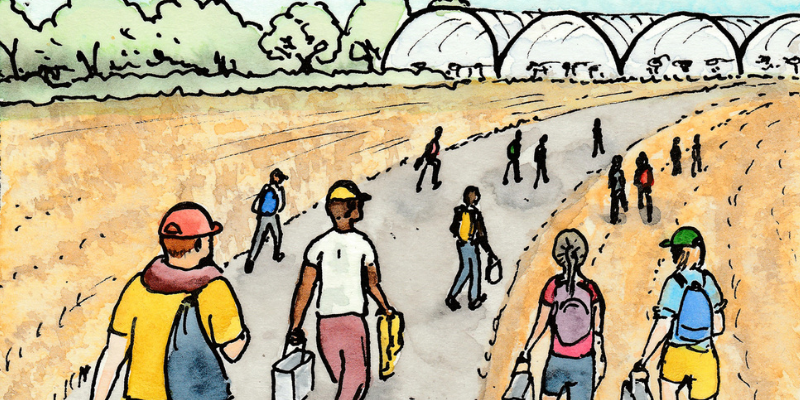 A new exhibition hosted by the Museum of English Rural Life (MERL) explores the everyday lives of seasonal migrant workers in the UK's strawberry fields.
Migrant Workers: Summer on a Strawberry Farm, an online exhibition, features a series of ink and watercolour illustrations following the journey of strawberries from harvest through to their arrival on supermarket shelves.
Part of the University of Leeds' Feeding the Nation project, funded by the Economic and Social Research Council, the exhibition's story is based on interviews with workers and on photos they shared with researchers and invites the audience to 'follow the strawberry'.
Launched on July 8 – to accompany the Wimbledon finale – the exhibition is an artistic collaboration between Dr Roxana Barbulescu, Associate Professor of Sociology and Social Policy at the University of Leeds, Dr Bethany Robertson, illustrator Sarah Hannis and MERL's curatorial team Led by Dr Ollie Douglas.
To view the exhibition, visit the MERL online exhibitions website.
Photo by Museum for English Rural Life/Sarah Hannis