Women Breaking Barriers to welcome Baroness Helena Kennedy QC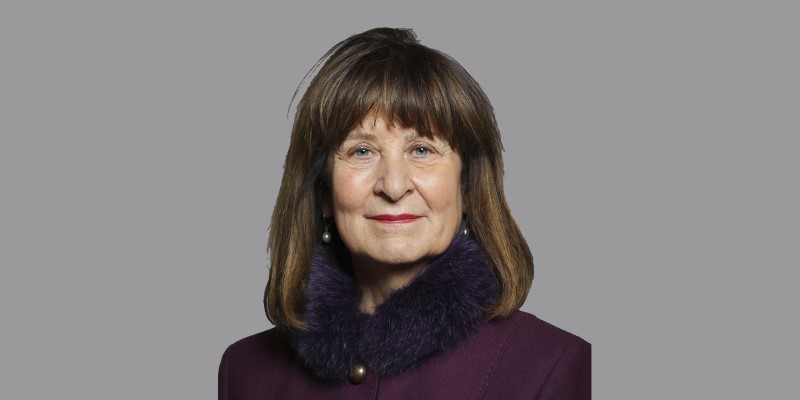 Women Breaking Barriers (WWB) are a network designed to connect future women leaders and provide them with inspirational role models.
On 15 November 2021, School of Law student group Women Breaking Barriers will welcome Baroness Helena Kennedy QC, author of the best-selling book 'Eve was Framed' and barrister at Doughty Street Chambers, to speak to students about her journey into the legal profession, any barriers she faced as a woman and how she overcame them. This includes her work on championing civil liberties and promoting female empowerment throughout her career. She will also be talking about how her experiences inspired her to write 'Eve was Framed' and why her book has been so influential in sparking discussions on the need to address patriarchal institutional structures.
We spoke to the 2021/22 WBB President and third year LLB student Ayesha Kuwari about why she got involved with WBB, her hopes for the coming year and why she is looking forward about Baroness Kennedy's talk.
How did you first hear about WBB and why did you want to be President?
When I first joined the University of Leeds in 2019, I saw a WBB flyer advertising for Undergraduate Representatives.
Out of all the leadership positions that were being promoted to freshers at the time, I felt immediately connected to this one. WBB's female empowerment ethos really aligned with my values, and I remember thinking, I would love to be a part of this committee!
Fortunately, I got the position and then stayed on the committee during my second year, serving as Secretary. Despite the challenges brought by the pandemic, WBB hosted some inspiring female speakers, all at the top of their game. We also organised wellness events such as free yoga as we believe empowerment also includes an awareness of preventing burn-out.
Throughout my time at Leeds, I have seen WBB grow from strength to strength and having been a part of the committee since I was a fresher, I have a deep personal attachment to it.
Through studying the LLB and undertaking legal experience, I have gained a wider understanding of the structural barriers women face. This has crystallised my appreciation for WBB's vision even more and it is therefore a great honour to now serve as President.
My Undergraduate Representative application to WBB discussed the suffragette movement in Leeds. Even back then, I knew that being in Leeds felt empowering because the same streets in Woodhouse Moor where rallies took place for women to get the vote are now walked by women who can vote but are still fighting to break barriers. I hope that other students can connect to WBB the same way I did.
What are your hopes for the coming year?
With a year and a half of going virtual, I hope we can host more in-person events this year. It is important that students can engage with each other and their female mentors in person, where possible.
Also, WBB has always recognised that students have unique personalities and should be exposed to a diverse range of career options. I therefore hope we can continue hosting female practitioners from a range of fields, including niche sectors of the Bar, the Civil Service and even the Law Commission for example. Particularly, I am keen on promoting awareness about intersectionality. As a Muslim woman with an ethnically Indian background, I recognise that the intersection of characteristics may create additional or different barriers. Recently, WBB hosted a Black Women in Law panel for Black History Month, and we are currently planning more events with the aspiration that female students from all backgrounds feel confident in pursuing the career of their choice.
What do you think the challenges might be?
I think the main challenge now is that we have lots of incredible events that we want students to be involved in but due to Covid-19 restrictions, the spaces available for some of these events are limited. Nevertheless, we are trying our best to organise events in a range of formats to accommodate everyone and we hope students can leave these feeling inspired!
What do you enjoy about being a member of WBB?
The committee is incredibly supportive of each other, and I still stay in touch with old committee members who have now graduated. Whether I need career advice or have a personal issue, they always support me. WBB has also allowed me to connect with a diverse range of females in the legal sector and beyond; having these mentors is invaluable. I have also enjoyed the opportunity to engage with students across the School of Law, being able to hear their views about female empowerment. Finally, communicating with female staff in the School of Law has shown me how lucky we are to be taught by these amazing professors. In particular, I really appreciate all the effort Professor Joan Loughrey puts into supporting WBB, having played a significant role in its growth from the outset.
Why are you excited about the Baroness Kennedy event and why would you recommend people attend?
I read 'Eve was Framed' by Baroness Helena Kennedy QC in the summer of Year 12 and I remember it having a powerful impact on me; I even mentioned it in my personal statement for the LLB! To now be able to host her as a speaker feels like a full circle journey!
For anyone who has not read it, the book is a powerful critique of the British legal system's treatment of women. Baroness Kennedy has fought for female empowerment and civil liberties throughout her fascinating career. We believe that students would really benefit from listening to her journey and her views on how institutional structures can discriminate against women.
Besides being a best-selling author, Baroness Kennedy is also a barrister at Doughty Street Chambers and a Labour member of the House of Lords. Since students would have lots of questions for her, we have included a Q&A session during the talk. Spaces are limited so I would recommend that anyone interested in the event signs up as soon as possible.
The 2021/22 WBB Committee
President - Ayesha Kuwari, Law LLB, Finalist (Year 3)
Vice President – Kinga Rolak, Law LLB, Year 2
General Secretary – Grace Edwards, Criminal Justice and Criminology BA, Year 2
Research and Communications Correspondent – Juno Worsdell, Law LLB, Finalist (Year 3)
Events Coordinator – Jade Bradley, Law LLB, Year 2
Social Media Ambassador – Sidra Sohail, Law LLB, Finalist (Year 3)