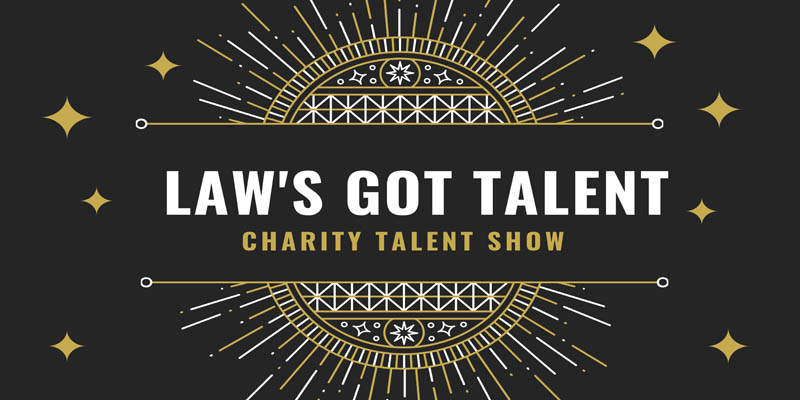 Date: Tuesday 3 December 2019, 18:30 – 22:30
Location: Stylus, Leeds University Union
Cost: £5
The School of Law is proud to announce that it is bringing you Law's Got Talent, its annual charity talent show, to you again this year!
The date of the event is Tuesday 3rd December 2019, from 18:30 until 22:30 at Stylus, Leeds University Union.
Doors will open at 18:00 and the bar will be open throughout the event.
Last year we raised over £1300 for Leeds Mind. This year our charity of choice is Leeds Childrens Charity.
Tickets for admission cost £5 each and will go on sale in the second week of November - exact date to be confirmed soon.
All proceeds from the ticket sales will go to Leeds Childrens Charity.
When you purchase a ticket, you will automatically be entered into a raffle with the chance to win one of three hampers filled with prizes!
Auditions will take place on Friday 1st November 2019, from 11:00 until 15:00, in LG.06, Liberty Building.
If you wish to audition for the show, please fill out the auditions form by clicking here
We welcome all sorts of acts - but please be aware that we cannot accept any acts with content that could be deemed explicit (e.g. too many curse words or sexually derogatory language) or those that have connotations that go against our ethics and values with regards to equality and inclusion.
Finally, our staff judges for this year's show are Rachael O'Connor, Sean Butcher, Stuart Wallace and Beth Hastings-Trew!
Get ready for an unforgettable night filled with entertainment, laughs and fun! Law's Got Talent is undeniably one of the best nights you will have during your time at the School of Law.
If you have accessibility requirements or require a seat due to medical reasons, please send an email to Dayna Myers