Postgraduates present work at the Annual Postgraduate Conference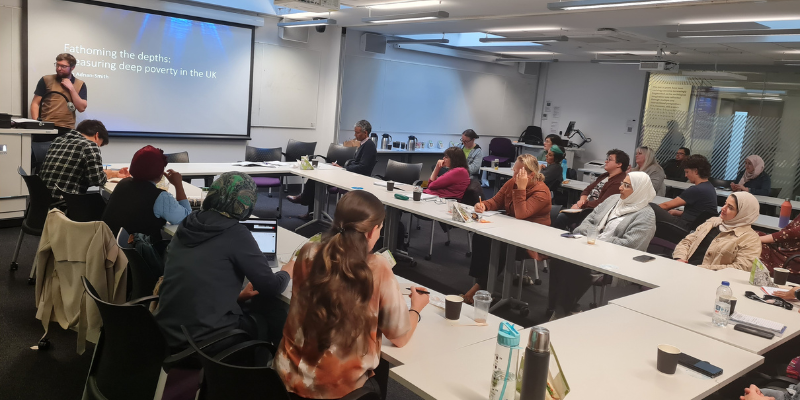 Postgraduates from the School of Sociology and Social Policy (SSP) presented their research at the School of Sociology and Social Policy Postgraduate Conference on 21 September 2023.
Welcoming the postgraduates to the conference was Director of Postgraduate Research (DPGR), Dr Roxana Barbulescu.
This years' opening speeches were given by Professor Karen Throsby, Head of School of Sociology and Social Policy and Professor Joanne Greenhalgh, Director of Research and Innovation SSP.
The first panel was comprised of the following presentations:
Tomas Puentes Leon: Young Adults with Intellectual Disabilities Navigating Post-School to Work Opportunities with their Families.
Ayesha Siddika: Politicization of the Identity and Citizenship of the Rohingyas
Thomas Adnan Smith: Fathoming the Depths: Getting a Measure of Deep Poverty in the UK
Tesfalem Yemane Destination UK: Destination Attractiveness as "Technologies of Subjectification"
Panel two included research insights from:
Christian Harrison: Digital Activism within the Trans Disabled Community (online)
Tabitha Fuster Burnett: "Is Inclusivity really Inclusivity?" Preliminary Findings from an Ethnographic Study of Inclusive Theatre Companies
Eleonor Craig: Adult Survivors of Child Sexual Abuse Make Sense of What Happened to Them: A Sociological Analysis
Johanna Knebel: "Peer Counselling in Sexuality Education for and by People with Learning Difficulties?" Perspectives of Non-disabled Counsellors from Germany
The SSP conference takes place annually and is a fantastic opportunity for members of the school's postgraduate research community to meet, present their work in progress, support their colleagues and learn more about the research going on across the faculty.
This annual event is free and all postgraduate research students within the faculty are encouraged to attend.