Professor Richard Squire's Liberty Fellowship at the Centre for Business Law and Practice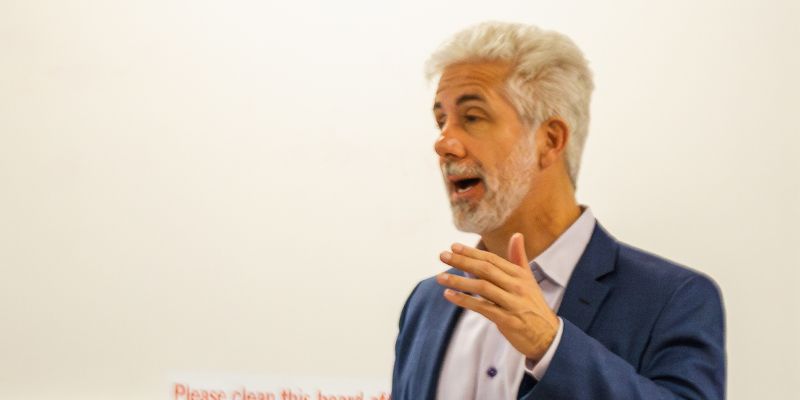 Liberty Fellows are invited to spend between two weeks and three months at the School of Law to take a full and active role in the research life of the School.
The School of Law, University of Leeds has welcomed Richard Squire (Alpin J. Cameron Chair in Law and Professor of Law, Fordham University School of Law, New York, NY) as a 2023 Liberty Fellow at the Centre for Business Law and Practice (CBLP) during the month of May.
Professor Squire has been a member of the Fordham faculty since 2006. He publishes primarily on the subjects of corporate law and corporate bankruptcy, and he has also written articles on antitrust and securities regulation. He recently gave various interviews with TV channels and media outlets on the 2023 U.S. bank failures, for example, with Yahoo Finance and Al Jazeera English.
Professor Squire has been hosted by the Director of the CBLP, Professor Peter Whelan. His programme was proposed and prepared by Dr Virág Blazsek and Dr Suren Gomtsian.
On Tuesday, 9 May 2023, Professor Squire held a CBLP Research Seminar at which he presented his draft article, co-authored with Henry Hansmann (Oscar M. Ruebhausen Professor Emeritus of Law, Yale Law School), 'Collapsing the Bankrupt Corporate Group'. The paper tackles the highly relevant and under-researched question of when should bankruptcy courts disregard the boundaries among the myriad legal entities comprising the typical bankrupt corporate group, and calculate creditor recoveries based on the combined assets and liabilities of the enterprise as a whole. Sarah Paterson (London School of Economics Law School) was commentated on the paper at the seminar. Professors Paterson and Squire engaged in a highly enthusiastic and intellectually stimulating discussion that was greatly enjoyed by staff and students in the audience.
On Thursday, 11 May 2023, Professor Squire also spoke at the Leeds Financial and FinTech Law Conference, organised by Dr Blazsek as part of her 'Leeds Financial and FinTech Hub' Michael Beverly Innovation Fellowship Project. The full-day conference attracted over 60 attendees. Professor Squire argued in his talk that the FinTech revolution has been disrupting the relationship between central banks and financial institutions. Part of his talk is featured in Dr Blazsek's project video.
Finally, on Friday, 19 May 2023, Professor Squire opened the University of Leeds School of Law's Annual Postgraduate Research Conference, organised by PhD students Valeria Caroli and Erika Moranduzzo. In his inspiring and though-provoking keynote, he talked about 'Top 10 Pieces of Bad Advice for Legal Scholars'.
Everything you do as a legal scholar is part of teaching
The Centre for Business Law and Practice wanted to thank Professor Squire for his wonderful contribution to the School of Law community. Many members felt he had been an inspiration and very much enjoyed learning from him and discussing overlapping research interests with him.