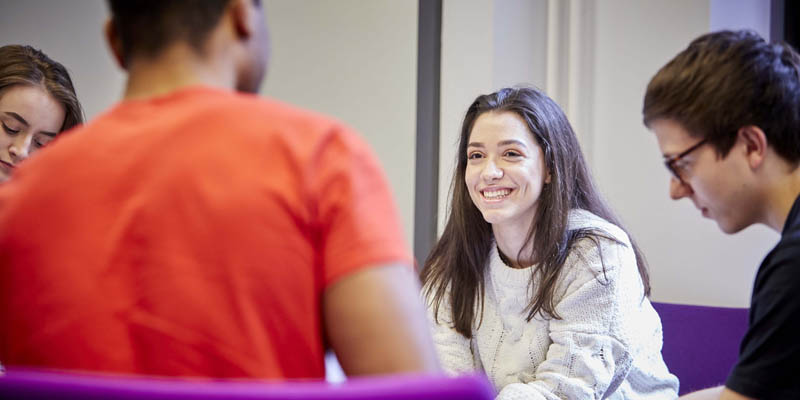 Choosing your degree is just the start. At Leeds there are many opportunities to enhance your time at university with a raft of societies, volunteering, work experience, and options for a global outlook for you to get involved with.
You can also explore more as part of your degree with discovery modules which can be chosen from across the university (subject to timetabling and availability) — see studying with us for more information.
Clubs and societies
Leeds University Union (LUU) clubs and societies are a great way to meet new people and discover something new or continue an interest. With over 250 other groups to choose from you're sure to find something which excites you; from journalism to skydiving; rock gospel choir to film; student radio to conservation; books to real ale; and campaigning groups to sign language.
The Sociology, Social Policy and Criminal Justice Society (SocCrimSoc) also organises a host of events throughout the year including regular socials, fundraisers, trips and sports.
Volunteering
Volunteering lets you explore something new, give back to communities (locally, nationally or internationally), and broaden your skillset.
In your second year, you have the opportunity to complete our Beyond the University module — part of our Sociology in Action scheme — which includes working in partnership with, and undertaking research for, local organisations.
Both LUU and Leeds for Life offer a range of volunteering opportunities — from helping the homeless to undertaking projects abroad — that could boost your CV and take you to new places. Leeds for Life can also help if you want to set up your own voluntary project.
Work experience
Whether through a year in industry or a shorter-term internship, work experience will help you stand out to future employers, and is a great way to prepare you for the world of work and help you decide what kind of career you might like when you graduate.
Enterprising opportunities
Got a business idea? Our business start-up service Spark can help you grow your ideas into a viable project.
Through Spark, you'll have access to business advice, enterprise events, workshops, networking and mentoring, as well as the use of professional office space and meeting rooms on campus.
Study abroad
Studying abroad (whether for a semester or a full year) is a great way to broaden your horizons and change your perspective personally and academically. It can also help you stand out to employers and potentially prepare you for an international career.
Find out more about your options for spending time studying abroad.
Global community
At Leeds you'll be part of a vibrant international community of staff and students which brings many personal, academic and future professional benefits to all of us. Whether you are a UK, EU or international student you can develop language skills, take part in international groups, undertake intercultural work and volunteering or just enjoy some of the fantastic events throughout the year.
Find out more about the possibilities being part of our global community opens up to you.
Jenny Hull
BA Social Policy and Sociology
"I am currently the president of the Sociology Society (SocSoc) and also the Netball Captain for the sociology team – we came third in Division 2 this year! I've also been part of STAR Leeds, a society which teach English to refugees in the city, as well as trying out trampolining (a lot harder that I thought!!).  There are so many clubs and societies to get involved in."
View Profile