Report on millennial lawyers launched at the Leeds Law Society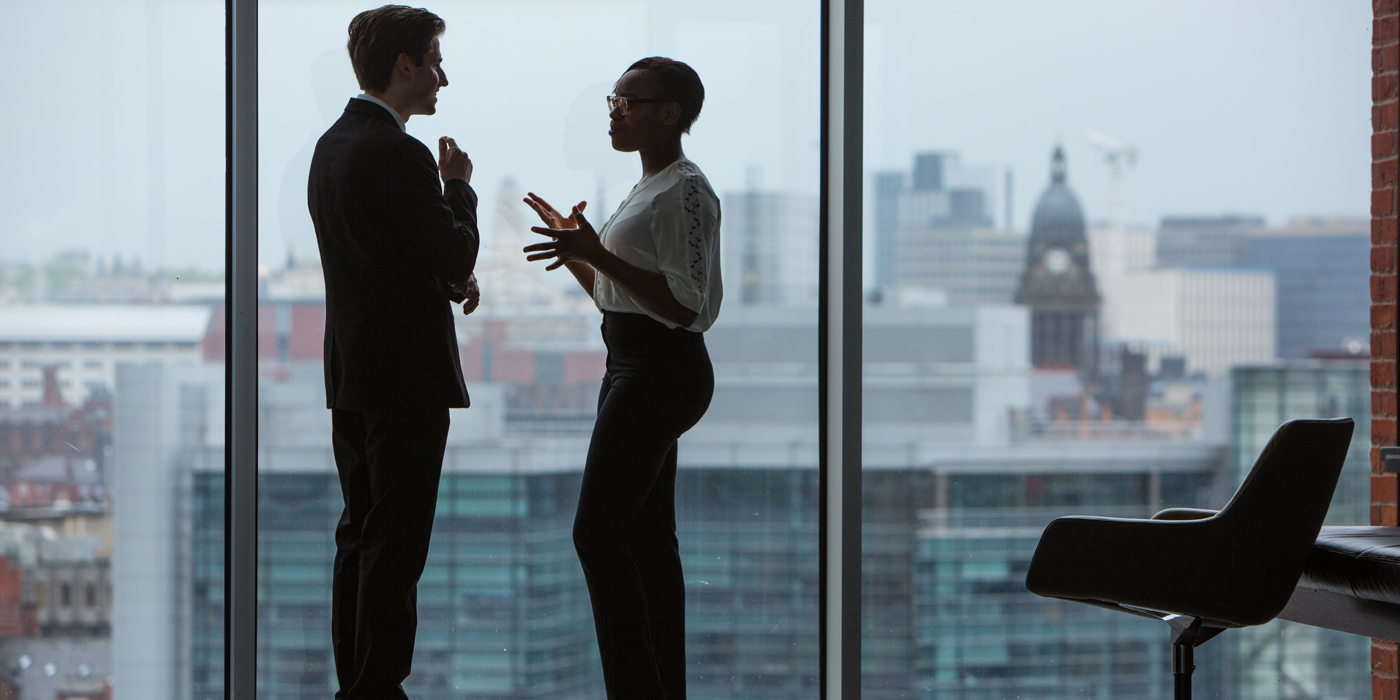 Lydia Bleasdale and Andrew Francis presented the findings from their report, commissioned by Leeds Law Society, entitled 'Millennial Lawyers: Challenges and Opportunities for Law Firms in Leeds'.
The launch event on September 26th 2018, was supported by legal recruiters Bailey Hunter, and attended by a packed audience of lawyers across the generations and sectors, from all over the city.
The research report was designed to explore how different generations within the legal profession negotiate the transformative change the sector is experiencing. In particular, it was a response to academic and press discussion of how the millennial generation have grown up, studied, interacted with the world and each other and the ways in which these conditions may differ from those experienced by previous generations.
However, the findings suggest that the generational differences are not as extreme as much of the popular press suggests. Although, there was an increased interest in work-life balance, the drivers for this were coming from lawyers at all career stages. Other key findings drew attention to the particular challenges that paralegals experience, and, in common with many other sectors, women still faced inappropriate behaviour. The report also highlighted many examples of good practice throughout the profession which were explored in discussion.
Sue Harris, Director at Walker Morris LLP and Secretary and former president of the Leeds Law Society, said 'We were keen to find out what the concerns of the younger generation really are and to try and support the profession in its response to these concerns. Lydia and Andrew's report has really laid out in detail some of the challenges that everyone in the profession faces and put to bed some of those Millennial misconceptions.'
Sue went on to say 'We are working on a series of follow-up workshops with Lydia and Andrew, which are designed to keep these conversations going and respond to the Report's recommendations.'
Lydia and Andrew would be delighted to talk further to any firm wishing to discuss the findings in greater detail and to share the full report.
Notes
Lydia Bleasdale is an Associate Professor in the School of Law. Her primary research interests are student resilience, student wellbeing, clinical legal education and criminal law. Her most recent research, conducted with Sarah Humphreys as part of a year-long fellowship to the Leeds Institute for Teaching Excellence (LITE), examined undergraduate student resilience across six different disciplines at the University of Leeds.
She is the School of Law's Director of Community Engagement and oversees a range of opportunities through which the School engages with the local communities in and around Leeds, including welfare rights applications and appeals, a scheme assisting litigants in person, public legal education and research projects such as StreetLaw and PrisonLaw, and a project with West Yorkshire Police.
In June 2018, she was awarded the prestigious 'Law Teacher of the Year 2018', sponsored by Oxford University Press.
Andrew Francis is a Professor in the School of Law. His primary research interests lie in the regulation and organization of the legal profession, with a particular focus on legal education, access to justice and social mobility within the legal profession.
Some of his most recent work has analysed contemporary challenges for legal executives and, with Leeds colleagues Professors Joan Loughrey and Hilary Sommerlad (together with Steven Vaughan), has authored the England & Wales Chapter for the forthcoming comparative collection Lawyers in Twenty First Century Society. Current work focuses on the interplay between professional and organsiational change with a particular focus on aging and the boundaries between established professions.
He is the co-director of Centre for Innovation and Research in Legal Education (CIRLE). The Centre's focus is on innovation and world class research and practice in legal and criminal justice education, and the associated areas of professional practice.