CIRLE's Inaugural Symposium draws international speakers and audience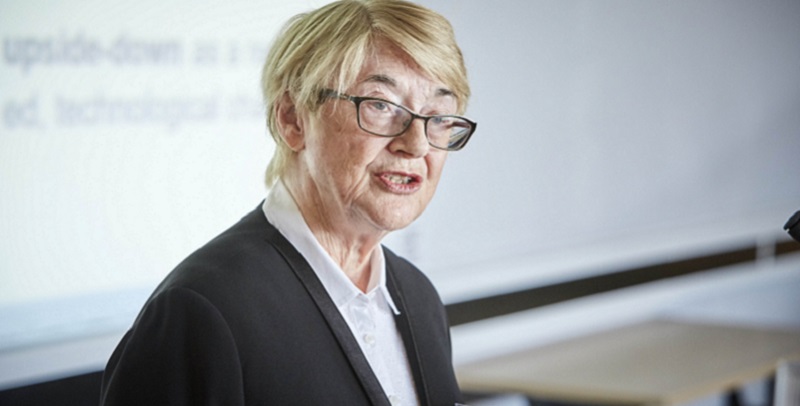 On the 8th May 2018, the Centre for Innovation and Research in Legal Education (CIRLE), within the School of Law at the University of Leeds held its inaugural Symposium.
On the 8th May 2018, the Centre for Innovation and Research in Legal Education (CIRLE), within the School of Law at the University of Leeds held its inaugural Symposium.
CIRLE aims to advance understandings of education and the professions in law and criminal justice, through evidence-based teaching innovation and high quality and impactful research. The School draws on research strength in the legal professions and cross-School expertise in education and pedagogic scholarship and innovation.
This symposium addressed key contemporary questions in legal education, criminal justice education and the professional sectors of both fields. The over-arching theme of the Symposium was 'Educating for Uncertainty', with the sub-themes of Personal Uncertainty, Global/Political Uncertainty and Professional/Workplace Uncertainties.
CIRLE Directors, Andrew Francis and Chloe Wallace opened the Symposium and welcomed an international audience and speakers to explore these issues and to build collaborative research links around the world. We were delighted that the Symposium's keynote was delivered by Professor Margaret Thornton (Australia National University) who spent two months in the School as a Liberty Fellow. Margaret drew on her extensive research, including work with New Law firms which have redesigned their practice around technology to reflect critically on the challenges that these developments represent for Law Schools and their students in Australia and the UK. This stimulated a lively discussion, with criminal justice colleagues reflecting on the parallel developments in this discipline and its professional sectors.
The Personal Uncertainties was chaired by Lydia Bleasdale (OUP Law Teacher of the Year, 2018), and included papers from Michael Fay & Yvonne Skipper, from Keele University, presenting their research findings which question the extent to which students' academic identity impacts their sense of community and mental health. Damian Smith & Catherine Edwards, from BPP presented a reflection from the vocational sector, and discussed the ways in which they have attempted to build resilience in law students on the Legal Practice Course. CIRLE's own Richard Peake, drew on his forthcoming publication in the Journal of Social Science Education, on 'Smoothing an unequal transition –improving the BTEC student's route to Higher Education.' Richard's research has led directly to changes in how student transitions are supported on the School's BA in Criminal Justice & Criminology and his findings have been shared widely across the University.
Global / Political Uncertainties, was chaired by Chloe Wallace and began with Jenny Gibbons' (York University) thoughtful argument about the democratic contribution that legal professionals can make in uncertain political times. Caroline Strevens (Portsmouth) & Rachael Field (Bond, Australia) extended the discussion to the uncertainties experienced by academics in higher education. We then enjoyed a lively interactive dose of experiential practice as Richard Roe (Georgetown, USA) exemplified his model of 'Experiential Law Teaching', which challenged the audience to identify and evidence multiple meanings in images. The final paper in this session saw Tamara Hervey (Sheffield) drew on her recent article, written with Jess Guth (Leeds Beckett), examining the challenge for internationalised legal curricula post-Brexit – the epitome of uncertainty!
Joan Loughrey chaired our final session on Professional / Workplace Uncertainties. Philip Drake (Huddersfield) drew on research with clinical students to connect to broader debates about legal professional identity formation. Claire McGourlay (Manchester) reflected on her recent experiences of curriculum development in two institutions to highlight the challenges and pitfalls of those initiatives. We then heard from Sarah Kingston (Lancaster) & Mary Corcoran (Keele) on their HEA funded project looking at the different ways in which criminal justice students make links between their academic studies and work-related learning. Finally, our colleague Hilary Sommerlad (Leeds) concluded with a reflection of the continuities and contradictions in developments in HE and the legal professions and posed provocative questions about the consequences for the discipline.
The day exemplified CIRLE's international ambitions and a commitment to research led development of the highest quality student education, informed by a close understanding of its relationship with the relevant professional sectors.
We have a number of exciting projects ongoing and planned within CIRLE and look forward to continuing to strengthen our professional partnerships. We are also delighted to be joined by a number of new colleagues over the coming months who bring their own expertise, energy and ideas to take forward our analysis of the big questions facing education and the professions in law and criminal justice.
If you would like to find out more about CIRLE, then please visit our website or contact either Andrew Francis or Chloe Wallace.