'Our Friends at the Bank' Film Screening + Q&A with director Peter Chappell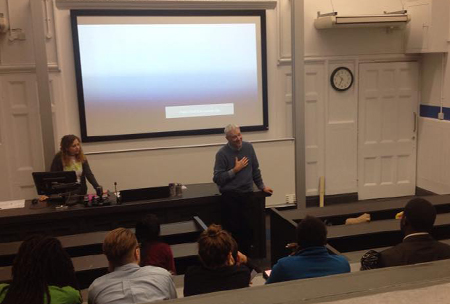 A screening was held of 'Our Friends at the Bank' (1998), followed by a Q&A session.
PIN students and the Centre for Global Development held a screening of 'Our Friends at the Bank' (1998) which was followed by a Q&A session with the director Peter Chappell.
The movie follows the Ugandan government as they negotiate financial loans with the World Bank. Peter Chappell travelled between Washington DC and Uganda, recording an incredible insight into the different perspectives of the debate.
The screening gave attendees the chance to learn more about the role of the World Bank in influencing the destination of financial resources for developing countries.
"It is a triumph, full of insights and shrewd observations about the relationship between Uganda and the World Bank, making it essential viewing for anyone interested in aid and development. I sat engrossed as Ugandan government officials, representatives of the Bank, and western diplomats discussed and debated the issues at stake with such frankness and passion."—Michael Holman, Africa Editor, Financial Times
"Appropriate for use in introducing a wide range of undergraduate students to the issues surrounding the World Bank. For example, professors in Economic Issues, Principles of Macroeconomics, International Economics and Development Economics courses could design modules about the World Bank that incorporate this film ... the variety of topics that it introduces, together with the fact that it provides both the World Bank and the developing nation viewpoints, makes it an ideal enhacement to any course that seeks to help students understand the institutional framework of the world in which they live."—International Teaching Resources for Business
"A penetrating 'insider' look at the World Bank's, and to a lesser degree the International Monetary Fund's and donor governments', interaction with borrower governments."—Economic Justice News