POLIS Hosts Guest Talk by the EU Ambassador to the UK
POLIS hosted Ambassador Serrano as he delivered a talk to and answered questions from an audience of colleagues and students.
POLIS was delighted to welcome the European Union Ambassador to the United Kingdom, Pedro Serrano, to the University of Leeds during his visit to the city on Friday 21 April 2023. Ambassador Serrano delivered a special guest talk to colleagues and students during his visit to the University.
Ambassador Serrano delivering his talk to students and colleagues. Photograph by Victor De Jesus
Chief of Staff to the European Union's High Representative for foreign affairs and security policy and EC Vice President Josep Borrell Fontelles until October 2022, Ambassador Serrano's previous roles include that of Deputy Secretary General for Common Security and Defence Policy and Crisis Response at the European External Action Service (EEAS) and Diplomatic Advisor to the President of the European Council Herman Van Rompuy. He was also the first EU Ambassador to the United Nations, in New York, after the entry into force of the Lisbon Treaty.
During his talk, Ambassador Serrano covered such issues as the EU's responsibility to protect and the Russian invasion and war on Ukraine, the EU's position as a leader in the global climate emergency, and the EU's relationship with the UK after Brexit, as well as expanding on his career of diplomatic service. The ambassador and the talk were introduced by Professor of International Relations and Head of School Professor Richard Beardsworth. The talk was followed by an extensive and in-depth Q & A session between students, colleagues and Ambassador Serrano, which was chaired by Professor Beardsworth.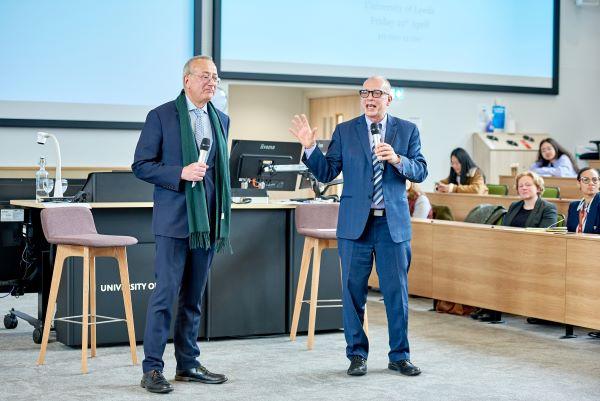 Left to right pictured: Ambassador Serrano and Professor Beardsworth. Photograph by Victor De Jesus.
As well as being introduced by Professor Beardsworth, the ambassador was greeted by Associate Professor of Southeast Asian Politics and Pro-Dean International for the Faculty of Social Sciences Dr Adam Tyson, Head of International Partnerships and Engagement for the International Office Claire Mulholland, and Professor of Pensions and Finance and Pro-Dean International for Leeds University Business School Professor Iain Clacher.
From Left to Right: Professor Iain Clacher, Professor Richard Beardsworth, Ambassador Serrano, Claire Mulholland and Dr Adam Tyson. Photograph by Victor De Jesus.