School of Law hosts University Mental Health Day event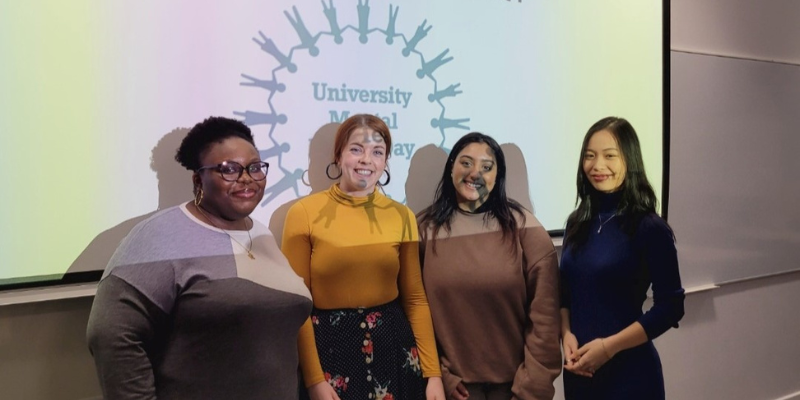 University Mental Health Day brings together the university community to make mental health a university-wide priority and create ongoing year-round change to the future of student mental health.
On Thursday 9 March 2023 School of Law staff, students, alumni, and guests from the legal profession came together in the Liberty Building to share and listen to experiences of mental health and wellbeing within both University study and the legal profession more broadly.
Hosted by Director of Student Support, Rachael O'Connor, the event included a range of speakers; current School of Law students Nicole Cal-Akpuogwu, Shareena Emambocus and Nguyen Pham, alumni Panashe Mushunje (2022) and guests from the legal profession; Andy Darnton – Support and Volunteer Co-ordinator for LawCare (leading mental health and wellbeing charity for the legal profession), Tegan Knappy – Graduate Legal Executive at Gordons LLP, and Danielle Hutchison – Solicitor at Stowe Family Law LLP, Vice Chair and Publicity Officer for Leeds Junior Lawyers' Division.
I'm a strong person and seeking support makes me stronger.
Nicole discussed the importance of seeking support for your wellbeing/mental health early, as well as the challenges of having to prove her worthiness as a Black person and how surrounding herself with kind people has been vital to overcoming those challenging feelings.
It's important to know when to stop and rest and finding ways to meet like-minded people can be vital.
Set realistic expectations for yourself and small goals to conquer each day – you deserve support so reach out.
Alumnus Panashe encouraged students to celebrate everything, even the small things, and emphasised the importance of reaching out to people you can rely on and finding ways to take control again if you're panicking. Tegan talked about impostor syndrome and how she has questioned her own abilities during her apprenticeship.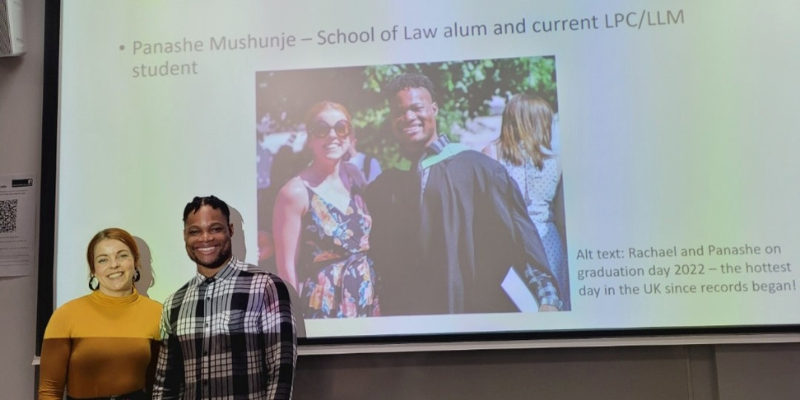 It's ok to not always be perfect – sometimes you work really hard and things still go wrong.
Comparison is the thief of joy – don't compare yourself to others or feel guilty – we all work differently.
Andy encouraged everyone to think about their role in stamping out poor treatment of others in the legal profession.
We all have a role to play in improving mental health and wellbeing in the sector; stay in touch with people you like and don't hang around with people who make you miserable.
Rachael O'Connor told us "University Mental Health Day is just one day in the year. However, Student Minds who organise the day nationally have some really great support resources for students so I wanted to raise their profile within our School.
"However, more than anything, I wanted us to have the opportunity to come together and spend a few hours talking about the realities of mental health and wellbeing in our sector, both in the study of law and in the legal profession. That's why it was particularly nice to have such an array of speakers from current students, to alumni, to apprentices, to lawyers, to those working to support lawyers. It gave the event a really nice spectrum of perspectives and it was interesting to see lots of commonalities at all those different levels.
"I think any chance we can get to give wellbeing and mental health a positive platform and encourage students and colleagues to prioritise it is one we should take."
I hope that all those who attended and took part got something out of the event and I would like to once again extend a huge thank you to our speakers, particularly our current students who were so inspirational! One thing I took away from the event was comfort – law has a long way to go to address its mental health, wellbeing and inclusion challenges but I know it is in safe hands with our students and the wonderful people who attended this event – the future looks bright and we must keep fighting!