A new mural has been painted in memory of School of Law colleague Rachael Taylor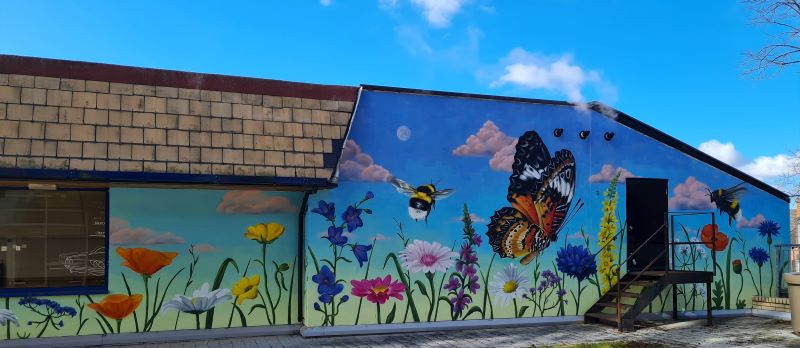 The mural is located in the School of Law Memorial Garden next to the Liberty Building.
Following the untimely passing of Rachael Taylor in 2021, a School of Law colleague who had worked here for over 30 years, her husband Professor Nick Taylor wanted to build a garden in her memory next to the Liberty Building.
Rachael's family, friends, colleagues, and alumni from the School of Law donated nearly £10,000 in order to develop the space for use by students, staff and visitors to the School.
Nick told us, "Rachael was a keen gardener and loved spending time on her allotment with her dad. The hope is that this garden will be a place where people can unwind, to meet friends or sit in peace, outside the hustle and bustle of the main campus". 
The artist, Katie Scott, was selected after an open call to artists in and around the Leeds area to design and paint a mural.
Scott said, "The inspiration behind the mural was to create something which would mirror the environment, incorporating nature and feeling calm but bright. Nick asked that we include a butterfly for Rachael. He told me she was a fan of animal print, so we went with a colourful Leopard lacewing butterfly in the centre of the piece. Nick also sent me some photographs of wildflowers near his home which I included to tie in the garden and add some more colour. I added a pair of bees which helped to bring the garden scene to life and the gradient background which blends into a lovely blue sky day."
I'm really pleased with the mural. Wildflowers, bees and butterflies – I know Rachael would have loved it. I hope the people sitting in the garden will also feel a little bit better for it being there.
Planting for the garden will start in spring.