From Commercial to Criminal: A Summary of Women Breaking Barrier's First Term's Events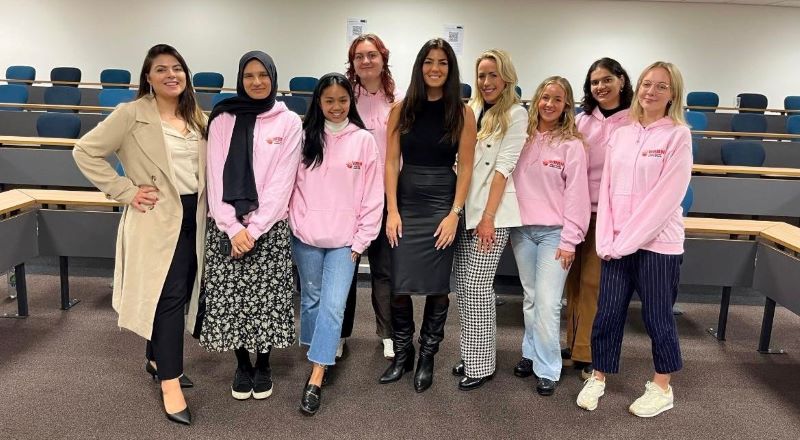 Women Breaking Barriers is a student-led initiative supported by the University of Leeds, School of Law which aims to celebrate the successes of women whilst inspiring future female pioneers.
We spoke to the current Women Breaking Barriers (WBB) President, Kinga Rolak about their events so far this academic year, the plans for Semester Two and why WBB is so important to her.
What does WBB do?
We host regular events to empower and provide guidance for our female students about the struggles they may face. Although we focus our messaging on female undergraduates and postgraduates within the LLB Law and BA Criminology cohorts, our events are open to all students and staff. Almost all our events are free, and you do not need a membership to attend.
The 2022/23 WBB Committee
President – Kinga Rolak, Law LLB, Finalist (Year 3)
Vice President – Poppy Harvey-Webb, Law LLB, Finalist (Year 3)
General Secretary – Aisha Ahmad, Law LLB, Year 2
Research and Communications Correspondent – Eliza Brownsord, Law LLB, Year 2
Events Coordinator – Larissaa Gupta, Law LLB, Year 2
Social Media Ambassador – Christine Duldulao, Law LLB, Year 2
Undergraduate representative – Faye Bell, Law LLB, Year 2
First year representative – Emmy Mae Edwards, Law LLB, Year 1
WBB's semester one round-up
Chrissie Wolfe and Jodie Hill's Event - October 5th 2022
Dr Karina Patricio Ferreira Lima (WBB staff representative), WBB committee, Chrissie, and Jodie
First off, we had Chrissie Wolfe and Jodie Hill, highlighting the twists and turns of their legal journeys and offering tips of balancing work and homelife, and perseverance in the field.
The event was held in the Liberty Building and attended by over 80 students.
Chrissie had a very unconventional route to law having come from a home-schooled background and hugely under-achieving in her A-levels. Despite the setbacks, Chrissie secured a training contract with top 20 law firm Irwin Mitchell where she qualified into the International Serious Injury team specialising in catastrophic injury and cosmetic surgery cases. Chrissie has won multiple awards including Highly Commended Junior Lawyer of the year 2018 and 2019 and Solicitor of the Year 2019 and she now has over 80,000 followers across her social media platforms.
If you're not feeling imposter syndrome it means you're in a level of too much comfort and not learning.
Jodie Hill decided to set up her own employment law firm where her values around mental health, and diversity and inclusion would be the foundations of the firm and are embodied in everything she and her Tribe do. Jodie appears on regional and national TV and radio, most recently Channel 4's Steph's Packed Lunch. She has appeared on BBC world and regional news, Sky news and ITV news as well as featured in the Guardian, Times, Independent to name a few!
We don't always know the path we will take … but trust the process.
What made this event so special was that Jodie and Chrissie's friendship (both friends outside of networking) resulted in a really friendly, honest, and informal discussion with lots of audience participation.
Chrissie and Jodie discussing their individual successes.
Parklane Plowden Chambers Event in collaboration with Leeds Bar society - November 8th 2022
For our second event we were joined by Parklane Plowden Chambers, in our first collaboration event of the year with the Leeds Bar Society. This was a great opportunity to listen to three very different routes into the bar, including Giorgia Sessi's journey from initially being a sworn interpreter in the courts to Shabab's change of heart from a PhD to the bar. The transparency in discussing the family life balance, the ups and downs of working in family law and the pressures of the bar, meant that this was incredibly insightful, regardless of whether you want to pursue a career in the bar or not.
This job is a lifestyle; you cannot treat it as a job […] you have to really work hard to continue to love it.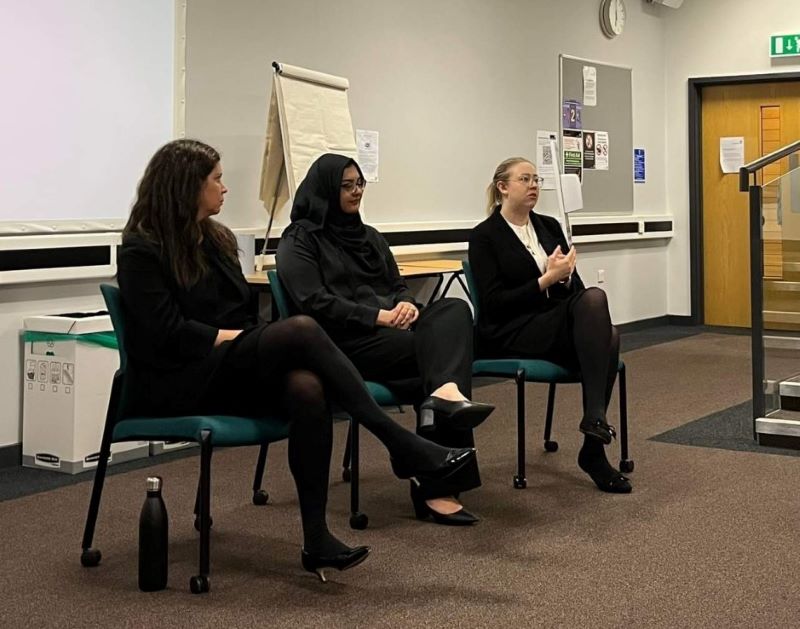 Giorgia Sessi, Shabab Rizvi and Hannah Whitehouse discussing their pathways into the Bar
Harriet Wistrich Talk - November 22nd 2022
Last but not least, we had a fascinating talk by solicitor Harriet Wistrich. Harriet has acted in many high profile cases around violence against women; including on behalf of women who challenged the police and parole board in the John Worboys case, women deceived in relationships by undercover police officers and on behalf of women appealing murder convictions for killing abusive partners, most recently Sally Challen. She is founder and director of The Centre for Women's Justice, a multi partner organisation that brings cases holding the state to account in relation to violence against women and girls. She talked us through many of the high-profile cases which she has been involved with and her fight for human rights; in particular protecting those that have been marginalised or victim to DA. The passion that comes through when Harriet discussed the cases she has assisted and her desire for holding institutions, like the MET, accountable for failings in investigating and conduct was very inspiring and interesting.
In discussing the Sally Challen case and the emergence of coercive and controlling behaviour; "women could finally see a name for the behaviour they had been subjected to."
WBB team and Harriet Wistrich
Plans for next semester
Prospective events for semester two include:
Collaboration with the Law Society for International Women's Day
Panel with female solicitors from Reed Smith
Commercial awareness event with female solicitors from Freshfields Bruckhaus Deringer
Scottish Feminist Judgment Project
Social for 'Galentine's Day'
WBB would like to thank everyone involved in these events, from the hosts to the engaging audience members, in making last term's events a great success. We have had a lot of positive feedback on the value and variety of events that we put on and we hope to keep you just as exited and engaged for the events we have in store for next term!
On a personal note, WBB has been a massive part of my university experience particularly in helping me find a sense of community and meet like-minded women amongst students and in the professional sphere.
I decided to apply to be on the committee in my first year as I felt welcomed into a space for women within the School that was focused on empowerment and building confidence. I have been passionate about breaking down the barriers that face women in the legal industry even before joining university and I wanted to be involved in a committee that was actively involved in empowering women. I joined WBB in my first year as an undergraduate rep and continued with WBB as Vice-president in my second year. I would encourage other students to get involved in the WBB community and events, it really has been a great space to meet inspirational role models within the legal industry and beyond.