Women Breaking Barriers event welcomes back alumni
Women Breaking Barriers (WWB) are a network designed to connect future women leaders and provide them with inspirational role models.
On Thursday 24 February, Women Breaking Barriers (WBB) welcomed back alumni of both their committee and the School of Law for an insightful panel discussion on how their careers have progressed.
The panel included Nancy Kelehar ('18), Bex Barclay ('20), Jordan Denney ('20), Imogen Haywood ('21), and current School of Law student and 2021/22 President of the Leeds University Law Society Ishita Karnik.
The event was held in the Liberty Building's Moot Court room and attended by more than 30 students and staff.
Current WBB President Ayesha Kuwari said "WBB Alumni Breaking Barriers was one of our most memorable events because every single panelist had served on the committee of WBB at some point during their university experience, with most serving throughout.
"Panelists were grateful for having been a part of WBB and how that experience was instrumental to their career development and provided them with some of the most fulfilling university memories.
"The panel discussed their diverse career journeys, talking about the Bar route, commercial law, healthcare law and even why an LLB Law graduate may want to consider a non-legal route! Important topics were weaved into the discussion including how to recover from setbacks and becoming more confident.
"Discussions also referred to the support provided by the School for anyone struggling with their mental health. An important takeaway from the evening was that everyone has unique journeys and should celebrate their individuality. Although there can be pressure to want a training contract or pupillage right away, it is important to remember that everyone operates on their own timelines and your talent will shine through at the right time!"
Ayesha also paid tribute to former acting Head of the School of Law, Professor Joan Loughrey who recently moved to take up a position as Head of School at the School of Law, Queen's University Belfast.
"Joan has supported WBB since it was established and has put tremendous effort into growing it stronger every year. Joan was deeply passionate about WBB and its vision for empowering women despite the many barriers they face throughout their journeys. The panel gave Joan an emotional farewell and she will be sincerely missed by everyone on the committee. We wish her the best of luck with her journey ahead.
"WBB is pleased to announce that our new School of Law contact is the incredibly talented Dr Karina Patricio Ferreira Lima and we are excited to work with her moving forward!"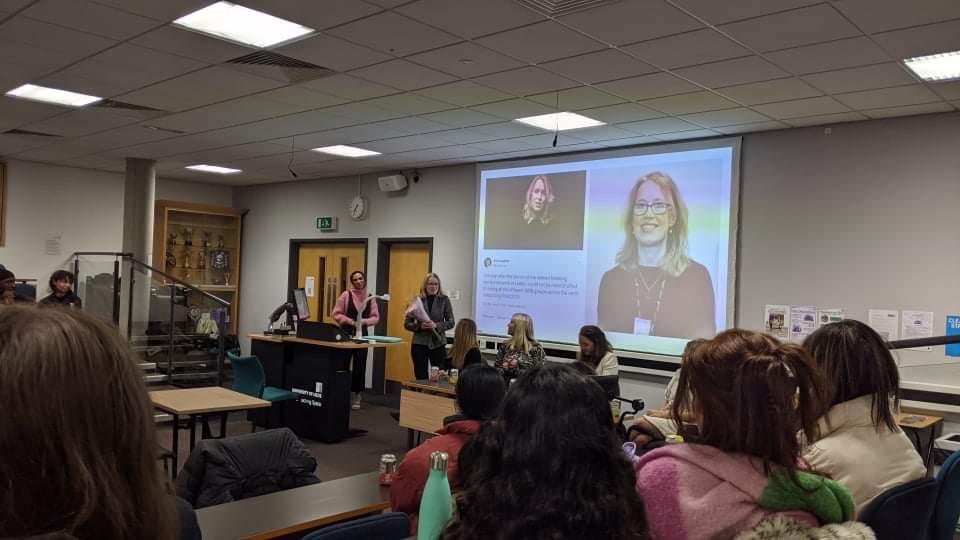 Nancy Kelehar | Future Pupil Barrister
Nancy graduated from Leeds in 2018. She will start pupillage in October 2022 at Temple Garden Chambers in London, after completing the ICCA Bar Course. Since graduating, Nancy has worked as a civil litigation paralegal at Hickman & Rose Solicitors, primarily working for clients involved in the Grenfell Tower Inquiry, and as a caseworker at the charity INQUEST, supporting bereaved families through the inquest process.
Bex Barclay | Community Impact Executive at Freshfields Bruckhaus Deringer / Policy Research Volunteer at Disability Rights UK
Bex graduated from the School of Law in 2020. She was President of WBB from 2019-2020. Following graduation, Bex returned to the School as a Student Success Tutor and taught second year students. Bex currently works at Freshfields Bruckhaus Deringer – she began her career there as a Graduate Recruitment Assistant and since has moved into the Responsible Business Team as a Community Impact Executive. The Community Impact Team focuses on how Freshfields make a positive difference to the communities that it touches by focusing its efforts on providing access to justice and access to opportunity. Alongside this, Bex is a Policy Research Volunteer at Disability Rights UK, the UK's leading Disabled people's organisation.
Imogen Haywood | Paralegal and Future Trainee Solicitor at Capsticks
Imogen is currently a Paralegal and Future Trainee Solicitor at Capsticks LLP, a commercial law firm which specialises in the healthcare sector. She works in the Clinical Advisory division: focussing on Court of Protection work, inquests and information law. She is also studying the LPC part time, and will qualify as a Solicitor in September 2024. She graduated with a First Class Honours Law degree from Leeds in 2021 and was President of WBB in her final year.
Jordan Denny | Student Recruitment Officer at PwC
Jordan graduated from Leeds Law School in July 2020, after leading WBB as President in her second year. Since then, she has been working in the Student Recruitment team at big 4 accountancy firm, PwC, hiring school leavers, undergraduates and graduates into Professional Services.
Ishita Karnik | Future Trainee Solicitor at Linklaters LLP
Ishita is a third year law student at the University of Leeds. She is an international student from Mumbai, India. Last year, she was the Network Ambassador with us, following which she secured a Training Contract with Magic Circle firm Linklaters LLP. She is also currently the President of the Leeds University Law Society.