The UK's Biometrics Commissioner gives insight into the new technologies being used to combat crime at the annual Frank Dawtry Memorial Lecture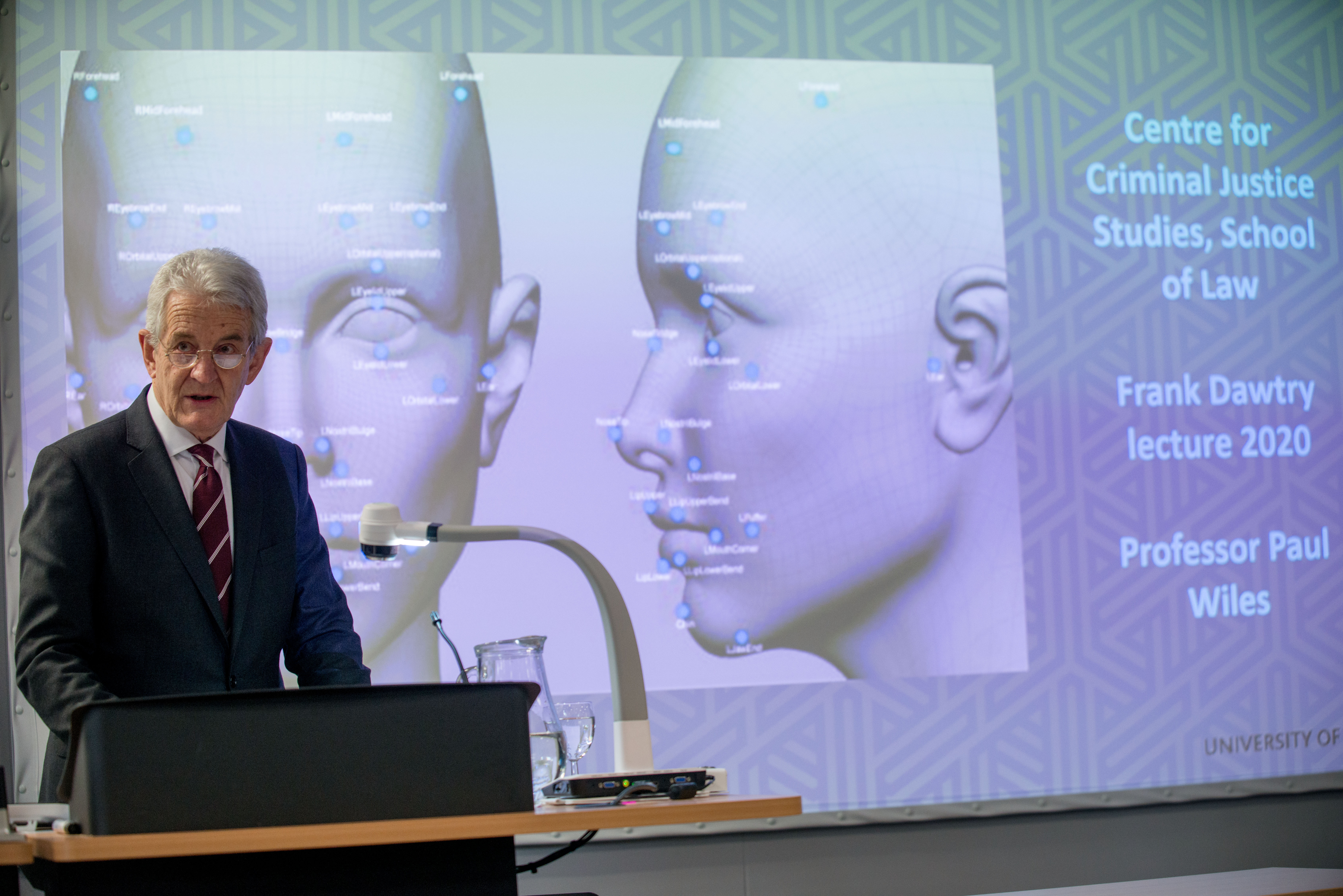 On Tuesday 11th February the School of Law welcomed the UK's Biometrics Commissioner; Professor Paul Wiles, to give the annual Frank Dawtry Memorial Lecture.
Professor Wiles' lecture discussed the controversial subject of the use of facial recognition in public places by governments around the world, asking the question - 'Should the police use of these new technologies be banned, regulated or encouraged in order to make crime fighting more efficient'?
From 1999-2010 Professor Wiles was the Chief Scientific Advisor to the Home Office. In this role, he was responsible for all science and technology, social science, economic and statistical analysis and modelling in the Home Office, covering policing, counter-terrorism, illegal drug use, border security, immigration, crime prevention and identity management. He was also a visiting Professor at the University of Oxford and Fellow of Wolfson College.
After leaving the Home Office, Professor Wiles held various public positions including being an advisor to the Sentencing Council, Boundary Commission and a Director of the Food Standards Agency. He was also a Trustee of the National Centre for Social Research. He was involved in REF2014 and piloted the new impact assessment element. He is currently a Governor of Sheffield Hallam University.
Frank Dawtry was the general secretary of the National Association of Probation Officers (NAPO), and was awarded an OBE for his contribution to the work of the National Association. This OBE was been generously donated to the School of Law by a remaining member of Frank Dawtry's family.
For many years, and up to the time of his death, Frank was on the executive of the Howard League for Penal Reform. He was a founder member of the National Association for the Care and Resettlement of Offenders. He was also involved with the National Association for Mental Health and was on the council of the National Citizens' Advice Bureaux.
In 1963, the University of Leeds conferred on Frank the degree of Master of Arts, in recognition of and to honour the significant contribution he made throughout his lifetime to criminal justice and penal reform.
The Frank Dawtry Memorial fund was set up to establish a lasting memorial at the University of Leeds to Frank's achievements. The endowment is for a lecture to be given annually by a prominent speaker to address one of the following topics: "the treatment of offenders; the prevention of crime; and the administration of justice."