Annual competition proves we've got talent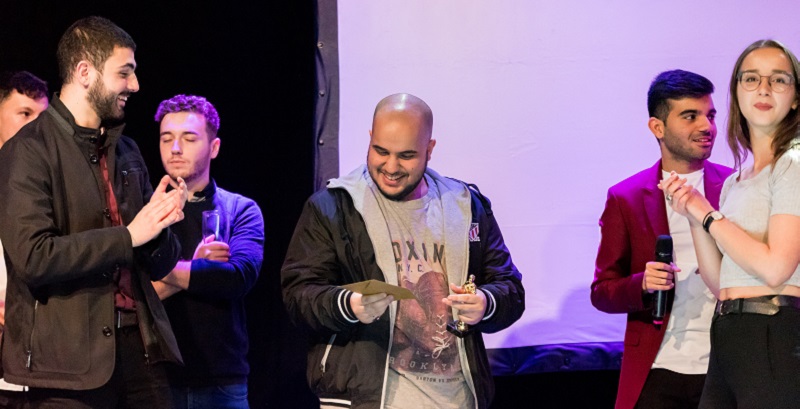 On Tuesday 11 December the School hosted its annual talent show "Law's Got Talent". Now in its 5th year the show raised an incredible £1033.68 for Leeds Mind.
The night opened with Kate Goldring from Leeds Mind explaining how the charity "helps people find the right words" to talk about their experience with mental health problems. She explained that events like Law's Got Talent help them raise the £3m needed each year to maintain vital mental health services across Leeds.
The evening was started by hosts Yahya Al-Hayki and Charlee Lewis-Rogers who introduced the four judges for the evening, Ms Rachael O'Connor, Dr Chloe Wallace, Dr Paul Wragg and Dr Suzanne Young. However, for the first time in the event's history it would not be the judges who decided the fate of the acts but the audience who were voting for their favourite.
The talent was extraordinary with a mix of singers, musicians, a rap act, an Abba tribute act (with some surprising guests) and a comedian. There was also a half-time performance from the Johnhouse Duo – staring James Johnston from the student support team.
In third place was drummer and guitarist Ben Davis and Jacob Heaton-Jones who wowed the crowd with their Fleetwood Mac cover. In second place was lip syncing duo Samantha Wiggins and Katie Main Willson who were joined by two very familiar faces – Head of School, Professor Alastair Mullis and Director of Student Education, Professor Nick Taylor who donned their best Benny and Bjorn looks to perform as an Abba tribute act. And in first place was rapper Firas Alnasser who has been rapping for ten years. He performed a rap he had written himself with a singer and guitar accompaniment, he even freestyled a portion of his performance which impressed the crowd.
Overall, there was a great buzz all evening with everybody supporting the acts and donating to Leeds Mind.
<iframe src="https://player.vimeo.com/video/328410871" width="640" height="360" frameborder="0" webkitallowfullscreen mozallowfullscreen allowfullscreen></iframe>