Professor Peter Whelan delivers a guest lecture at the Latvian Law Institute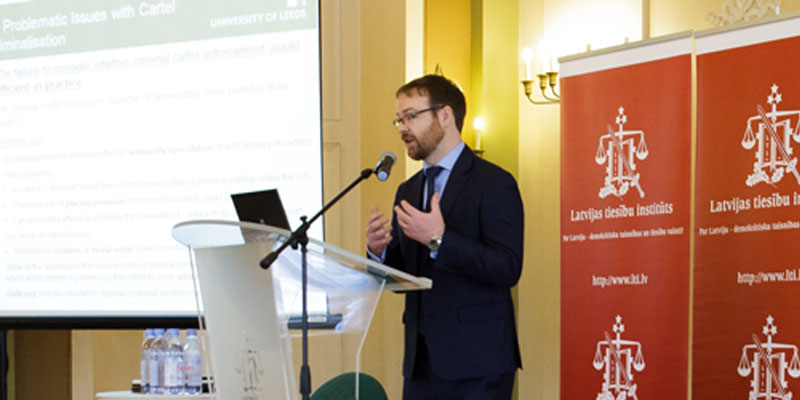 On 23 March 2018, the lecture was delivered to 60 competition law experts from Latvia, including competition authority officials, practitioners, leading academics and judges of the Supreme Court.
Drawing on his recently published work on the enforcement of competition law, Professor Whelan's lecture focused on the optimal enforcement of cartels. It detailed how an optimal cartel fine should be constructed and what enforcement measures should be in place to complement cartel fines on corporations. In particular, it examined the role that criminal cartel sanctions can have in this context. The experience of the UK in this context was also critically examined. The lecture was recorded and will be available in due course on the Latvian Law Institute's YouTube account.
Following the lecture, Professor Whelan visited the Supreme Court of Latvia. At the Court he participated in a roundtable discussion with the Chief Justice of Latvia and a number of senior judges on the potential implications for Latvia of his research on competition law enforcement.
Professor Whelan also visited the Competition Council of Latvia, where he outlined some of his research from his forthcoming monograph with Oxford University Press on parental liability in competition law.
In due course an interview with Professor Whelan focusing on his competition law research will be published in English in the local law journal.