Law's Got Talent 2017 raises an incredible £1,145 for Parkinson's UK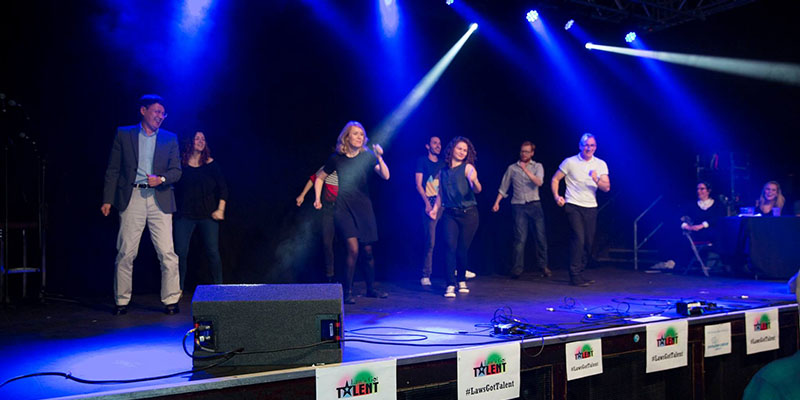 On Monday 4 December we were honored to host our annual competition to raise money for our chosen charity, Parkinson's UK.
The night was opened by a short video sent by Parkinson's UK called "Put yourself in my shoes". The video showed some of the daily struggles people with Parkinson's have difficulty completing and asked, "How would you feel if simple things like making a cup of tea or putting on your shoes became a challenge?"
Beginning the evening, our hosts were announced, members of LawSoc Abdul Adekola and Sam Wiggins, who not only helped organise the event but were also stars of the show. Making their stage debut to the legendary Mambo No.5 they then welcomed our judges Chloe Wallace, Colin Mackie, Jimmy Younis and Nick Taylor.
Nick was then asked to give a short introduction to the evening. As well as his one-liners, Nick shed light on living with Parkinson's and joked he struggled putting his hands in his pockets, adding if anyone sees him at the bar... before giving a shifty look around the room.
The evening was then kicked off by last year's winner Pai Gambe followed by a mix of first years to final years, acts who had performed in front of an audience and some acts who has never performed in front of anyone. The talent was extraordinary from solo and duo singers, spoken words, a drummer and a couple of controversial performances including a Donald Trump impressionist and a stand-up comedian.
Before half-time, there was a special performance by Abdul Adekola and Georgia Ma from LawSoc in support of Inclusivity, Equality and Diversity, performing Same Love by Macklemore with drummer Ben Davies and Guitarist Jacob Heaton-Jones. During half-time there was another performer, James Johnston from Student Support who played a mix of original and well known songs including Oasis Wonderwall.
Throughout the night, hosts Abdul and Sam encouraged the hashtag #Lawsgottalent which managed to trend at number two in the Leeds area. The host's favourite tweets won a Parkinson's t-shirt and some of the comments included Joan Loughrey stating "Definitely one of the best nights of our school year- brilliant" and Mitchell Travis declaring "@Law_Leeds is the most woke law school I've ever been at #LawsGotTalent".
The evening came to a close with our raffle winners being announced with an excellent choice of hampers, drinks and a custom made dress on offer by independent designer label Roc and Doll. Third, second and first place was then announced, chosen by our judges.
In third place was stand-up comedian Jonah Moore (below right), second place was singer Lauren Mackey and guitarist Jacob Heaton-Jones who performed Amy Winehouse, Valerie and Michael Jackson's Man in the Mirror.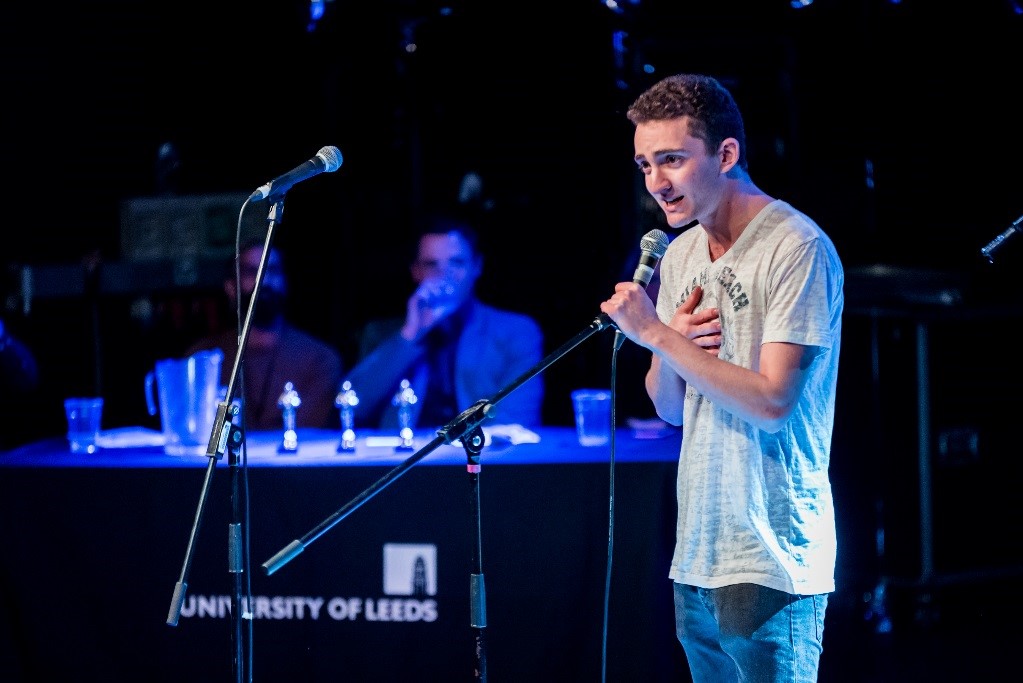 In first place was Beloved who performed spoken words about friendship against the backing music John Legend, 'All of Me'.
There was a great buzz throughout the evening, everyone was supportive towards each act, and everyone got involved on Twitter and showed their support through donations. Alastair Mullis closed the evening stating he was extremely proud of everyone who made Law's Got Talent happen and looks forward to it being even bigger and better next year.
Photographs from the evening are available on our Facebook page