University of Leeds students enjoy an evening with Baroness Brenda Hale
On Tuesday 21st February, the University of Leeds Law Society and the School of Law were delighted to host Baroness Brenda Hale for an evening with our students.
A pioneering figure in the legal profession, Lady Hale has had a career of many firsts. Born in Leeds, she was the first woman from her school to study at Cambridge University. She was also the first woman to be appointed to the Law Commission, where she paved the way for crucial legislation including the Children Act 1989. In 2004, she became the first woman appointed to the Supreme Court and in 2017, she again made history as the first female President of the Supreme Court until her retirement in 2020. In 2022 Lady Hale was presented with an honourary Law degree from the University of Leeds.
It was an honour to welcome Lady Hale back to the School of Law, following the awarding of her honorary degree in 2022. We hope to welcome her back again soon!
Lady Hale has been a consistent and determined advocate for diversity, equal opportunity and access for all, and a champion of the rights of women, showing a deep humanity alongside her formidable intellect, integrity and courage.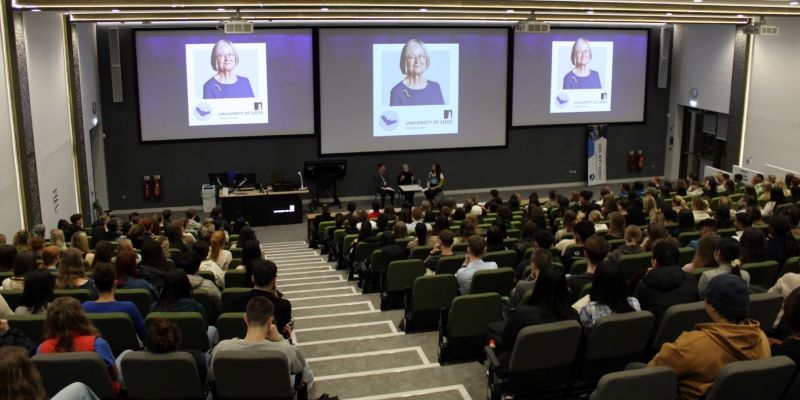 The evening began with Law Society Co-Presidents Ben Anderton and Kat Lytle hosting a conversation with Lady Hale, held in the Esther Simpson Building. With almost 400 students in attendance, Lady Hale spoke passionately on topics including representation in the judiciary, her route to becoming a judge and the increasing public scrutiny faced by judges, particularly relating to the Miller cases. Lady Hale then responded to questions from the audience and left a lasting impression with her wisdom and wit!
I thoroughly enjoyed my visit to Leeds, the much-loved city of my birth, where I was given a warm welcome by the Leeds Law Society and very well looked-after, especially by the Co-Presidents, but best of all was the Q&A from a lively, enthusiastic and well-informed audience. Leeds lawyers have a bright future!
Following the talk, a small group of students, along with School of Law academic Dr Jane Richards, headed to University House to join Lady Hale for a dinner which provided a fantastic opportunity to hear more from such an inspirational figure.
It was truly a delight to get to know someone who has been a trailblazer in shaping the judiciary for the better.