School of Law raises a glass to the graduating Class of 2020 in social media celebrations
The social distancing measures current in place in the UK due to the COVID-19 pandemic meant that traditional graduation celebrations couldn't take place in July 2020.
At the University of Leeds, July is many people's favourite month as it plays host to the Summer graduation ceremonies. Students, accompanied by friends and family, gather in the Great Hall to collect their degree certificate from the Vice Chancellor or one of the Pro-Vice Chancellors. Academics, dressed in their finest gowns (and some very snazzy hats) sit at the back of the stage, clapping enthusiastically as each name is called. Following the ceremonies for the School of Law, everyone leisurely walks the five minutes to the Liberty Building, for drinks, refreshments, photographs, speeches and prize-giving. These celebrations are very special and mark the huge achievement of successfully completing a degree.
However, this event, along with thousands of others across the country had to be postponed due to strict social distancing measures, with graduates instead receiving their degree certificates in the post.
The School felt that Tuesday 21 July, which was originally the date of our graduation ceremonies, should still be recognised as an important one. Staff took to social media to share photographs of themselves raising a glass (of everything from ginger beer to gin martini) and messages of congratulations to the Class of 2020.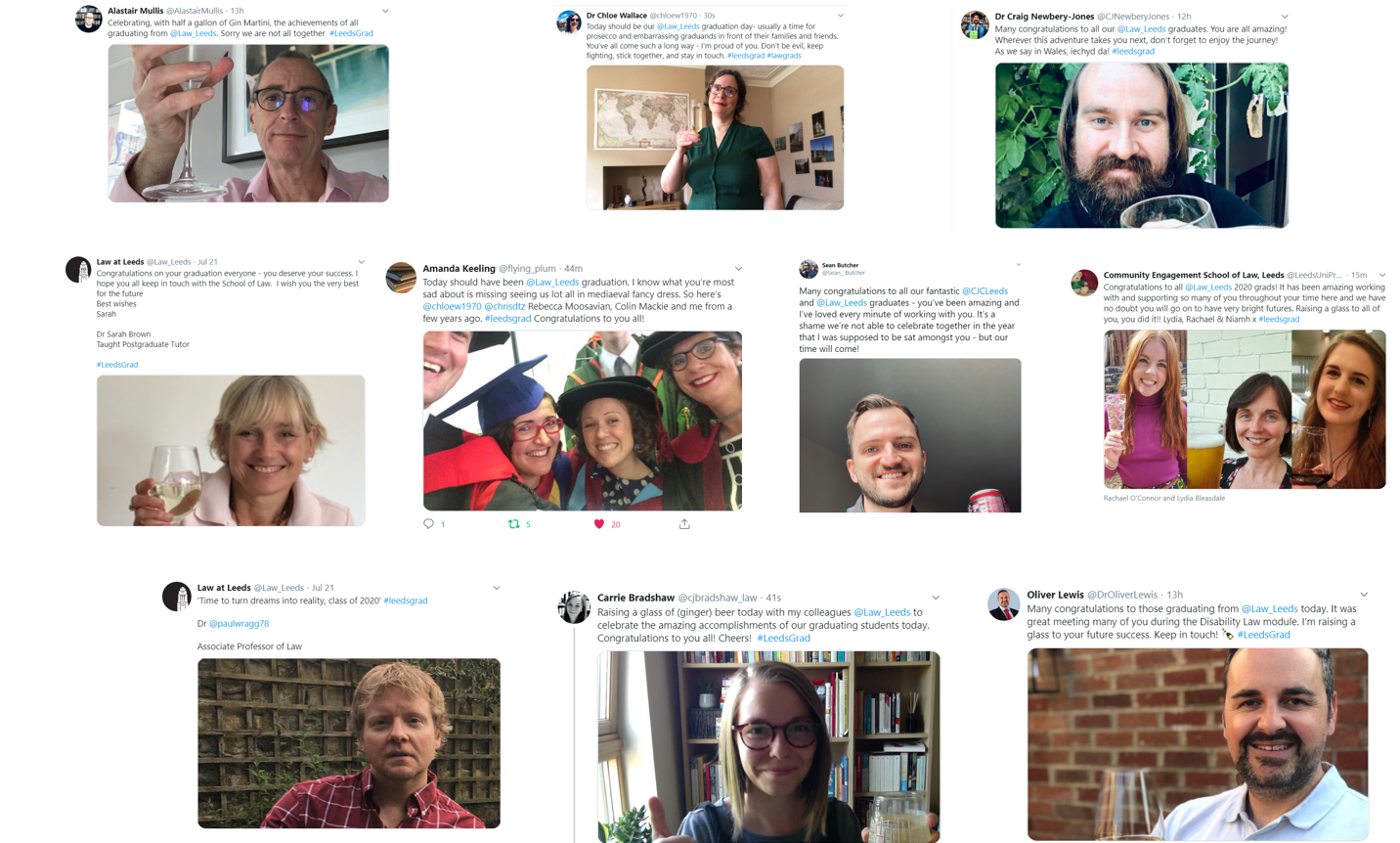 Video messages featuring familiar faces from the School of Law (including Director of Student Education – Professor Nick Taylor and the Presidents of student societies Charlee Lewis-Rogers – CrimSoc President and Quinton McAndrews – LawSoc President) were also shared, in which the sudden and unexpected end to the year was lamented but the many achievements of our graduates in their time here were the main focus.
As any School of Law alumni will know, the 'Finalists' photograph' taken on the steps of the Edward Boyle Library is a popular tradition, with photographs taken as far back as 1949 hanging on the wall outside the Moot Court room in the Liberty Building. As this is another tradition which could not be upheld this year, the School asked finalists to instead record a short clip of themselves waving at the camera and the result is a touching montage of students from around the globe which can be seen here.
Although graduation day 2020 for the School of Law was very unorthodox, it was still a day when the Class of 2020's tremendous achievements in the most testing of times was recognised and celebrated.