A Year of Success for Women Breaking Barriers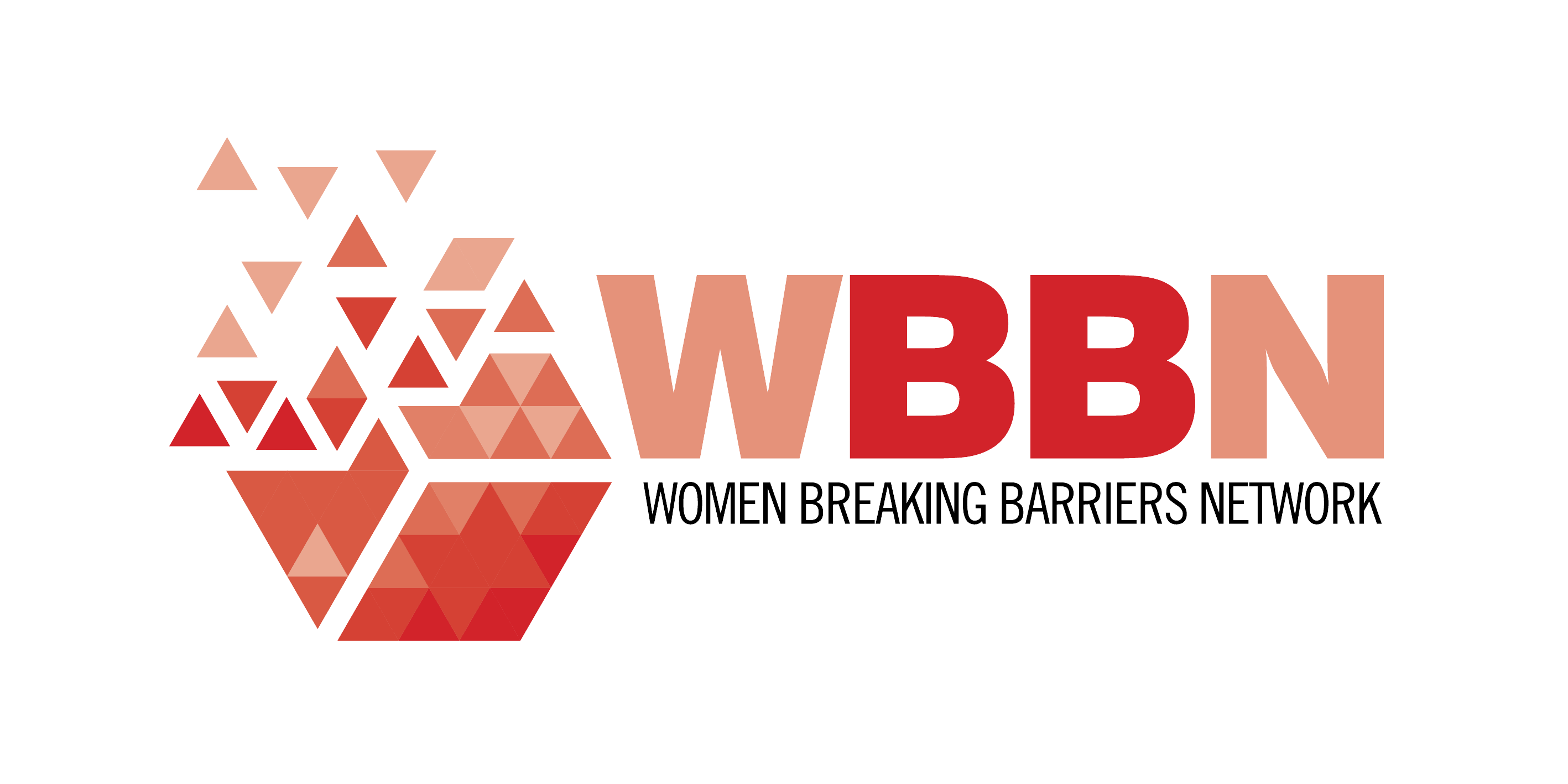 Women Breaking Barriers (WWB) are a network which is designed to connect future women leaders and provide them with inspirational role models.
Within all professions, there are struggles which every woman will face – from a lack of female leaders and the gender pay gap to issues faced by working mothers – no woman is immune to these barriers. WBB was created with these barriers in mind, in the hope of knocking them down by a group of School of Law students in 2015. The WBB Network was launched in February 2018 with 11 universities. Currently the WBB Network is made up of universities from the north of England – including Manchester, Northumbria and Liverpool to name a few.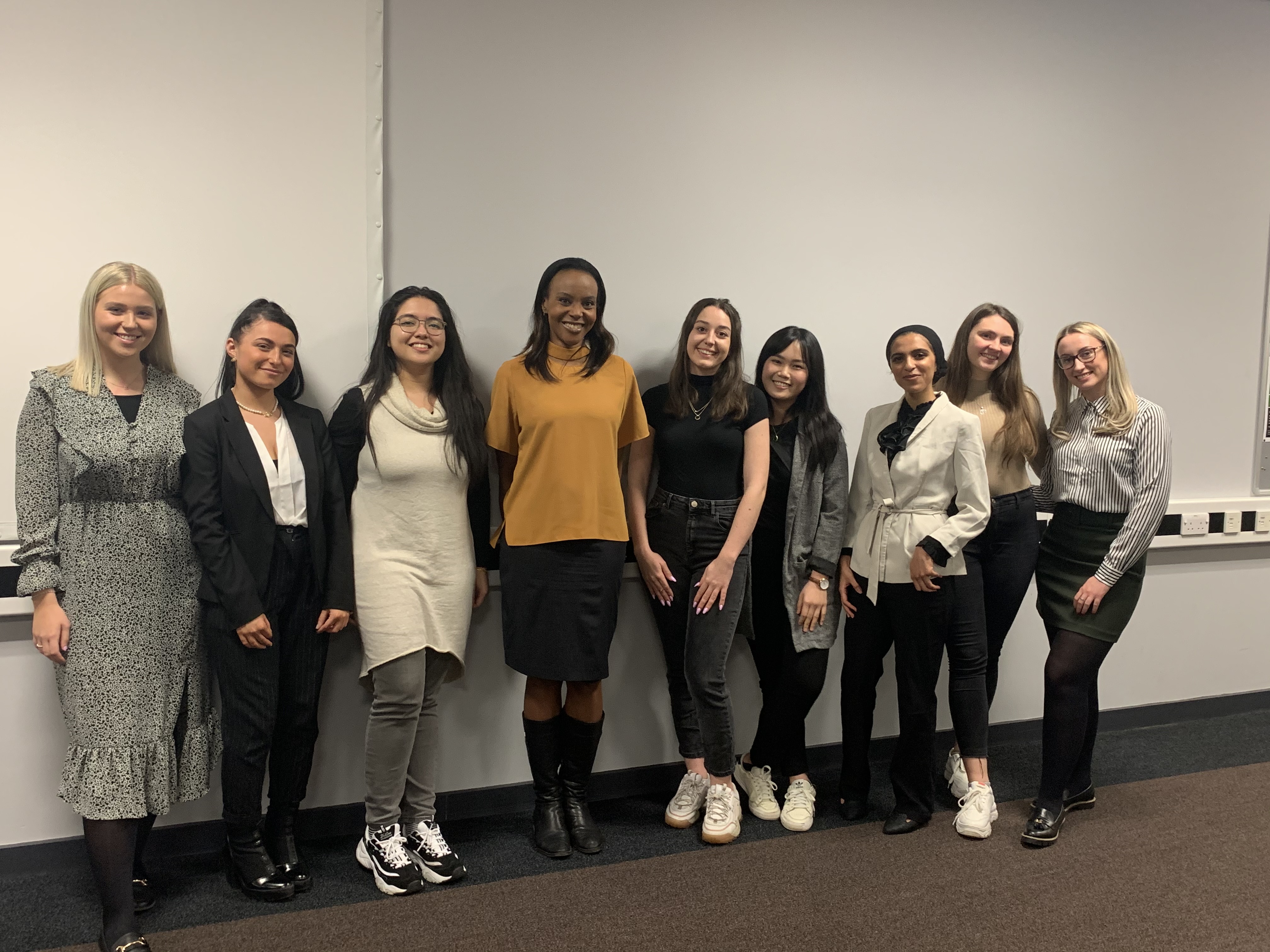 From left to right: Jordan Denney (Secretary), Bex Barclay (President), Veenea Nair (International Rep), Dr Funke Abimbola, Imogen Haywood (Events Coordinator), Mercy Yap (UG Rep), Ayesha Kuwari (UG Rep), Jessica Kelly (Events Coordinator), Georgia Brizell (Social Media Rep). Not pictured is Gopalika Sreekumar (Network Ambassador).
WWB Leeds host regular events which aim to inspire both men and women about what is possible for women in the legal profession and outside of it. Although WBB was created within the Law School they regularly welcome speakers from outside of the legal realm.
The committee focuses on inspiring and educating women about the struggles they will face when breaking into the professional world. WBB is about encouraging and informing women that they are not defined by their barriers and that they are able to overcome anything with the right support behind them.
This academic year (2019/20) WBB has hosted a number of successful events and workshops. They began the year in October with a talk from Aileen McColgan QC about women in the legal profession.
This was followed by a Confidence Workshop in November which provided first and second year students with practical advice for tackling confidence issues and avoiding 'imposter syndrome'.
In February, they welcomed the Scottish Feminist Judgments Project for an interactive afternoon where students rewrote important legal judgments from a feminist perspective.
As their final speaker event of the year, they hosted Dr Funke Abimbola who spoke of 'Climbing Mountains' in both the literal and metaphorical sense.
Most recently, they held a breakfast in the School's Liberty Building in celebration of International Women's Day where they raised money for Freedom4Girls, a charity fighting to end period poverty.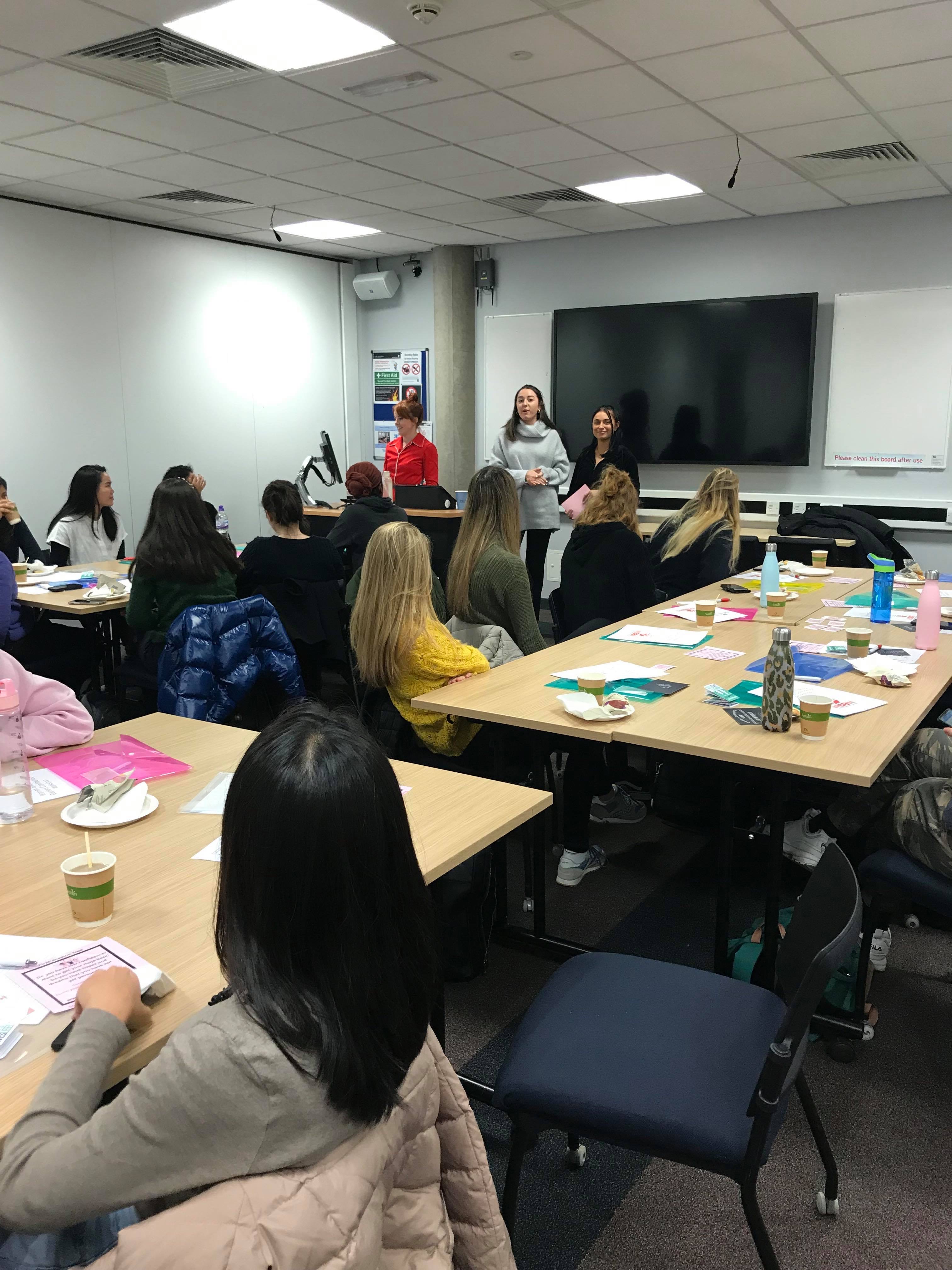 Students at the Scottish Feminist Judgments Project Workshop
WBB President and third year School of Law student Bex Barclay spoke about why she become involved in the network and what she hopes for its future:
'I took on the role of President after joining the committee as a Year Group Representative in my second year of university. This year, one of my main focuses has been on creating an online presence for WBB. With the help of our Social Media Representative, Georgia Brizell, we have been able to increase our online engagement and use social media as an additional platform to inspire and empower students. We introduced an online series in September using the hashtag #femalefocusfridays where every Friday we have shed light on the journey of a successful women and the barriers she has overcome. Highlights have included staff from within the law school – Professor Iyiola Solanke, Dr Jen Hendry and Professor Anna Lawson as well as other practitioners including Baroness Hale and Christina Blacklaws.
Throughout my time with WBB, I have seen the importance in the metaphor of lowering the ladder once you have made it to the top rather than pulling it up behind you. Women Breaking Barriers exists to facilitate this metaphor and provides a space for female pioneers to help our students onto their career path. Being able to co-ordinate this has been a privilege and I have loved every moment.
The future of WBB is bright and in extremely capable hands. The role of President will be taken by Imogen Haywood, a second year Law student who has been involved with the committee since her first year of study. I will be staying at the university to complete a Master's in Law and Social Justice and I am very excited to watch WBB flourish under Imogen's leadership. In the next academic year, we would like to see an increase in male engagement with WBB as equality for the sexes cannot be achieved without men and women working together and we also hope to reconnect WBB network which was initially 11 northern universities strong.'