School of Law alumna becomes detective with Greater Manchester Police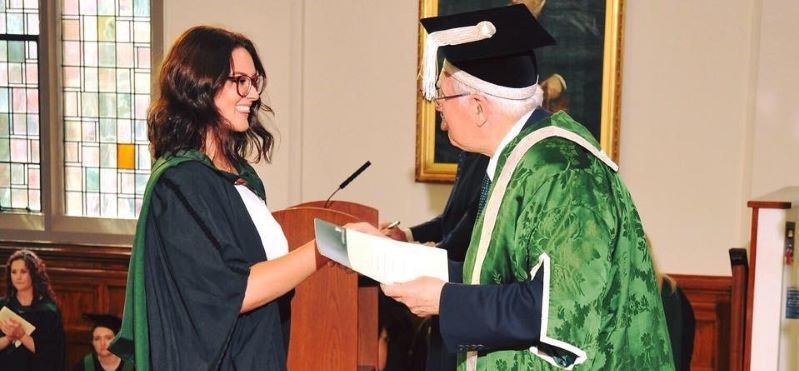 Greater Manchester Police is the territorial police force responsible for law enforcement within the metropolitan county of Greater Manchester in North West England.
School of Law alumna Elizabeth Kelly graduated from the School of Law in 2017 with a BA in Criminology with Criminal Law and again in 2018 Masters of Science (MSc) degree in Security and Justice with a focus on counter terrorism.
Elizabeth spoke to us about her journey from Leeds student to detective.
Why did you decide to come to the University of Leeds to study?
I am originally from London but grew up in the Essex countryside with my Mum, Dad, and brother. I was incredibly lucky in that I had really supportive parents who encouraged and motivated me to achieve the goals I set myself even when I felt they were unobtainable. I left school unsure of what career path I wanted to go down but knew I wanted to do some further study and Law was always an interest of mine.
My Dad had served as a Police Officer for the Metropolitan Police Service for 26 years and although he couldn't always tell me everything (mostly because I was too young) his stories used to fascinate me, and he became this heroic role model to me. I knew I wanted to follow in his footsteps.
I chose Leeds for a few reasons, but the biggest one was because on the Open Day I attended, I was walking past the Great Hall towards the Union, and I was with my Mum. She told me that years ago she had come to the University of Leeds for work, and she had walked across the Campus and thought to herself how incredible it would be if one day I studied here. In the moment she told me that I felt like I was at home – I knew then that Leeds was where I wanted to be.
Why did you then decide to go on to do a Masters?
Within the first few months in the final year of my BA Degree I knew I wasn't ready to leave. I felt like I had just started to get to grips with what I wanted to do, I felt so inspired by my first three years and I knew that it would be unlikely that I would be in a position in the future to complete any further study, so it was now or never. Leeds was such an incredible University, and I couldn't imagine being anywhere else, so I applied for a place on the MSc Security and Justice course and got it.
Prior to University and whilst studying for my A Levels I had a few teachers who weren't particularly supportive, and I had a real knock to my confidence when it came to my Academic prospects. So, getting into Leeds was a massive achievement but it was also incredibly intimidating – but within the first few months I was built back up again by my lecturers and the students around me, and I knew this was where I was supposed to be.
What made you want to become a detective?
In my final year at Leeds, I knew I wanted to join the Police and I decided I wanted to work for Greater Manchester Police (GMP). Not only did the University of Leeds open up new opportunities for me but it also made me fall in love with The North, and I knew I wanted to stay for the foreseeable. A combination of my studies and influences at home directed my path to become a detective. I wanted to be in a position to help people, investigate crime and subsequently bring justice to victims and their families.
We were delighted at the School of Law to learn of Elizabeth's appointment to the role of detective with Greater Manchester Police. She was a dedicated student who wrote a really interesting and memorable Masters thesis on event security. It is great to see her realise long-held career goals and hopefully we will welcome her back to Leeds in the future to learn more about her work.
Professor Conor O'Reilly, Co-Director of the Centre for Criminal Justice Studies

What are your plans/hopes for the rest of your career?
I hope to have a long and varied career working for the Police; for the next few years I want to learn as much as I can and hone my skills and knowledge before moving onto different departments for a different experience but ultimately, I know this is where I want to be.
What is your favourite memory from your time at Leeds?
The day I graduated with my BA Criminology with Criminal Law degree – for two reasons; the first being that it was such an incredible day for me and a real acknowledgement of what I had achieved. Seeing my fellow classmates being celebrated for their hard work, my family getting to see where I had spent the last three years and meet the people I had been on this journey with. The second was because I knew it was also the start of my second chapter at Leeds, but this time starting with real confidence in my ability to succeed and knowing exactly what I wanted to accomplish.
Do you have any professors/lecturers that you remember in particular?
Professor Lydia Bleasdale – she taught me in my first year at Leeds, Criminal Law. I have such a clear memory of a lecture she held which involved an open debate on Defences to Murder. Lydia gave us a case study and asked the room to discuss whether the subject of that case study was eligible for the defence of duress to the murder of her husband. I was so passionate about my perspective, and it was really eye-opening to see how differently people felt about it – I knew I was on the right path that day and I knew I wanted to be a part of this conversation on a larger scale.
Professor Conor O'Reilly – he was my tutor during my Masters, and he was also the lecturer I spoke to when I decided I wanted to apply (for the MSc). Conor was the most supportive lecturer I had during my four years at Leeds, and I knew that he would always make time for a chat if I needed one. He helped me shape my Masters Dissertation and he encouraged me to take risks with it, delving into subject areas I was interested in but hadn't felt confident exploring.