School of Law professor plays walking football for England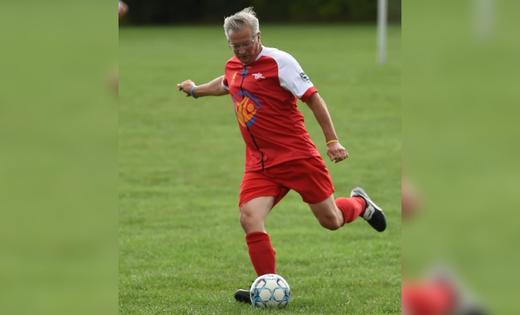 When Professor Nick Taylor was diagnosed with Parkinson's 10 years ago, he never dreamed he'd play football for England.
When School of Law alumnus and professor, Nick Taylor was diagnosed with Parkinson's, his first thought was that it was 'the end.'
But after he read a tweet about the possibility of playing football, Nick joined up with other people living with Parkinson's through social media to start a walking football team called the Pennine Parkies.
Now he wants to further spread the word about the benefits of playing the game for those with Parkinson's.
Staying active is one of the best ways to slow down some of the degenerative effects of Parkinson's.
The team got the opportunity to play in a national Parkinson's walking football tournament at St. George's Park in March 2022.
Playing at the home of the England team was a big moment for Nick personally, marking a major step after he got back involved with the sport after his diagnosis.
With Parkinson's you often think, certainly when you get it, you think that's it, that's the end… So if there's an opportunity to play football again, it's just brilliant.
From there, he was selected for the England team - something he had "never dreamed of."
His first official international match was a tournament in Northern Ireland and the team now have plans to visit Singapore, Spain and Cyprus in 2023.
A shared understanding
The nature of the team means there is a collective understanding between the players which influences how the game is played.
It is a non-contact sport and the game is sensitive to issues surrounding Parkinson's. There is a different pace to the action: "It's a different game," said Nick, adding: "It's perfect for people with Parkinson's."
The social aspect is also very important.
You tend to shrink away from social activities when you are first diagnosed. You see people coming out of the shadows to play when you know full well they would otherwise be slipping into the background.
Interest in Parkinson's sport is growing and attracts people of all ages. In recent years a new organisation, Sport Parkinson's, has been set up to promote a variety of activities, such as football and golf, which help keep people active.
Looking ahead, Nick now wants to raise greater awareness of Parkinson's walking football wherever possible including in Parliament - possibly even including a walking football game with MPs.
You can find the Pennine Parkies on Twitter and learn more about getting involved with sport for people with Parkinson's on the Sport Parkinson's website.