Young deaf children and their caregivers in Ghana: Team and research capacity building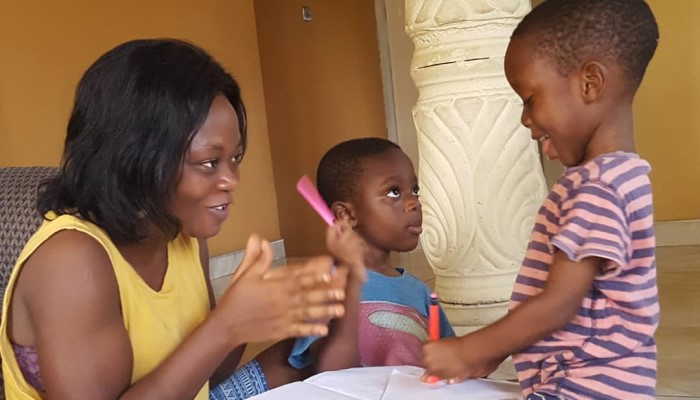 A British Academy GCRF funded research collaboration between the School of Education, University of Leeds, UK and the Department of Special Education, University of Education, Winneba, Ghana investigates the early education for young deaf children and their caregivers in Ghana. This project builds understandings of the social-cultural and resource dynamics surrounding early support for children who are deaf, and their caregivers.
As a new UK-Ghana team we are building educational resource and research capacity in Ghana to enhance the early support of young deaf children and their families in Ghana and its sub-region. Though the Covid-19 pandemic has slowed down the activities of the project, we have been able to progress the first phase of data collection interviews with educational and health practitioners who work with children and families. As we analyse this data we are also undertaking interviews and observations with families of deaf children. The impact of this work, at this stage, is all about capacity and team development.
Three early career research assistants have been recruited in Ghana (Joyce Fobi, Faustina Frempomaa, Obed Appau) to work alongside the co-investigators in situe (Alexander Oppong and Yaw Offei), the Leeds-based project officer (Daniel Fobi) and PI (Ruth Swanwick). Through reciprocal training in research skills, critical reading, and peer review activities the team have developed context-sensitive research skills and experience of writing for publication.
Throughout the project we have collaborated closely with the Ghana National Association of the Deaf (GNAD), the major advocacy group for deaf people in Ghana, to ensure that this work fully respects and includes deaf experience and perspective and is appropriately communicated and disseminated.
As a result of this essential networking, the enhanced research capacity, and new skills in educational leadership an expert hub is being established in Ghana. As the crucial legacy of this project, this centre of excellence will take forward training and development that will support deaf children and their families and establish approaches to education of deaf children in Ghana that can be shared with its Sub-Saharan neighbours.
Swanwick, R., Oppong, A., Offei, Y., Fobi, D., Appau, O., Fobi, J., and Frempomaa, F. (2020). The impact of the COVID-19 pandemic on deaf adults, children and their families in Ghana. Journal of the British Academy, 8, 141–165.