Students take action in response to hate crime
Students are taking action this week in a gesture of support for a Salford family following a racist attack on the family's home last month.
On 8th February 2019 there was a racist attack at the home of a ten year old boy, David Yamba, in Salford. The words 'No Blacks' were graffitied on their internal front door, and the access door of their home, just five days after the family moved in.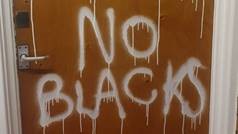 Photograph of the racist graffiti painted on the door of the family.
Students Natalie Amari and Sarah Clark (BA Social Science Foundation Year programme) are leading action to offer gesture of support to the family. Natalie said: "This racist attack horrified and saddened myself, Sarah and a large number of students at the University of Leeds, therefore we all felt that we had to react with a gesture of support. As an act of togetherness, we will be collecting thumbprints and messages of goodwill from students and staff to present to the family. We will present the canvas to David and his family."
Natalie and Sarah are in the Student Union on Thursday 7th March, 12 - 2pm, to give students and staff the opportunity to contribute their messages to the canvas.