Student experience on Leeds to New York leadership programme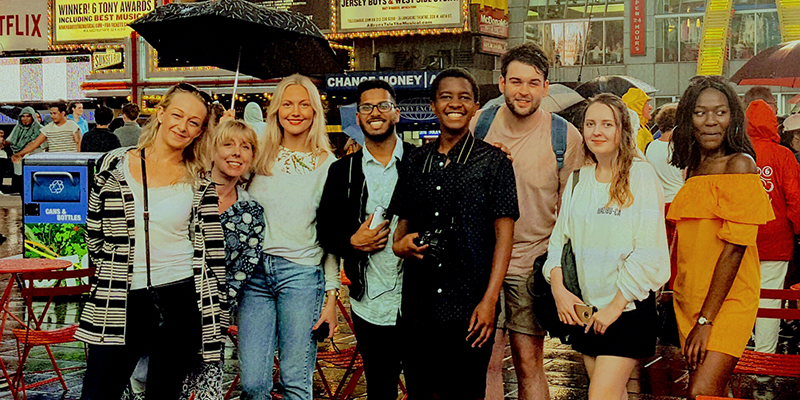 Leanne Clark, a former Social Science foundation year student, now currently studying BA Social Policy, was selected to represent the University on the Leeds to New York student leadership programme.
Leanne was chosen alongside 14 other undergraduate students to travel to New York at the end of semester two.
Commenting on the opportunity, Leanne said, "I wanted to go on the Leeds to New York Leadership Programme because it is designed to be an intense programme involving experiential learning and this is what really appealed to me. The way in which students are selected is through video application and I wanted to develop my skills in this area as this is something employers are doing more of. After completing a social sciences foundation year and having a successful first year of my social policy degree, I felt ready for my next challenge."
Supported by The Footsteps Fund, the programme is now in its second year and is a partnership between the University of Leeds, Leeds City Council, community leaders, Common Purpose and our North American alumni. It combines theory, innovative practice and hands-on experience with 7 days of intensive workshops and events.
Reflecting on her highlight during the trip, Leanne found their visit to the New York French American Charter School in Harlem most inspirational: "I had the opportunity to speak with some of the children here and each and every one of them touched my heart. Despite the challenges that the children live and face every day, they have nothing but hope and they are all ambitious with what they want to achieve in the future. It was a real pleasure to meet with them all and to attend the amazing talent show that they all work so hard for every year."
Taking us out of our comfort zone into a different environment allowed us to really explore the challenge that we were set: how to make our cities more inclusive. Every borough we visited in New York had something different to offer and we were able to witness the authenticity of this wonderful place.
Leanne and the other students explored key leadership challenges faced in business, community and culture. Engaging with University alumni in New York, Leanne learnt about leadership in a range of sectors and cultures, developing her leadership, communication, presentation and networking skills.
"We met with inspirational business leaders and community workers who gave us a good insight into the challenges that they faced, as well as some valuable advice on our own progression as students and in our future careers. This made the experience a truly immersive one. I was able to develop my cultural intelligence as well as skills in leadership, collaborative work and public speaking. All of these skills, along with the knowledge gained on the challenges of making cities more inclusive and what can be done to allow more equality within society, will be beneficial to my future career plans of becoming a social worker. This experience allowed me to grow so much on a personal level, I learnt things about myself and my confidence thrived. It really was a life changing experience!"