A student's touching interview with Zygmunt Bauman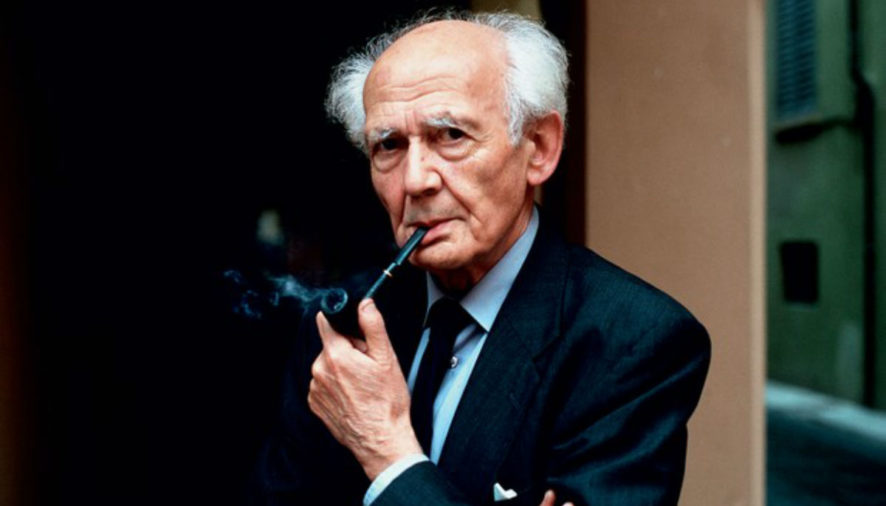 Ask any person with a slight relation to the field, and they will tell you that Zygmunt Bauman can be described as nothing less than the Polish Mick Jagger of contemporary sociology.
So begins Hannah Macaulay's interview with Zygmunt Bauman, shortly before his passing away in January 2017. She writes about the homely welcome she received when visiting his home in Leeds, greeted by his wife Aleksandra Kania with a warm welcome and a pair of slippers. Zygmunt Bauman was sitting in the living room ready to greet her with 'a glass of apple juice, a piece of cheesecake, some almonds and a small bowl of yoghurt with raspberries'.
Hannah walks us through the interview beginning with a question about his term 'liquid modernity' which Bauman likened to the apple juice in the glass in front of them whilst suggesting that, "in our search for solidity we have ended up in a liquid world where the only predictable thing is unpredictable". He goes on to talk about how Brexit is a recent example of this state of uncertainty.
Hannah delves a little deeper and asks Bauman how liquidity links to the refugee crisis. Bauman highlights the shift in situation and circumstance of immigrants and how this is not reflected in the control of immigration, "the problem is that we still attempt to control immigration in the same way as we did in the past. We try to use old solutions to solve new problems: we need to reinvent the way in which we treat migration." He tells Hannah about the state of panic which induces fears of instability of their own lives as many refugees once had everything, but now have nothing. He concludes his theorising of the recent crisis as a bringing of "awfulness of life's instability to our consciousness. They make us realise that we, as well, cannot be certain of our safety. And that is why we act so hostile towards them as a society."
Hannah then asks Bauman for his take on the solution. What can we do about the feeling of fear that many people seem to have ingrained in them? To which he responds, "There is a Chinese proverb by Confucius that can offer resolution. It goes like this: If you think in terms of a year, plant a seed; if in terms of ten years, plant a tree; if in terms of 100 years, educate people." Bauman talks about how expectations of quick fixes and desperation for change is evident in the US election with Donald Trump offering a quick solution and quick changes. He draws the comparison between the US election and the vote to leave the EU, believing David Cameron thought he was making a calculated risk to stay in power. Instead the vote was used to fight the establishment and 'liquefy the institutions in the hope of solidifying them'.
Hannah asked what Bauman's prediction were for the future:
Hannah, you are still very young. You must understand, that we can't and shouldn't ever try to predict the future. The world is a place of uncertainty, the future of humanity unpredictable. In sociology you will never learn any research method or theory that will allow you to prophesize. Because we, as the only species, have language, we can of course speak and think in the future tense. But you must always remember: we can predict many things, but never the actions of human beings.
Aleksandra concluded, "You may have dreams and goals, but these are all based on how the world looks in this present moment. In reality the world is so ever-changing that you can't predict anything. Young people today can't expect to do better than their parents, in contrast to the generation before them. You can just hope to hold onto the position that you currently have in society. You are pressured by the idea of the unknown future: that raises the winds of fear, and that leads to a bleak sense of hopefulness. Zygmunt and I both lived through World War II and we still regained hope after that."