African Apocalypse: A film symposium and lecture series by director Rob Lemkin
Date: Tuesday 13 June 2023, 09:00 – 18:00
Location: Clothworkers North Building LT (Cinema) (2.31)
Cost: Free
The Faculty of Social Sciences invites you to a film screening and symposium with Emmy/Sundance award-winning documentary film director Rob Lemkin.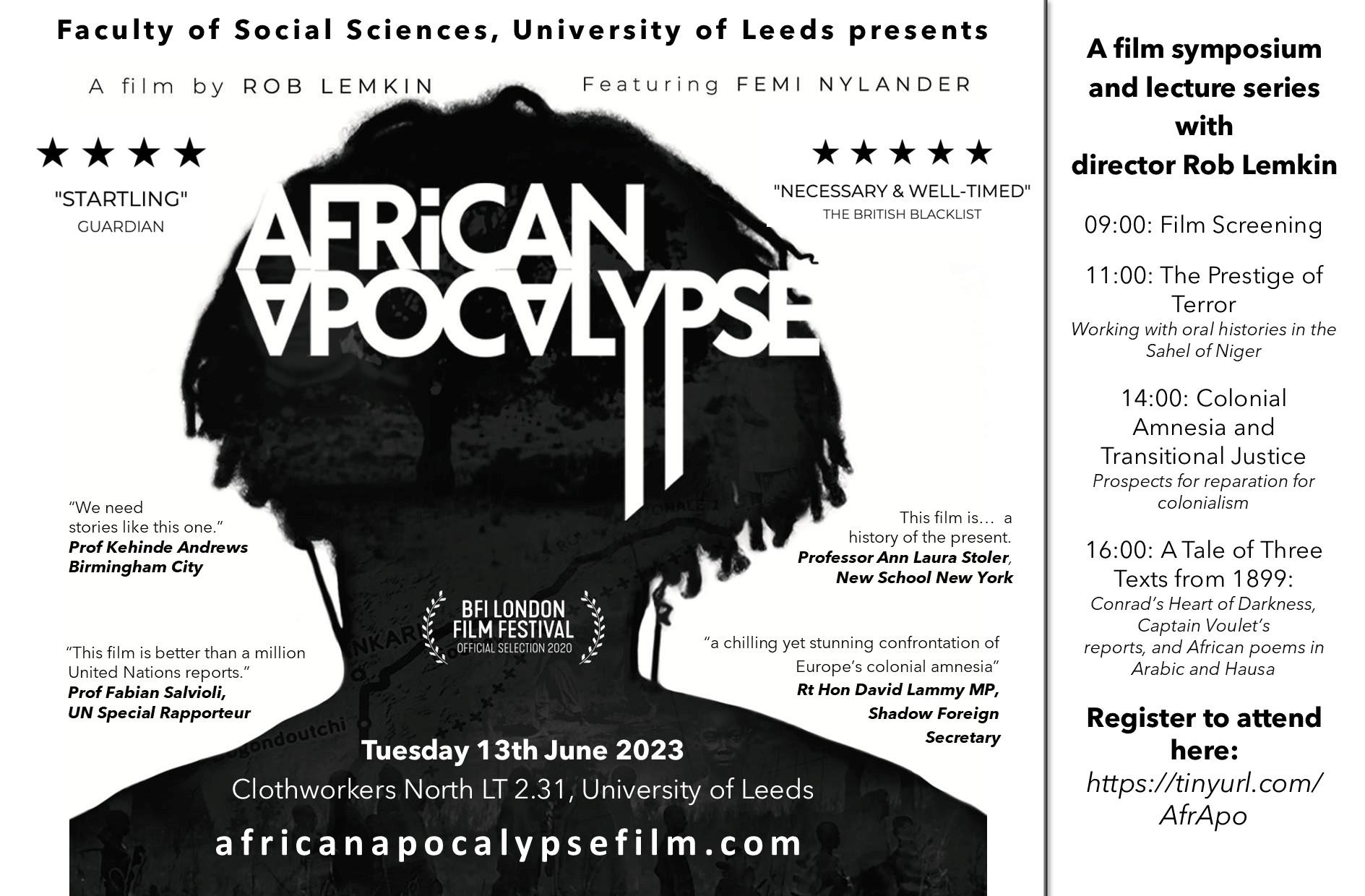 About the Event
The Faculty of Social Sciences is delighted to be hosting African Apocalypse: a film symposium on racial violence, colonial accountability, literature and oral history. This is an all-day event including a screening of the BBC/BFI feature documentary African Apocalypse (dir. Rob Lemkin, 2020), followed by a series of talks by and discussions with director Rob Lemkin on the film's diverse themes and developments. The symposium will also feature exclusive new clips and unused material.
About the Speaker
Rob Lemkin is an Emmy/Sundance award-winning documentary film director. He directed and co-wrote African Apocalypse. His many previous films include Enemies of the People, a ground-breaking documentary about the killing fields of Cambodia that were used extensively by both prosecution and defence at the UN-backed trial of the Khmer Rouge.
Symposium Schedule
09:00 – 12:00
African Apocalypse. Film Screening.
The Prestige of Terror. A discussion of how the film was based on several years of on-the-ground oral history research in Niger and in French colonial archives in Aix-en-Provence. Following widely seen television broadcasts in Niger and Nigeria of the film in Hausa, a discussion of how the film connects with the complex politics of security in the Sahel today.
Break
14:00 – 15:30
Colonial Amnesia and Transitional Justice. A discussion of how the communities in the film have begun to demand a series of reparations for the colonial invasion of Niger including making submissions to the UN Special Rapporteur inquiry into the legacy of colonial crimes. What are the prospects of success?
16:00-17:30
1899: A Tale of Three Texts. The film juxtaposes two sets of texts – Joseph Conrad's Heart of Darkness and Captain Voulet's handwritten letters and reports on his murderous invasion. There is another text from that year on colonial invasion. It is written by a Hausa poet from Kano, Nigeria called Elhadji Al-Umaru. Umaru's poems are searing and complex indictments of European violence. A provocative comparative analysis.
Tickets to the symposium are free and can be registered here on the Eventbrite page. Any questions about the event should be emailed to Myles Harman at m.harman@leeds.ac.uk.
About the Film
African Apocalypse is a people's history of the colonial conquest of Niger in West Africa. It has been called "an extraordinary road movie" (Radio Times) combining investigation, history and reportage with a commitment to exploring the modern meaning of a literary classic (Conrad's Heart of Darkness). The Hausa language version premiered in Nigeria and Niger in 2022 to large audiences and has been screened at events at Bristol University and University College London.
The film formed the basis of a ground-breaking submission to the UN Human Rights Office which was the focus of an event by The New School and the UN in October 2021.
At its festival and BBC2 television premieres, the film attracted glowing revies from a huge spectrum of opinion. The British Blacklist called it "necessary and well-timed." Labour MP (and now Shadow Foreign Secretary) David Lammy, speaking on LBC, saw in it "a chilling yet stunning confrontation of Europe's colonial amnesia." The Platform found it "astounding...how effortlessly the film explored a multitude of political issues." Tabloids and broadsheets alike found much to praise. The Sun described it as "arresting," the Daily Express called it "harrowing, yet hugely important," The Daily Telegraph found it "absorbing and provocative as Femi burrows into his own dual heritage," and The Guardian thought it "startling."
The film also garnered lots of academic praise:
"This film is better than a million United Nations reports." Professor Fabian Salvioli, UN Special Rapporteur for the Promotion of Truth and Justice.
"Truly extraordinary, in so many ways. This film is not history for history's sake, but a history of the present." Professor Ann Laura Stoler (The New School).
"Powerful, timely, important." Professor Ousseina Alidou (Rutgers University).
"We need stories like this one. Still shocking even when you know so much." Professor Kehinde Andrews (Birmingham City University).
"A brilliant introduction to the crimes of colonialism. An excellent opportunity for education and debate." Professor Jean-Pierre Olivier de Sardan (The French National Centre for Scientific Research).
"Very powerful and moving. It goes to the essence of the story and of its meaning today." Professor Bertrand Taithe (University of Manchester).
"Oral history at its very best." Professor Robert Gildea (University of Oxford).
"I love the way it connects the past with the present (and future) across space. Should be seen by everyone." Professor Yacob Mulugetta (University College London).
"Devastating and moving, filled with embedded Conradian ironies." Professor Robert Hampson (Royal Holloway).