Research by Dr Mark Davis inspires national campaign for Local Climate Bonds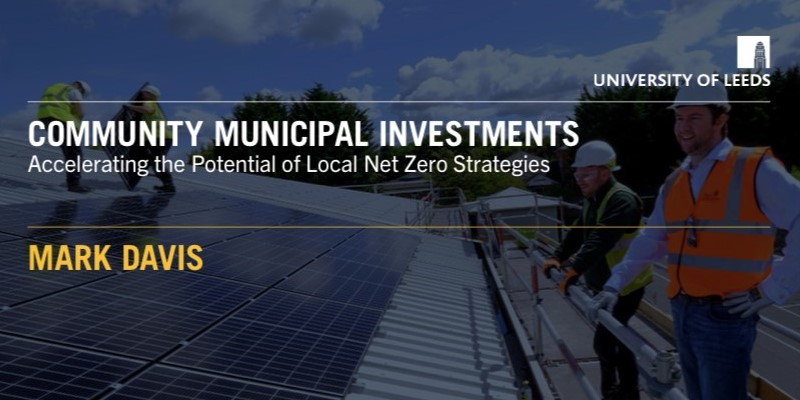 On 13 July, the UK's Green Finance Institute launched a national campaign to help local authorities issue a new type of municipal finance investment – Local Climate Bonds.
The campaign will target all 404 local authorities in the UK, of which over 70% have declared a climate emergency, helping them bring to market this retail investment product – a cost-effective way for them to fund hundreds of green local projects in the run-up to and beyond the critically important COP26 summit in November.
The municipal finance instrument behind the new Local Climate Bonds was developed by research led by Dr Mark Davis in the School of Sociology and Social Policy. Between 2017 and 2019, Dr Davis secured a government grant for the Financing for Society project, which worked with NHS organisations and local councils to test the viability of investment-based crowdfunding as a new model of public sector finance.
Collaborating with Abundance Investment and Local Partnerships, Dr Davis's research co-created Community Municipal Investments (CMIs), which were launched by West Berkshire Council and Warrington Borough Council in the summer of 2020. Each local climate bond raised their £1 million target ahead of the close date and attracted significant levels of investment from local people to support net zero projects in their community, in these cases the installation of Solar PV. In March 2021, West Berkshire Council were subsequently nominated for a Green Council Award for the scheme.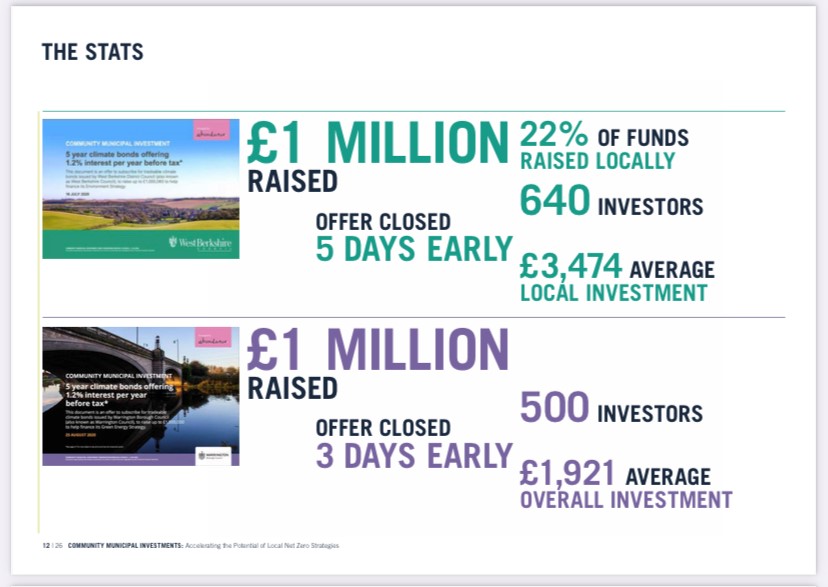 Community Municipal Investments statistics
It is a critical time for councils to harness the expertise and the local knowledge they have to help their residents meet the net zero carbon challenge, sharing best practice and championing progress. The Local Climate Bonds' way of funding decarbonisation projects all over the UK will also support thousands of good green jobs, including in retrofitting our homes, moving away from fossil fuel transport and improving natural biodiversity. The newly-formed Greater Manchester Retrofitting Taskforce will be considering innovative financing options such as these.
With the concept successfully launched, the Green Finance Institute's campaign will highlight the benefits of Local Climate Bonds, build a community of knowledge sharing, and provide access to green finance and municipal investment experts.
The underpinning research behind the CMI draws on a social relations approach pioneered within the School of Sociology and Social Policy at Leeds, from the application of Professor Zygmunt Bauman's theory of the 'relationality' of freedom and choice through to Dr Davis's interpretation of Viviana A. Zelizer's work on 'earmarking' and 'boundary marking' with money. This sociological approach to money reveals the social values that are bound up with financial decision-making, including both a strong sense of commitment to place and to the legacy being left for future social relations through decisions over where to spend, save, borrow and invest.
Local Climate Bonds provide a low-risk and fixed return investment, comparable to other Government-backed investments such as Gilts, and a way to mobilise savings to help tackle the Climate Emergency locally. Aligned with the principles of a Just Transition, and reflecting the School's wider commitments on equality, diversity and inclusion, CMIs have been deliberately designed with a minimum investment threshold of just £5, so that as many people as possible can participate in helping their community to achieve Net Zero and play their role in responding to the Climate Emergency.
I'm absolutely delighted that our first ever Community Municipal Investment has been such a success, generating a huge amount of interest and attracting hundreds of investors from Warrington and across the country. Reaching our £1m investment target is a fantastic achievement, particularly in such challenging times. It shows that tackling the Climate Emergency is something that people really care about. It's so important that the public is engaged in our carbon neutral ambitions and this project is an important part of that work. Its success bodes really well for our green future.
To find out more, read Dr Davis's new report – supported by a grant from UKRI's Innovate UK – and visit the project's webpage.
To hear Dr Davis talk about the research behind CMIs, you can listen to him interviewed in this episode of the Another Europe podcast.
Finally, Dr Davis's book – Crowdfunding and the Democratization of Finance – will be published by Bristol University Press in November 2021.