Islamophobia 2017: Looking Back, Looking Ahead lecture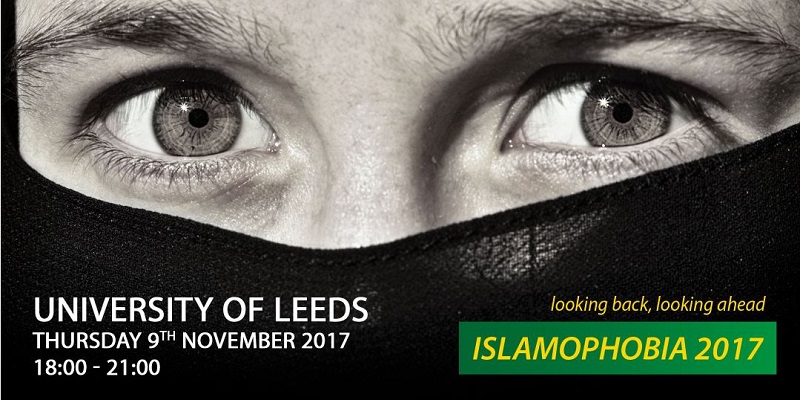 On 9 November 2017, the Centre for Ethnicity and Racism Studies (CERS), along with the Counter-Islamophobia Kit, hosted the first 'Islamophobia 2017: Looking Back, Looking Ahead' lecture.
The event is one of two events organised by a team of academics from across the Universities of Leeds, Coventry, Birmingham City, Anglia Ruskin, SOAS and Kings College London.
The lecture marks the twenty years since the initial publication of the Runnymede trust report Islamophobia: A Challenge for us All. The report, edited by Robin Richardson, former director of the Runnymede Trust, is seen as a seminal report in that even prior to 9/11, it brought anti-Muslim racism to the fore.
The Leeds leg of the Islamophobia 2017: Looking Back, Looking Ahead lecture was held in the city centre and attracted over one hundred guests. Attendees comprised a wide range of stakeholders from the north, including academics and civil society activists working within the field of addressing ever-growing rates of Islamophobia.
The evening's proceedings were chaired by Dr Amina Easat-Daas (School of Sociology and Social Policy) and were followed with contributions by Professor S. Sayyid (School of Sociology and Social Policy), an in-depth lecture by, Robin Richardson, entitled 'Us and Them in this Age of Anxiety: Past, Present and Possible Futures' with responses from AbdoolKarim Vakil (Kings College London). The session concluded with a Q&A component involving the audience. The event gave the opportunity for the speakers and guests alike to take stock of the changing nature of Islamophobia in the past twenty years and also to think ahead as to how anti-Muslim racism may evolve, hopefully improve and be tackled in the coming years.
Speaking at the event, AbdoolKarim Vakil highlighted that not only did the initial publication highlight Islamophobia at a time when it was not so readily discussed, but also it afforded Muslims agency to appropriate the concept of Islamophobia itself. The session came to a close with interventions by Professor S. Sayyid and Dr Amina Easat-Daas highlighting some of the work that the University of Leeds is engaged in, namely the Counter-Islamophobia Kit project, which seeks to provide a transferable toolkit, based on best-practices from across Europe, in order to effectively counter-Islamophobia.