CRT Reading Group: Questions of Presence - Gail Lewis
Date: Friday 8 March 2019, 13:30 – 15:00
Location: 12.21/25 Social Sciences Building
Cost: Free of charge
This second meeting of the Critical Race Theory reading group will explore Gail Lewis' article 'Questions of Presence'.
Friday 8 March meeting
In consonance with the political agenda that addresses 'International Women's Day' in a challenging and decolonial way, discussion will focus on the article Questions of Presence by Gail Lewis.
Feel free to bring a poem or a song related to the topic to open our session. Refreshments will be offered to all attendees.
The meeting will be chaired by Katucha Bento (University of Leeds) and Sharon Anyiam (Leeds Beckett University). Please see the poster below for further details.
Booking
Please email k.bento@leeds.ac.uk if you would like to attend, and to request a copy of the reading material.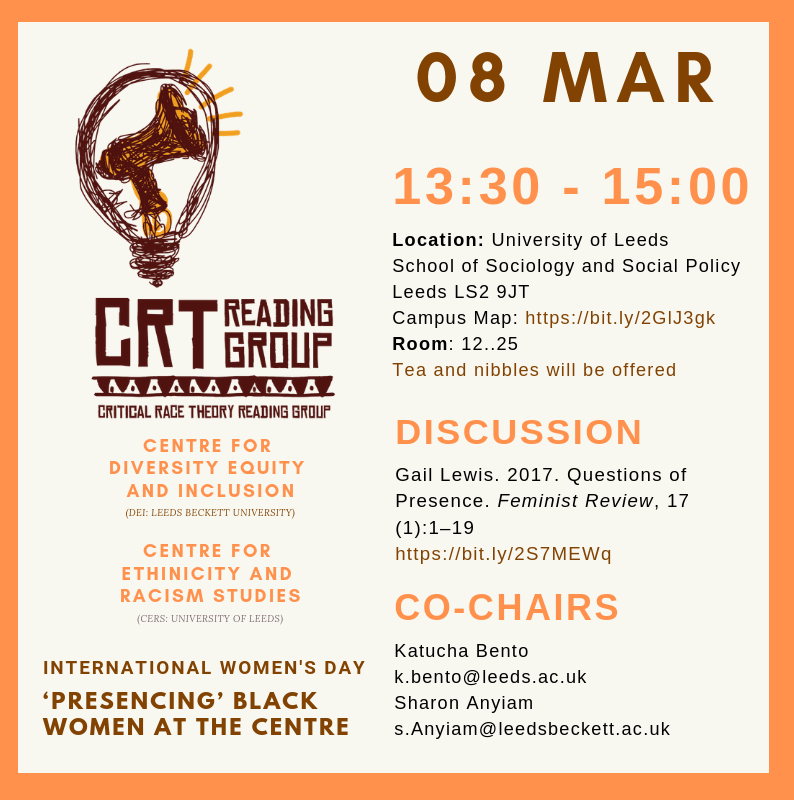 Find us
This meeting will be held at the University of Leeds in the School of Sociology and Social Policy, Room 12.25 (Level 12). This is in the Social Sciences Building which is building 82 on the campus map. Visit our Find Us pages for details on how to get to the university campus.
---
CRT Reading Group
The Critical Race Theory Reading Group launched in February 2019, and is a joint collaboration between Leeds Beckett University and the University of Leeds. Chaired by Katucha Bento and Sharon Anyiam, two Black women dedicated to research and activism in Decoloniality, Gender and Queer Studies from the perspective of Critical Race Studies.
The Centre for Diversity, Equity and Inclusion (Leeds Beckett University) and the Centre for Ethnicity and Racism Studies (University of Leeds) aim to use this reading group to foster a space where PhD students and academics can engage in dialogue about issues of intersectional racism in wider society. We acknowledge that this space is part of a historical construction of academics of colour who created the CRT Reading group, in 2006. The meetings were focused on discussing the work of CRT scholars in its intersections and interdisciplinarity. The category of readings will go beyond the academic formality, involving poetry, music, working papers and classic literature of CRT.
Please contact k.bento@leeds.ac.uk for more information.